USD Student's 'Gift of Faith' Leads Her to Matthew 25 Award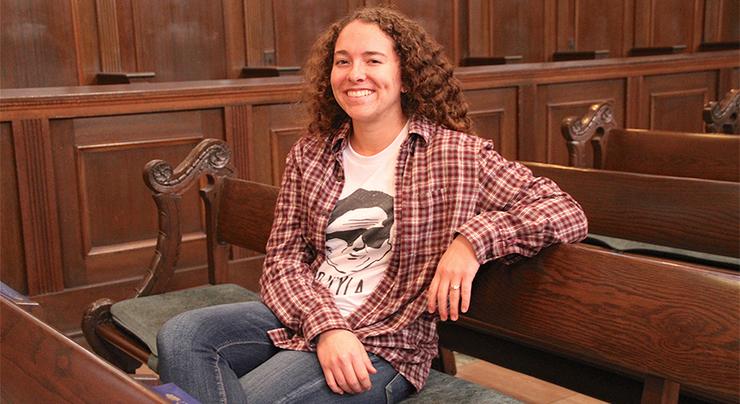 The best gift is always one that keeps on giving. Quality time spent with family. Helping others in need. Being in community. Being a supportive friend. Happiness. Being thankful.
Miranda Rappoldt's own gift arrived when she was baptized. It was modeled by her parents and grandmother when she was a child. It got serious while on a summer retreat and then took her through the confirmation process in high school. Today, as a senior at the University of San Diego, the gift she received so many years ago has fully blossomed.
"As I've gotten older, I think that is, truly, one of the gifts I have, the gift of faith," said Rappoldt, a behavioral neuroscience major and theology minor from Santa Clarita, Calif. "It's hard for a lot of people to trust in God and live their life in a way that reflects that, but I think it's just always come naturally to me."
Rappoldt is an active member within the University Ministry community, is co-president of USD's Students for Life organization, has done community service trips to Tijuana, to Rachel's Shelter in San Diego and has been a middle school youth minister at The Immaculata.
She's a fixture at Masses throughout the week at Founders Chapel, a place where she gets an overall sense of community and that "it's my home on campus. It's so special to see people that you see in your classes or eating at the SLP who come together at Mass every Sunday night."
She is a student worker, a liturgical minister and sacristan for Wednesday's 9 p.m. Mass for Peace, one she calls, "the most relaxing Mass; very peaceful and calming. There's always something I need to hear there. It's good to take a break in the middle of the week, step back and just re-center yourself. You recognize where God has been in your week and maybe where he needs to be the rest of your week."
Rappoldt also helps Founders Chapel Coordinator Amy Gualtieri set up Sunday night Masses (7 and 9 p.m.) and the 12:15 p.m. daily Mass.
"She is a special and unique person who is an integral part of Founders Chapel by her involvement," Gualtieri said. "She serves faithfully with a consistent heartwarming and loving presence. She's assisted me with many projects and the day-to-day running of the chapel and always with a joyful heart, touching everyone she meets with her warmth and light."
The latest affirmation of Rappoldt's powerful gift came on Nov. 16. She was honored during the Catholic Charities Diocese of San Diego's "A Celebration of Faith in Action," as USD's Matthew 25 Award recipient. She was among honorees from Catholic parishes and schools in the local Catholic diocese who embody compassionate service as described in chapter 25 of the Gospel of St. Matthew. The event consisted of Mass at Founders Chapel and dinner in the Hahn University Center.
"Miranda is a living embodiment of USD's mission and vision. Her greatest passion is offering her many gifts and talents to make the world a better place," said Michael Lovette-Colyer, assistant vice president for University Ministry. "Through her leadership roles within University Ministry, Miranda has touched countless lives — and by doing everything with great love, she has added so much to our community. She is most deserving of the Matthew 25 Award."
Rappoldt is the 10th USD student recipient of the Matthew 25 Award. Past USD winners, in order from 2016 to 2008, are: Karen Clark, Alec Hartman, Yajaira Nuñez, Ernest Reyes-Hernandez, Ella Guimond, Mackenzie Maurer, Chase Tushaus, Ana Barrios and Marcus Lopez.
A few very good USD friends of Rappoldt's are previous Matthew 25 Award winners. "They were people who really deserved it." Rappoldt, a humble, easy-going person who doesn't like the spotlight on her, said receiving the award became a reflective moment while she sat in Founders Chapel during that night's Mass.
"A big part of the homily was that 'you're being awarded this for only a fraction of your work that gets noticed.' That made me reflect on all of the things I've done my four years here and I thought, 'Wow, I actually do a lot of stuff. Things I'm proud to say that I share love with a lot of people. I think I needed that moment of recognition. Not to push me to do more, but as a reminder to keep being myself and keep being the person I am. I want to try and go on living the life that God has helped me live."
— Ryan T. Blystone