USD Tall Tales
Legends and Myths of the University of San Diego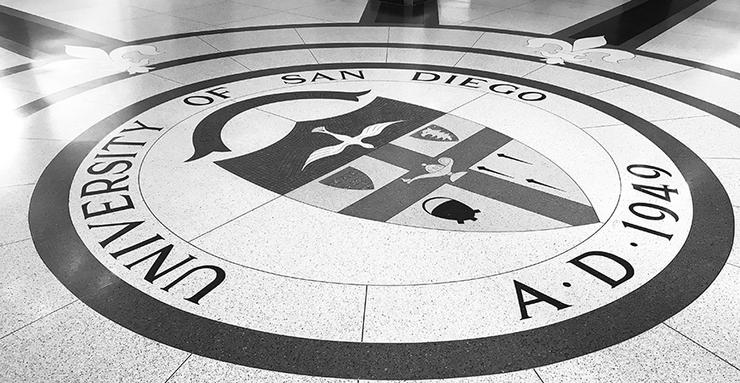 Happy Halloweek from the College of Arts and Sciences! To celebrate the spookiest week of the year, we've chatted with alumni and students about some of the most popular legends and myths of the University of San Diego.
5. The Curse of the Maher Seal
This is one of the more popular myths that circulates the USD campus. It is rumored that if you step on the USD seal in the Maher Hall foyer you will not graduate in four years. We, however, cannot confirm or deny that stepping on the seal delays students' graduation from USD.
4. The Blue Nun
For decades, students have claimed to have seen the ghostly image of a nun in a blue habit roaming the grounds of the university. While no one truly knows the origin of this myth, some believe this is the spirit of a nun who used to work at USD in the 1960's.
3. Casa de la Paz
There is a rumor around campus that the Casa de la Paz (house behind the KIPJ near the Garden of the Sea) is the pope's hiding place if the Vatican is ever under attack. We don't know if there is any truth to this rumor or where it originated, but we do know that the Casa is currently used as apartment space to house visitors to the university.
2. The Maher Hall Jesus Room
Some of you may not know about this hidden gem on the fifth floor of Maher Hall. Students refer to it as the "Jesus Room" because of the large stained-glass window of Jesus. Some students use the room as a study space but be warned – there are rumors that mysterious voices start to chatter when the lights go out.
1. The Founders Hall Hidden Vault
This is the only USD myth that we can actually verify. A vault containing the university's original loan documents was found in the walls of Founders Hall several years ago. Strangely, the vault was not included in the building's original blueprint and was found during office renovations.
Do you have any other USD myths or legends to add? Have YOU seen the Blue Nun? Email us! casinfo@sandiego.edu.