Digital Humanities is a Game-Changer for Scholars, Students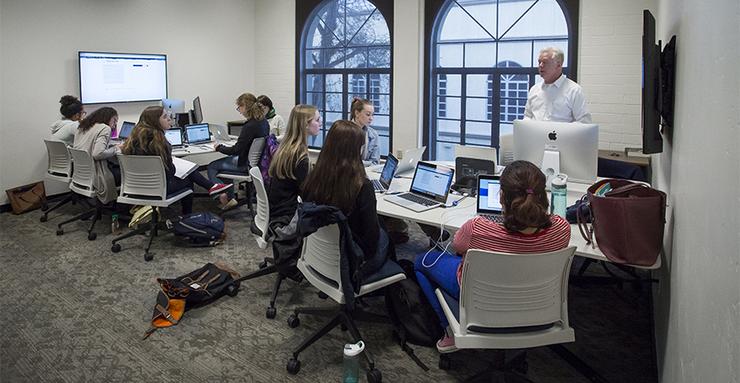 New Torero alumna Emily Bezold has fond memories of her undergraduate student experience, but one decision she made early on at the University of San Diego will forever be a personal "aha" moment.
Bezold was a student assistant dramaturg for the Tudor Plays Project, an ongoing interdisciplinary Digital Humanities project run by USD Assistant Professor of English Maura Giles-Watson. The project develops and publishes new digital resources for the study and performance of early and mid-Tudor plays, chiefly those written and performed in noble households and at the court during the reign of Henry VIII. The resources, according to Giles-Watson, are to provide students, historians, theatre practitioners and scholars of literature and drama with free web-based tools for the study of pre-Elizabethan secular drama in England.
Bezold's exposure to the project was a tremendous growing experience.
"Working on the Tudor Plays Project with Maura gave me a lot of confidence in myself," says Bezold '17, an Honors Program student who majored in English and minored in History and Classical Studies. "I didn't expect to be at the start of something so huge. It really got me out of my comfort zone, got me into a place to meet new people, engage with them, gain confidence in my intellectual abilities and to be part of a team."
Serving as a Medieval and Renaissance Studies Fellow as well as learning multiple computer programming methods under the tutelage of Paul Evans, the USD Humanities Center's first postdoctoral fellow in Digital Humanities, led to Bezold's newest step — beginning an English Literature master's degree program at Georgetown University this fall. Aspiring to become a high school teacher, Bezold's Digital Humanities (DH) background in an ever-increasing technology-savvy world will be useful when the time comes to take her place at the front of a classroom.
"The field of Digital Humanities is rapidly changing the way scholars and students in the humanities perform and present their research," Giles-Watson stated when the Tudor Plays Project began using USD student researchers in 2014. "DH offers new opportunities for students to participate meaningfully in humanities research projects, to collaborate with faculty members, and to work with peers from a range of disciplines. It allows students to practice and master skills that are transferable to careers in high-tech and humanistic fields as well as in business. DH itself is a growing area of employment in universities, where computer programmers and humanists work together to create new projects."
Evans says undergraduate students' Digital Humanities opportunities will only grow.
"People typically encounter DH at the graduate level for the first time, but we've had considerable success teaching undergrads. We've had two students get into graduate schools based on their Digital Humanities experiences [Bezold and Yasmine Hachimi '14]. I feel we're doing some things that are more advanced than at other undergraduate institutions."
A valuable new asset is the DH studio space within the USD Humanities Center, which opened in Serra Hall in October 2016. Noelle Norton, College of Arts and Sciences dean emphasizes that "the center balances traditional and new approaches to the Humanities. We don't elevate one above the other; we foster the growth of both."
Funding for the Humanities Center's creation came by way of a generous donation by Carol Vassiliadis, but a recent $250,000 award from the W.M. Keck Foundation will launch the Keck Undergraduate Humanities Research Fellows Program and develop new collaborations between humanities and other USD academic areas. Specific to digital humanities, there's funding that will help to support a full-time postdoctoral scholar to teach DH courses, work on DH projects and to build DH capacity on campus.
"Work in Digital Humanities is an integral part of USD's Humanities Center and, under the dedicated leadership of Maura Giles-Watson and Paul Evans, it's already engaged the keen interest of students and faculty," says USD Humanities Center Director and Philosophy Professor Brian Clack. "We're all delighted that the DH element of the Humanities Center is so very vibrant, and are hugely excited to see how its influence and reputation will grow, on campus and nationwide."
— Ryan T. Blystone