Toreros in the NFL: Agnew, Riley Could Meet in Aug. 13 Preseason Game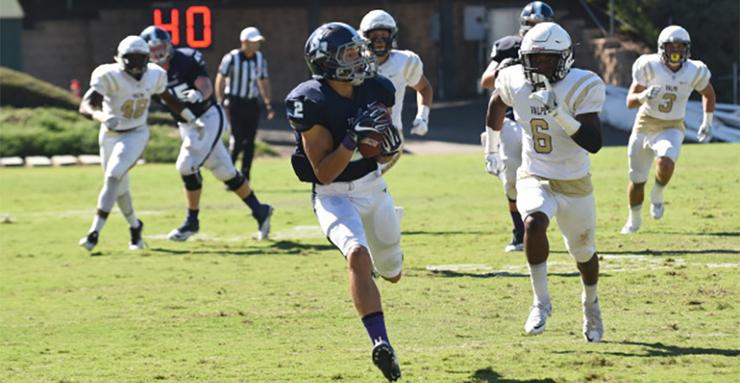 The 2017 University of San Diego football season doesn't kickoff until Sept. 2 when the Toreros play host to Western New Mexico in a 2 p.m. game at Torero Stadium. So, with Torero football season still weeks away, how does a Torero football fan get their USD football fix?
How about watching the Sunday, Aug. 13 National Football League preseason game that will pit the Detroit Lions against the host Indianapolis Colts? Listed as a 10:30 a.m. (Pacific Time) start and available on the NFL Network, both NFL teams currently have a former Torero standout on their roster.
Jamal Agnew is a cornerback and return specialist for the Lions, who drafted the two-time USD Defensive MVP and first-team All-Pioneer Football League selection, in the fifth round of the 2017 NFL Draft.
Brian Riley, meanwhile, is an undrafted free-agent wide receiver who just signed with the Colts this week. Riley had 54 catches for 986 yards and seven touchdowns in 2016 and was a first-team All-PFL selection and was the team's Offensive MVP his junior year.
The potential for Riley and Agnew to play against each other in Sunday's game is quite possible. Although Riley just signed with the Colts on Wednesday, he did participate in a mini-camp earlier this summer. Agnew has looked sharp so far in the Lions' training camp. In a mock game played at the Lions' Ford Field last weekend, Agnew returned a punt 82 yards for a score and coaches took note of his exceptional speed.
While it would be fun to see two Torero teammates play against each other this Sunday, another potential USD vs. USD meeting could happen September 18 during the regular season. That's when the Lions will play against the host New York Giants on ESPN's Monday Night Football.
Josh Johnson, the first-ever Torero football player drafted in the NFL — fifth round by the Tampa Bay Buccaneers — is currently one of four quarterbacks on the Giants' roster. Eli Manning is the established starter for the Giants, but Johnson is battling Geno Smith and Davis Webb for a back-up spot.
Should Agnew and Johnson both be on their respective NFL teams' roster, it would be a great opportunity for the only two Torero football players drafted into the NFL to meet.
— Ryan T. Blystone