Torero Athletics: International Volleyball Experience Helps USD Setter Prepare for 2017 Season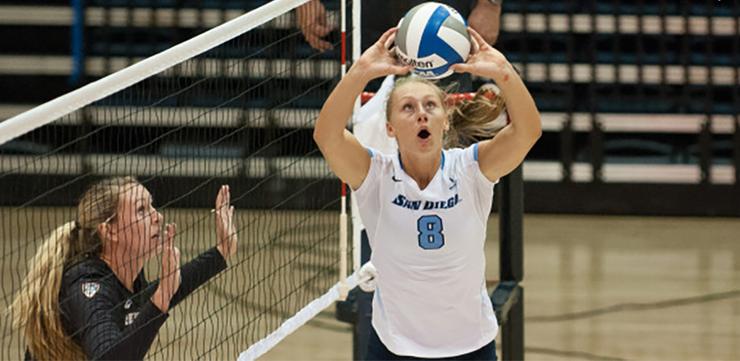 There is no doubt that the University of San Diego volleyball is one of the top programs on the west coast. For star setter Kristen Gengenbacher, her journey is like no other.
Gengenbacher, a graduate of Quincy Notre Dame High School in Illinois, was an extremely talented basketball, softball and volleyball player. Frankly, she could have played any of these sports in college. After being an all-state selection in volleyball for the third year in a row, she knew this talent couldn't be wasted. Clearly, it was a good decision. She is coming off her second appearance on the U.S. Collegiate National Team and is confident she will crack the 2020 U.S. Olympic roster. However, there was a different aspect to Gengenbacher's game that separated her from all of the other highly touted recruits in the country.
Unlike many of her fellow recruits, Gengenbacher has always had the mental mindset to be successful at the college level. "USD volleyball is extremely competitive. Here, no one gets a starting spot based on their past accolades. We have to earn that spot every practice." Not taking anything for granted and earning a spot on a day-to-day basis is one of the big reasons she has grown in to such a successful player.
Coaches love to see how collegiate players grow and mature throughout their years of college and Gengenbacher has done just that.
"My freshman year, I learned so much about the game. I played three sports in high school, so I'd say I didn't have as much volleyball experience as a lot of other players. But I learned a lot, grew in confidence, and had to study the game to become the player I wanted to be. Now, as a senior, I feel a lot more comfortable in my role as a leader. I try to pass on the same things I learned to younger players and make them better in the same way that past teammates have pushed me."
Just as her teammates "put her in a position to aspire to higher goals" when she was a true freshman, Gengenbacher has done the same for her teammates. Volleyball is a team sport; one star player can't carry a team to a national championship. Team chemistry on and off the court is invaluable to the sport; Gengenbacher's leadership is a huge reason to the recent success of USD volleyball. Out of high school, she didn't know if volleyball would have a continued role in her life. However, she slowly started to figure out her unlimited future in the sport.
"I didn't even know there was such a thing as the Collegiate National Team or even professional volleyball. The moment I realized I had potential in the sport was when my coaches sent me to tryout for the first time. Even though I didn't make a team that year, it showed me that they had faith in me and they knew I could be great."
Grit is the perfect word to describe Gengenbacher. Not making the Collegiate National Team the first time was extra motivation towards her future success. It didn't deter her from trying out the next year and it paid off for both parties as Gengenbacher helped lead the CNT to a perfect 6-0 record as the starting setter and the European Global Challenge Championship, held in Croatia.
The self-described "hardworking, passionate, and goofy" athlete is continuing the strong legacy of USD volleyball; however, she isn't done, there is much more to come.
The Toreros, a perennial West Coast Conference power and NCAA Tournament participant, begin their 2017 season August 25-27, playing each day in the University of Hawai'i's Texaco Rainbow Wahine Invitational in Honolulu. USD opens with UCLA, followed by Hawai'i and Marquette.
— Borna Nazari, USD Athletics student intern
USD Soccer Teams Prep for Exhibition Openers
The USD men's soccer team will play the first of two exhibition matches this month on Friday, Aug. 12, 7 p.m., taking on UC Riverside at Torero Stadium. A second game will be held Aug. 19, 7 p.m. against Point Loma Nazarene. These games will kick off Seamus McFadden's last year as head coach, his 39th as USD's only head men's soccer coach, before he hands the lead reins over to current associate head coach Brian Quinn in 2018.
Meanwhile, the women's soccer team, under the direction of first-year head coach Louise Lieberman, will direct her team in its first exhibition game on Aug. 13 against Canada FISU at 1 p.m. at UCLA in Los Angeles. The Toreros' first regular-season match is at 7 p.m. on Aug. 18 at home against Virginia Tech.
Volleyball's Schad Advances in NCAA Woman of the Year Award Selection Process
Former USD volleyball standout Lauren Schad was nominated by the West Coast Conference and an independent selection committee for the NCAA Woman of the Year Award. Schad is one of 145 female student-athletes chosen from the initial pool of 543 nominees.

The nominees represent college athletes from 16 different sports spanning all three NCAA divisions. Of those recognized, 58 nominees competed in Division I, 34 in Division II and 53 in Division III. In early September, the Woman of the Year selection committee will name the Top 30 honorees, which include 10 women from each division. At the end of September, the selection committee will select nine finalists, three from each division. The NCAA Committee on Women's Athletics will select the 2017 NCAA Woman of the Year from those finalists. The Top 30 honorees will be celebrated and the 2017 NCAA Woman of the Year will be named at the annual banquet Oct. 22 in Indianapolis.
Football QB Lawrence on STATS FCS Preseason Walter Payton Award Watch List
The USD football team reported for camp this past weekend and it happened just as junior quarterback Anthony Lawrence was one of 22 players named to the 2017 preseason watch list for the 2017 STATS FCS Walter Payton Award.
Lawrence, who was on the Walter Payton Award's watch list last year, was the Pioneer Football League's 2015 offensive freshman of the year and a PFL first-team quarterback in 2016. As a sophomore, he helped the Toreros to an undefeated league record and FCS playoff win over Cal Poly. USD finished 10-2 overall to earn a national ranking of 19th in the final STATS FCS Top-25 poll. He was fourth in the FCS in completion percentage (67.6) and eighth in passing efficiency rating (155.0) while throwing for 2,998 yards, 25 touchdowns and eight interceptions.
The football team is now working toward its opening game of the 2017 season, a Sept. 2 home game against Western New Mexico at Torero Stadium. Kickoff is at 2 p.m.
USD Athletics Hires Assistant AD for Strategic Communications
Greg Marsh has been named assistant director of athletics for strategic communications, it was announced by Marcy Lanoue, senior associate director of athletics for external affairs, on August 7. Marsh joins the Torero athletics family from Stanford University where he was with the Cardinal athletic department the past six years.
"We are excited to welcome Greg Marsh to our University of San Diego athletics team," said Lanoue. "Greg comes to us with a wealth of knowledge, with industry best practices, that we look to implement here at USD. With the hiring of Greg, we will look to enhance our digital and communication strategy for our 17 varsity sports. We have received rave reviews across the nation, from coaches and athletic administrators about this hire. With all that being said, most importantly, Greg has the passion to serve our student-athletes and university at the highest level."
Marsh will lead the department's digital strategy and serve as the primary communications contact for multiple USD programs, including women's and men's soccer, starting this fall.
Brian Fogarty Retiring from USD after 35 Years
Following 35 years of dedicated service to the University of San Diego, Brian Fogarty will be retiring at the end of this month. Fogarty was USD's head football coach for 13 seasons and has been a member of USD Athletics' administrative staff for more than 21 years. He's finishing up his current duties as associate director of athletics for external relations.
He directed the football program from 1983 to 1995, in which his teams had 11 seasons of .500 or better records. He coached the Toreros' first three years, beginning in 1993, in the Pioneer Football League, guiding the program's move from NCAA Division III to I-AA.
A retirement celebration for Fogarty will be held at 4:30 p.m., Thursday, August 24, in the Jenny Craig Pavilion. RSVP here.
Keep up with all USD Athletics news, scores and information by visiting the website and by following its social media platforms for Facebook, Twitter and Instagram.