Torero Athletics: Football Picked to Win PFL; Toreros Recognized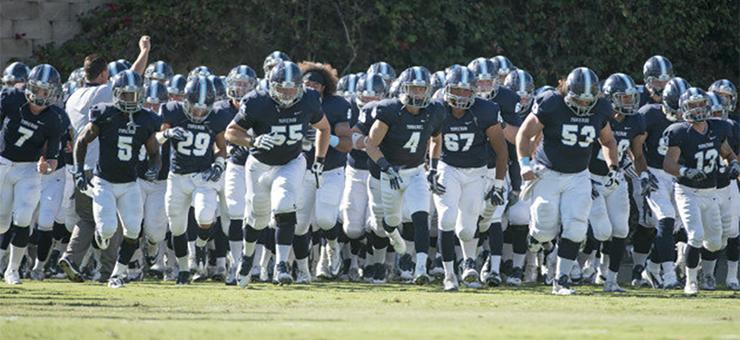 For the seventh consecutive year, the University of San Diego football program has been picked to win the Pioneer Football League regular-season race in a recent preseason vote of the league's coaches.
San Diego, winners of the 2016 PFL regular-season title and who advanced to the second round of the FCS playoffs, again received the coaches' nod to win the 2017 PFL title. The Toreros were chosen just ahead of Dayton in polling dominated by the two teams. San Diego and Dayton combined to receive all available first-place votes and claimed all but two of the possible second-place votes (coaches could not vote for their own team).
The Toreros, who finished with a final national ranking of No. 19 in 2016, received nine first-place votes and a lone second-place vote to finish with 99 of the maximum 100 points possible. Dayton earned two first-place votes and eight second-place votes, finishing with 92 points.
A group of four teams — separated by just seven points — were closely bunched behind the leading duo. Marist was picked to finish third with 69 points, followed by Drake in fourth place with 67 points. Campbell and Jacksonville were picked to finished tied for fifth with 62 points each. Butler (49), Morehead State (42), Stetson (29), Valparaiso (24) and Davidson (10) rounded out the poll.
The Toreros report to camp on Friday, Aug. 4 and their first practice is Saturday at 2:30 p.m. USD opens its 2017 season Sept. 2 with a 2 p.m. home game against Western New Mexico.
Torero Football Players Earn Preseason Recognition
USD football had a league-high seven players chosen among 29 who were named to the 2017 Preseason All-Pioneer Football League Team as selected by the league's head coaches on July 25. Senior defensive end Jonathan Petersen and senior offensive tackle Miles McArdle were selected for the second consecutive year. Joining them on this year's preseason team are redshirt junior quarterback Anthony Lawrence, senior tight end Ross Dwelley, senior offensive center Joe Hurney, redshirt junior offensive tackle Daniel Cooney and senior safety Ray Clark.
In addition to the PFL preseason nods, Cooney and Petersen were selected to STATS FCS Preseason All-America teams. Cooney was named to the Second Team. In 2016, he earned First Team All-PFL honors and was named AFCA FCS Coaches' All-America Second Team. Petersen was a Third Team selection. In 2016 Petersen was a First Team All-PFL pick.
The Toreros report to camp this Friday with their first practice slated for Saturday from 2:30 to 4:30 p.m. The Toreros open their 2017 season Sept. 2 against Western New Mexico in a 2 p.m. game at Torero Stadium.
Football Season Tickets Available
USD offers outstanding packages for its Torero fans for the five regular-season games at Torero Stadium in 2017. All season tickets are located on the south side of the stadium — sections 112-123 (Seating Chart). An individual season ticket costs $60. A USD Faculty/Staff season ticket costs $40. USD is offering a new promotion for recent Torero graduates (within last five years): a season ticket for $40. A Family Four Pack, which includes two adult and two children season tickets, can be purchased for $180.
Season tickets can be purchased online, by phone or in-person. USD Faculty/Staff, Recent Graduate and Family Four Pack may only be purchased through the box office, either by phone (619) 260-7550 or in-person.
Track, Volleyball Teams Earn NCAA Awards
The USD volleyball and track teams received the NCAA Public Recognition Award on July 31. This honor is bestowed on teams with an NCAA Division I Academic Progress Rate in the top 10 percent of all squads in their respective sports in the 2015-16 academic year. Both programs received the honor in the 2014-15 school year as well.
"We are honored by this team award and are happy to state that this is the sixth year in a row we have received this honor," said Will Guarino, USD track and cross-country coach. "Our program is about team academic excellence and fostering leaders that have the vision of being innovators in their respective fields. This is done with the intent of making our athletes better while pursuing high performing athletic achievement in the sport of Division I Track and Field."
This marks the second year in a row the USD volleyball program has received this honor.
"The pursuit of academic excellence is the top priority within the volleyball program," USD Head Coach Jennifer Petrie said. "While we share a common goal of winning a national championship, our players are determined to win in the classroom as well as on the volleyball court."
Tennis Players Named ITA Scholar-Athletes
Three Torero tennis players were named scholar-athletes by the Intercollegiate Tennis Association (ITA) on July 25. Sophia Chow and Nicole Anderson from the USD women's team and Gui Osorio from the men's squad were recognized.
In order to earn ITA Scholar-Athlete status a player must meet the following criteria: 1) be a varsity letter winner, 2) have a grade point average of at least 3.50 (on a 4.00 scale) for the current academic year, and 3) have been enrolled at their present school for at least 2 semesters (including freshman through senior year).
Chow, who was named to the WCC All-Academic Team, has a 3.73 cumulative GPA as a marketing major. She posted a 13-5 record in dual doubles matches in the 2017 season. Anderson had a 3.77 cumulative GPA in her freshman year at USD. She played at No. 1 singles, going 15-11 on the year and was an All-WCC honorable mention. Osorio was an All-WCC honorable mention in men's singles with a 16-8 record. He had a 3.68 cumulative GPA in the 2016-17 school year.
Fall Sports Start Soon
The calendar has turned to August. For USD sports teams, this means that the fall sports season is near. The 2017-18 season openers for men's soccer, women's soccer and volleyball will happen this month.
The soccer teams' first action — both exhibition games — are Aug. 12 for the men, at home against UC Riverside at 7 p.m., and Aug. 13 at 1 p.m. for the women's team, set to face Canada FISU in Los Angeles on the UCLA campus. The men host another exhibition Aug. 19 at 7 p.m. against Point Loma Nazarene.
The first games to count for first-year USD women's soccer coach Louise Lieberman and her team are Aug. 18 and 20 when the Toreros host Virginia Tech at 7 p.m. and then Texas A&M at 1:30 p.m., respectively.
The official men's soccer opening for Seamus McFadden, beginning his 39th and final season as USD men's head coach, starts with road games on Aug. 25 and 27 at Notre Dame (4:30 p.m. Pacific) and Indiana (9 a.m.), respectively.
The women's volleyball team opens on the road, too, traveling to Honolulu, Hawai'i, Aug. 25-27 for the Texaco Rainbow Wahine Invitational. The Toreros face UCLA (Aug. 25, 7:45 p.m.), Hawai'i (Aug. 26, 10 a.m.) and Marquette (Aug. 27, 5:45 p.m.).
Keep up with all USD Athletics news, scores and information by visiting the website and by following its social media platforms for Facebook, Twitter and Instagram.
— USD Athletics