University Seeks to Turn Pope Francis' Encyclical Message into a Climate Action Plan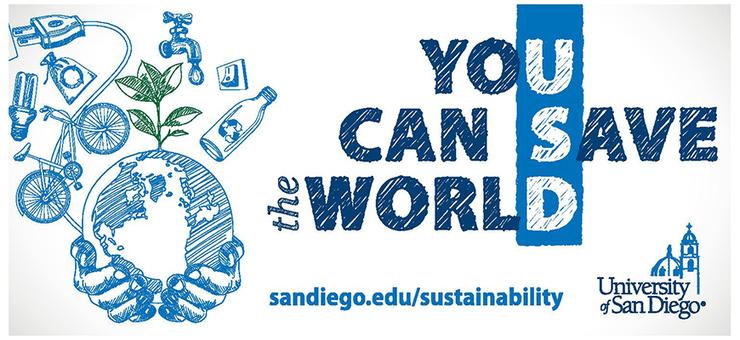 The centerpiece of the University of San Diego's celebration of Earth Month in April is a new Climate Action Plan that calls for reducing the university's greenhouse gases on campus by at least 50 percent by the year 2035.
Inspired by Pope Francis' encyclical entitled "Laudato Si" or "On Care for Our Common Home," the plan calls for reducing electricity and natural gas use by 35 percent and increasing the use of clean, renewable energy by 40 percent by 2035.
"Environmental degradation and its disproportionate impact on the poor and most vulnerable represents one of humanity's urgent challenges, and USD has developed a bold and comprehensive plan to turn the Pope's call for dialogue into action," said USD President James T. Harris III, DEd.
Activities on and off campus include an April 18 faculty panel discussion about climate change and the environment in the Humanities Center, Serra Hall 200, from 4-5:30 p.m.; A look at Conscious and Creative Consumption: Five Years of Fair Trade on April 19, 5-9 p.m. at the USD Electronics Recycling Center lot; the USD Earth Day Fair on Thursday, April 20, from noon to 2 p.m. in the plaza of the Student Life Pavilion; an Outdoor Adventure Service Trip on Saturday, April 22, and participation in the San Diego Earth Fair 2017 at Balboa Park on Sunday, April 23. And, on April 26 from 8-9 p.m., all USD residence halls are being asked to turn their lights off for this hour to support and raise awareness of climate change.
"As a contemporary Catholic university committed to its rich Catholic intellectual and social justice traditions, the University of San Diego prepares students to be enlightened, engaged and ecological citizens," Harris added.
The Climate Action Plan outlines how the university will reduce harmful greenhouse gas emissions in energy, transportation, waste diversion, water and other areas. Efforts to reduce emissions will take place through a variety of ways including reducing energy and water use and alternative energy and transportation options.
"The plan is a living document that will change over time as new opportunities to improve sustainability unfold," said Michael Catanzaro, Director of the Office of Sustainability.
The plan also highlights progress the university already has made including reducing energy use on campus by 20 percent and diverting more than 2.7 million pounds of electronics from the San Diego waste stream since opening an Electronics Recycling Center on campus in 2011. In 2016, the university had its lowest water usage in more than 25 years.
— Liz Harman