USD Awards Reward Professors' International Impact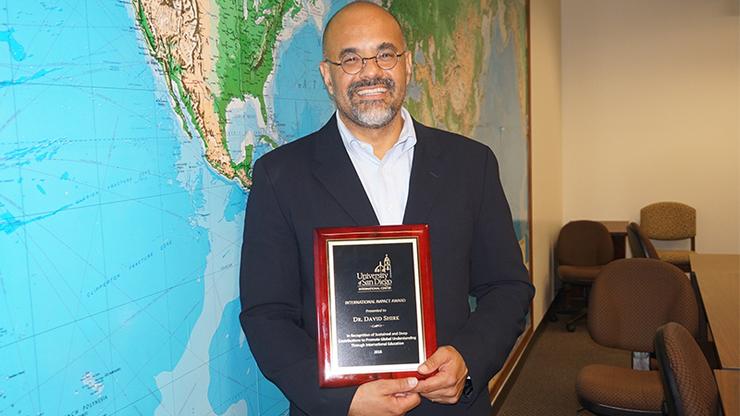 The University of San Diego kicked off its annual programming in the spirit of the national International Education Week celebration with a luncheon Monday that spotlighted the university's deep appreciation for global learning and understanding.
Attended by faculty, staff and administrators who participate in international research, teach international subjects and organize study abroad trips and events to promote USD's global efforts, Monday's program featured a delicious meal of international cuisine, an international faculty panel and the announcement of USD's newest International Impact Award recipients.
A five-person international faculty panel, representing a cross-section of undergraduate schools — Serbia's Biljana Adebambo, PhD, Assistant Professor of Finance; Israel's Nadav Goldschmied, PhD, Assistant Professor of Psychological Sciences; China's Eric Jiang, PhD, Professor of Computer Science; India's Priya Kannan-Narasimhan, PhD, Associate Professor of Management; and Mexico's Antonieta Mercado, PhD, Assistant Professor of Communication Studies — each gave a short presentation about their personal international higher education student experience, how it shaped them and how it is an asset now as a USD professor.
International Impact Award Recipients
Following the panel this year's fourth class of International Impact Award winners, James Bolender, PhD, and David Shirk, PhD, were announced. Both expressed happiness for their selection but were humble in their acceptance.
"It's certainly wonderful to be recognized by this award, especially since there are so many amazing USD faculty, staff and programs focused on international affairs. The International Center has really helped advance all of these efforts over the past decade, which has helped make USD one of the most globally engaged campuses in the country," Shirk said.
Bolender, with a touch of self-deprecation, said: "It's great when you're making an impact with your colleagues and students, but when I read the (event) brochure and I saw what everyone else at USD was doing, I'm just looking at it, going, 'well there's always next year (for me)."
Past recipients of the award are: Yvette Fontaine (Office of International Students and Scholars) in 2013, Paula Cordeiro (School of Leadership and Education Sciences), Bert Lazerow (School of Law) in 2014, and Dee Aker (Joan B. Kroc Institute for Peace and Justice) and Cynthia Caywood (English, College of Arts and Sciences) in 2015.
James Bolender
Bolender, a professor of Chemistry at USD since 1996, was honored for his extensive fieldwork, alongside students and faculty collaborators, to provide a better global understanding of water resource challenges, particularly in developing nations. Since 2008, his annual travels to Uganda as well as occasional trips to Kenya and Tanzania, enables him to make strong connections with local governmental and aid agency partners and get grant funding. He's been doing research internationally since 2000, first in Mexico and Jamaica. He and Michel Boudrias, associate professor of Environmental and Ocean Sciences, co-taught the first upper-division science study abroad course in 2001. In January 2017, he'll be taking 12 students to Uganda for an intersession course which is a water quality study field expedition.
"I'm really excited to see what happens with these 12 students when they come back. Two students have never left the U.S. and so for their first experience, they are going to one of the poorest countries in east Africa," he said. "But as my colleague, Jeremy Kua, says, students should be uncomfortable, they need to expand their horizons. What I've done in international courses and on research trips is to see them see the impact of what they're doing. We'll be collecting a water sample and analyzing it for bacteria or arsenic and while we're collecting it, there's a woman or child collecting their drinking water for the day. It suddenly sharpens the context of why this sort of science is important; why you have to have a more global perspective in terms of looking at water or fisheries, or pollution of any sort because what we do as a society impacts people."
David Shirk
Shirk agrees. An associate professor in the Political Science and International Relations Department since 2003, current director of the International Relations master's degree program and former director of USD's Trans-Border Institute (TBI) from 2003-13, Shirk's international work has intensified as director of the Justice in Mexico project.
In existence since 2001 while he was at UC San Diego, Shirk brought Justice in Mexico to USD in 2005. Doing it in conjunction with TBI and then making it a free-standing program in the Political Science and International Relations Department, Shirk and many colleagues and student interns have made Justice in Mexico a reputable resource for cutting-edge research, promoting informed dialogue and working to find solutions to address citizen security, strengthening the rule of law and protecting human rights in Mexico.
Shirk's dedication was visible Monday when he was unable to attend the luncheon because he was presenting Justice in Mexico's landmark study on the Mexican judiciary at Mexico's National Autonomous University, which is the country's largest law school.
"The 2016 Justicabarómetro is a year-long study that USD alumna Nancy Cortes, Justice in Mexico program coordinator Octavio Rodriguez and I conducted with top legal experts to survey Mexican judges, prosecutors and public defendants on the state of the administration of justice," he said. "This study is incredibly important, not only because it gives us important insights into about how Mexican judges are handling their country's 2016 judicial reforms — a watershed transition for Mexico — but because around the world there are very few independent surveys of judicial sector operatives. The few that exist tend to rely on very small samples (less than 5 percent). The 2016 Justicabarómetro, which had a response rate of more than 50 percent, builds on a series of surveys Justice in Mexico has conducted since 2009. This is our second survey assessing the views of judges, prosecutors and public defenders. As such, we're able to document important changes in judicial attitudes toward recent reform efforts, including a notable increase in favorability among judges toward the use of oral, adversarial trial procedures."
Comprehensive Internationalization
Bolender and Shirk are two poignant examples of USD's campus-wide dedication to international education, which the university was recognized for in 2015 as a recipient of the Sen. Paul Simon Award for Comprehensive Internationalization.
"It's thrill to have USD selected for our achievements, across the university, toward comprehensive internationalization," said Denise Dimon, associate provost for international affairs, regarding USD's Simon Award designation. "Comprehensive internationalization includes such things as student mobility, faculty expertise, curriculum development, co-curricular activities, international partnerships and collaborations, leadership at the highest levels and governance structures to support all of these efforts."
The remaining nominees for the International Impact Award were: Joy Brunetti, Information Technology Services; Leeva Chung, Communication Studies Professor; James Gump, History Professor; Allison Howitt, Ahlers Center for International Business; Danielle Levanetz, Ahlers Center for International Business; John Loggins, Mulvaney Center for Community, Awareness and Social Action; Michele Magnin, French Professor, Languages Chair for Languages and Literatures Department; Vitaliy Popov, Mobile Technology Center in the School of Leadership and Education Sciences; and Mike Williams, Political Science and International Relations Professor and USD Changemaker Hub Director.
— Ryan T. Blystone