Travis Weger '12: Documents 'Honor Flight' of WWII, Korean War Heroes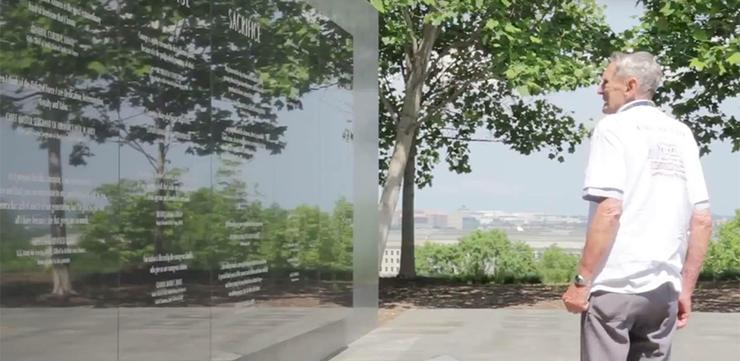 What if you had one day, 24 hours, to be in the presence of your heroes? What would you do? What would you say? How would you capture it? Travis Weger's opportunity came in 2014.
He spent a full day with members of a group dubbed as part of "The Greatest Generation," those born and raised during the Great Depression and who honorably served in World War II and the Korean War. It was emotionally uplifting, intellectually stimulating and as satisfying as Weger possibly hoped.
Documenting a Special Mission
It was also pressure-packed. Weger, a Navy Chief Petty Officer and a 2012 University of San Diego alumnus, was with 42 military veterans to capture their experience during a 24-hour turnaround flight trip from Central Missouri to Washington D.C. to personally view memorials dedicated to their service and sacrifice.
Weger, a filmmaker, created a forever keepsake, "Honor Flight: The Ride of a Lifetime," a nearly 14-minute documentary that has garnered widespread appreciation from these men, their families and beyond.
"It was my chance to pay homage to the Greatest Generation," Weger said. "Anyway to pay tribute to this generation is a win in my book."
His effort, both on the day of filming and over several months of editing the footage, was fueled by his desire to serve others.
"I wanted to do this right, do it justice. I put a lot of pressure on myself because I wanted to make it the best that I could," said Weger, a one-man film crew for Media OneTen, LLC. Capturing the day alongside these men, something that had not, to his knowledge, been documented elsewhere for honor flights, was his mission. "Everything else that had been done was done from a big picture perspective. No one had just focused on the day and how they experienced their day."
At the time of his opportunity, Weger had already earned Business Marketing and Communication Studies degrees at USD and had prior experience in advertising and video producing. He worked as a visual information specialist with the Harry S. Truman Memorial Veterans' Hospital in Columbia, Mo. Upon learning this, Central Missouri Honor Flight, a nonprofit organization created solely to honor America's veterans for their sacrifices, sought his services. The organization provides military veterans with free flights to Washington D.C. to see the memorials.
"When I was approached by the Central Missouri Honor Flight about creating a documentary, I was thrilled at the opportunity, but I had never done such a large project on my own without a full crew to shoot and edit," Weger said in a VAntage Point blog for the U.S. Department of Veterans Affairs.
"Hands down, it was my most stressful day," he said. The enormity of the project, doing everything he could to get things just right and properly honor these men was worth it. "There were many sleepless nights, a lot of long days, but I'm very happy with it."
Weger captured everything. Men with one common thread boarding a bus together in the wee morning hours to take a flight far from home to celebratory greetings with current servicemen and women and volunteers who saluted and accompanied them during the visit. Weger had access to emotional moments and reflections from men who found names of fallen friends adorning the memorial's walls. The homecoming celebration included a care package with letters from loved ones on the flight home. Upon arrival back in Missouri, their names were enthusiastically announced, followed by hugs, cheers and support.
"My favorite part of the film is seeing them being welcomed home," Weger said. "These are people who aren't emotional, but to see the smiles on their face, to see how much they enjoyed it was wonderful. I've seen that (scene) a hundred times and it still makes me tear up."
GI Film Festival San Diego
Weger is likely to shed tears again on September 18 when a San Diego audience sees "Honor Flight" on a big theater screen at UltraStar Cinemas Mission Valley at Hazard Center. "Honor Flight" will be one of several films shown in the local showcase category of the GI Film Festival San Diego. "Honor Flight" is a nominee for the festival's Best Documentary Short Award. Weger is flying in just for the day from his current home in Denver.
"I'm really happy. I'm looking forward to seeing all of the other films. It will be very cool to check out what others have created," he said.
Weger first heard about the film festival in a bit of an ironic way. Weger, who was the founding president of USD's Student Veteran Organization, found out about the festival through a posting on the current SVO Facebook page, which he originally created in 2011.
"I found out that it was the last day to submit an entry so I entered Honor Flight about 90 minutes before the deadline and now I've got an award nomination," he said.
Seeing his work on a big screen will be the latest in a series of positive post-USD graduation happenings for the 34-year-old Weger. He is a video producer for Western Area Power Administration (WAPA), continues to do projects through Media OneTen and another personal project, Colorado Wedding Films. Speaking of weddings, on October 16, Weger will marry Sharnay Brown, who met when they both worked at the VA Hospital.
Weger looks back fondly on his time as a USD student. He stays touch with fellow classmates and with Communication Studies professors, including Dr. Leeva Chung and Dr. Kristin Moran, both of whom encouraged him to continue his passion for video and film production.
Most of all, though, he thrives on giving back to others.
"From a military perspective, one of the reasons I joined is because I love having a life of service. Giving back is at the heart of who I am. I like to help other people. As a filmmaker, the documentary was a unique experience. I got to tell the story of the Greatest Generation while wearing two hats. It was really cool to talk to people. Some were taking their first flight and for some it was their first time leaving the state in a long time. The biggest thing for me, though, was to help tell their story. I told them, 'I think what you have done provides so much value to others.'"
And who wouldn't want to say that to their heroes?
— Ryan T. Blystone