USD Test Preparation Supports Cal-SOAP, Community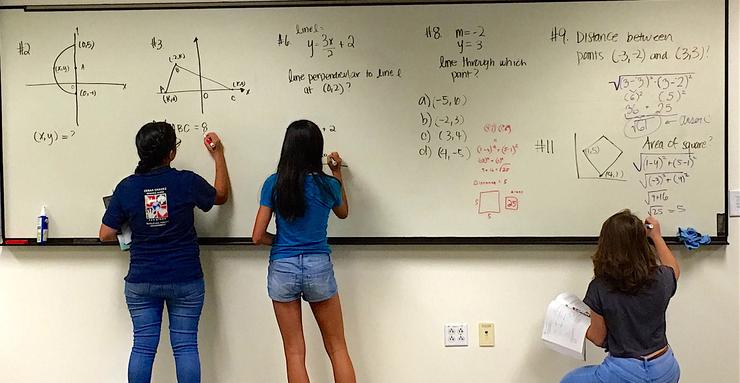 Outside, it's another brightly sunny and warm summer day in San Diego. It's Saturday mid-morning and for many high school-age students, this is a time to relax, sleep in or spend time with friends and family.
Inside, though, for 100 high school juniors, this day also has prime significance. They've filled three classrooms at the University of San Diego to work on academic improvement, to solve math problems and seizing an opportunity to sharpen their skills for a test that could make a viable impact on their future. This is the fourth of six consecutive summer Saturday morning meetings for students who are attending a free SAT test preparation course.
Normally $695 per student, the USD Test Preparation Program has partnered with the California Student Opportunity and Access Program (Cal-SOAP) each summer since 2001 to provide its 25-hour course to underrepresented and aspiring first-generation college students throughout San Diego. USD makes it a priority to serve and give back to its local community.
"USD Test Preparation Programs is proud to partner with Cal-SOAP to provide our traditional SAT test preparation course to 100 Cal-SOAP students each summer," said Tara Murphy, USD Professional and Continuing Education's director of graduate career programs. "These students are often the first in their families to consider college and we're thrilled that this partnership has continued for over 15 years. The missions of Cal-SOAP and USD are well-aligned and we at USD are honored to have the opportunity to prepare these students for the next steps in their educational paths."
The intensive course is designed to prepare rising juniors for taking the PSAT in October. Applications through Cal-SOAP are available for sophomores each February and due in mid-April.
"USD is such a strong, reliable partner for us," said Cal-SOAP Academic Coordinator Karla Whitaker, who has been serving in her role for 14 years. "USD is committed to our mission that all students have access to something that would otherwise be beyond their means."
Whitaker said the classes are effective. Student scores often rise, an average of 10 percent from pre- to post-test, she said.
Douglas Young, director of USD's Test Preparation Programs, said USD's partnership with Cal-SOAP is one example of a commitment to support as many students as possible. USD Test Prep hosted a testing boot camp in March for City Heights' Hoover High School students and he stated there are other educational programs where a reduced price is available.
"We're always looking to collaborate, we're always researching ways we can put programs together for groups," said Young, who added that discounts are available for USD students and employees interested in taking preparation courses for advanced degree program tests. He also stated a desire to form partnerships with on-campus and with other local organizations.
The USD Test Preparation Program, run by USD's Professional and Continuing Education and has been in existence for more than 35 years, offers SAT and ACT Preparation courses for high school students. Adult courses for the Graduate Record Exam (GRE), Graduate Management Admission Test (GMAT), Law School Admission Test (LSAT), or course training for Certified Paralegal, Certified Professional in Supply Chain Management (CPSM), the Fundamentals of Engineering/Engineer in Training (FE/EIT) and Project Management Professional (PMP) are available.
— Ryan T. Blystone