Four Toreros Selected in MLB Draft
Four Toreros Selected in MLB Draft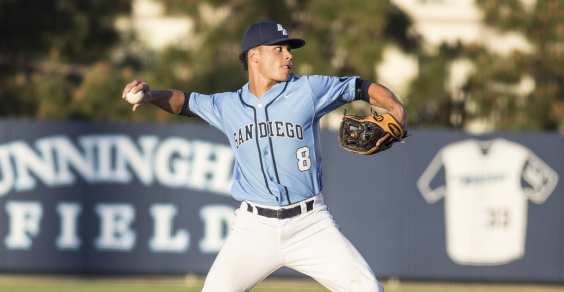 Four University of San Diego baseball players were selected in the annual Major League Baseball draft this past weekend, led by sophomore shortstop, Bryson Brigman, a third-round selection (87th overall) by the Seattle Mariners on June 10.
Brigman was the first Torero taken and the only USD player picked in the draft's first two days. On Saturday, the final day of the draft, three Toreros were chosen: Junior first baseman Ryan Kirby was a 12th-round choice of the San Francisco Giants; Senior right-handed pitcher Gary Cornish was taken in the 19th round by the New York Mets; and Taylor Kaczmarek, another senior right-handed pitcher, was picked by the Kansas City Royals in the 40th round.
Brigman's selection marks the fourth straight year that USD has had a player taken among first three rounds of the MLB Draft, following Kris Bryant (Chicago Cubs), Connor Joe (Pittsburgh Pirates) and Kyle Holder (New York Yankees).
"I was absolutely stoked to get the call," Brigman told Kirk Kenney of the San Diego Union-Tribune. "It's a phenomenal organization. As long as I play my game the way I know I can and stay confident in myself, I don't think I'll have any problem moving up the ranks pretty quickly and, hopefully, be on the big league team one day."
Brigman, a two-time All-WCC first team selection, bounced back from an early-season injury to hit a team-high .372 with eight doubles, 22 RBI, and 31 runs scored. He moved over to shortstop this season after playing second base his freshman year. Brigman was drafted in the 40th round of the 2014 MLB draft by the Oakland Athletics, but chose to attend USD. He is the only player to have won three World Championships while playing for the USA National teams, as a member of the 2011 USA 16U championship team, and back-to-back 18U championship teams in 2012 and 2013.
Kirby, a 6-foot-2 junior from Livermore, Calif., had a great season for the Toreros. He hit .344 with 44 hits, 10 doubles, six home runs and had 32 RBI, despite missing 21 games with an injury. Kirby was a big bat in the Torero lineup, so much so that after missing playing time, he returned to hit a walk-off home run in USD's win over Arizona State. Kirby was also selected as the WCC Player of the Week once, going 7-for-14 with two home runs and seven RBI the week of March 21.
Cornish, who is from Scottsdale, Ariz., had a good senor season for the Toreros. Cornish began the season as one of USD's weekend starters, and by season's end, he had worked himself into the ace of the rotation and started on Friday nights. Overall, Cornish posted an overall record of 5-3, while posting a 4.57 ERA. Cornish led the team with 80 strikeouts while only issuing 16 walks in 80.2 innings. Cornish was named the WCC Pitcher of the Week once this season, which included USD's 7-2 win at Pepperdine. Cornish allowed just two runs, while scattering six hits in one of his longest outing of the year, eight innings. Cornish also recorded a season-high 11 strikeouts in the victory.
Kaczmarek, a 6-2 senior from Mesa, Ariz., had a 1-0 record in 18 appearances this season. He recorded 31 strikeouts, and only issued eight walks in 42.2 innings. Coincidently, Kazmarek was also drafted by the Royals in 2012 after his sophomore season at South Mountain Community College.
— USD Athletics