Sacred Heart of Jesus Solemnity: RSCJ Renew Religious Vows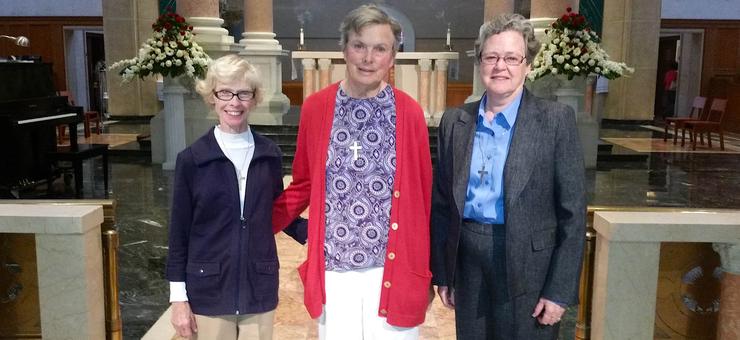 Friday, June 3, on the 2016 liturgical calendar of the Roman Catholic Church is the Solemnity of the Most Sacred Heart of Jesus. Devotion to the Sacred Heart is one of the most widely practiced and well-known Roman Catholic devotions, taking Jesus's physical heart as the representation of His divine love for humanity.
This Solemnity has particular relevance for the University of San Diego, as our co-founder, Mother Rosalie Clifton Hill, was a Religious of the Sacred Heart. This order founded the San Diego College for Women at USD in 1949.
Also known as the Society of the Sacred Heart, this order is "committed to discovering and making God's love visible in the heart of the world through the service of education." The Society was established by St. Madeleine Sophie Barat in 1800 and grew to encompass an international network of schools and universities.
To honor the Solemnity, Friday's 8 a.m. Mass in The Immaculata Church was highlighted by three members of the Religious of the Sacred Heart — including English Lecturer Betsy Walsh (photo, far left) and Associated Professor of English Mary Hotz (far right) — renewing their religious vows. Walsh and Hotz were joined by Linda Hayward, RSCJ, (center) who is a writer and spiritual director for the Society of the Sacred Heart.
Two other current on-campus USD Religious of the Sacred Heart members, Associate Professor of Leadership Studies Terri Monroe and Assistant Vice President of Mission and Ministry Virginia Rodee, were not present.
The June 3 Solemnity is one of many observed holy days throughout the calendar year. Remaining 2016 Solemnity events are: June 24 (Nativity of Saint John the Baptist), June 29 (Saints Peter and Paul, Apostles), August 15 (Assumption of the Blessed Virgin Mary), November 1 (All Saints), November 20 (Our Lord Jesus Christ King of the Universe), December 8 (Immaculate Conception of the Blessed Virgin Mary), and December 25 (Nativity of the Lord — Christmas).