Peace Studies Minor Student Attends Amsterdam Conference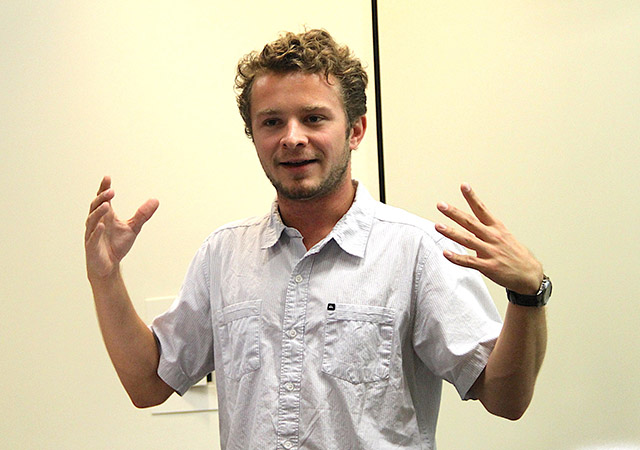 Attaining world peace is a noble pursuit. It's a grand action with many avenues needed to reach tangible results. At the University of San Diego, through its mission and programs housed within the Joan B. Kroc Institute for Peace and Justice building, there is an understanding of peace as an ongoing process. But that's also why there is plenty of work being done by staff and students that fuels optimism toward the ultimate goal.
Take, for example, Dr. Necla Tschirgi, professor of practice and human security for the Joan B. Kroc School of Peace Studies and peacebuilding advisor for USD's undergraduate Peace and Justice Studies minor. Tschirgi enjoys working with all students, but she's quite committed to the undergraduate students who complement their different major disciplines by examining social issues with a peace and justice focus. Presentations by students Macauley Berg, Julian Carmichael, Michelle Cuthbert, Rishika Daryanani, Rebeka Henry, Kaitlin Meyer, Rainy Paul, Alexandria Piccinini, Cheuk Siu Jackson Yeung and William Jernigan in Tschirgi's PJS 495W class back this up.
"The first question that's asked is what does this have to do with peace and justice," Tschirgi said. "I think the type of courses they took for the minor brought different answers to it. This class links the pieces and brings some conceptual framework to understand structural sources of violence, inequality and justice and what to do about it."
The peace and justice studies minor has understandably grown as USD's peace school has grown, too. There's even a new Peacebuilding and Social innovation minor.
Another important step forward for the PJS minor exposure came when Jernigan, a graduating senior, was able to attend a conference in Amsterdam called Learning for Peace, which examined peacebuilding, education and advocacy. The program was a four-year partnership between UNICEF, the Government of the Netherlands and the national governments of 14 participating countries. Thanks to support from the Kroc School and USD's Honors Program, Jernigan attended the conference. He listened intently as international scholars presented their research and he got a better sense of how these topics are viewed from a worldly perspective.
"I was focused on three thematic areas in education and peacebuilding," he said. "The integration of education and peacemaking processes as a whole; the role of teacher in peacebuilding; and the role of formal and informal programs of education and what effect they have on peacebuilding."
Attending the conference was an important addition to research for his USD Honors Program thesis final this week. "I talked with a number of different professors and I've been reading their books," he said. "I thought attending the conference was a very productive use of my time and I'm grateful for the opportunity."
He cited several takeaways from the Amsterdam conference:
• Greater understanding of how processes work in the real world;
• Interactions between donors, researchers and countries receiving funding;
• Important role of Millennium Development Goals and Sustainable Development Goals in shaping discussion;
• Capriciousness of funding;
• Importance of integrating grassroots and International Government Organizations;
• Examining the potential role of technology;
• Considering education and reconciliation more closely.
The conference was the latest opportunity Jernigan has had as a USD student. Combine his academic interests — international relations major, minors in chemistry and peace and justice studies — with personal growth experiences such as volunteering at the Somali Refugee Assistance Center, a summer 2015 research internship in South Africa for the Economic Policy Research Institute and leadership roles in Lambda Chi Alpha and Pi Sigma Alpha, and it's clear that Jernigan is a true Changemaker agent for peace.
"It really comes down to your world view emerging in the real world," Jernigan said. "Having this training and knowledge about all issues going on in the world and having knowledge of the lens to approach it and attack it through, I feel I'm more aware of what needs to be done. I couldn't see myself going into a job or a field where I wasn't doing anything effective to help change or shift where the world's at. I think that's a pretty cool thing for students coming out of a Catholic institution like this where we really do strive to focus on social justice. I think we can do a lot more work on actually implementing, more than just talking about it."
— Ryan T. Blystone