RA Students Experience Transformative New Orleans Immersion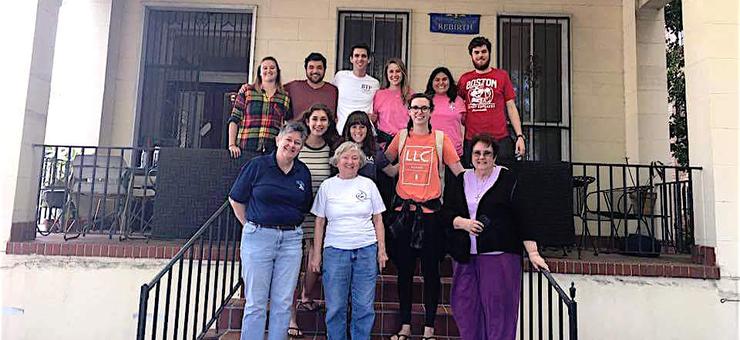 Being a resident assistant at the University of San Diego is an important role. Countless students have the letters RA on their resume of experience. It has always been a unique way to connect with the campus community while developing leadership skills and the importance of being present through responsible actions, empathy and problem-solving opportunities.
Residential Life staff provides a solid RA training program prior to the start of each academic year, but like most anything, there's always room for growth and improvement. During the March spring break, in conjunction with USD's Karen and Tom Mulvaney Center for Community, Awareness and Social Action, Residential Life organized a weeklong immersion trip to New Orleans for a group of current RAs to participate.
There, they met with people from all walks of life who spoke to overarching themes of justice, resilience and community. Students visited the Community Book Center and found laughter and friendship. The group stayed and bonded with Religious of the Sacred Heart nuns in the Duchesne House (pictured). Attending Mass at a Catholic church gave them a glimpse into the emotional impact of faith in the local community members' lives.
While a week is not enough time to fully embrace all New Orleans has to offer, it was certainly a transformative experience. In late April, the group, consisting of RAs Karen Clark, Ashley Escobar, Alexa Layne, Sarah O'Connor, Dante Enriquez, Teddy Fisher, Sean Essesx and Katie Bradshaw and co-facilitators Bernadette Smith and Kelly Lonergan, reconvened and shared some of their thoughts about the trip while also enjoying a New Orleans-inspired meal.
Impact of New Orleans
New Orleans was described by one local as being "equal parts magic and tragic." It might be where the French Quarter, Mardi Gras, beignets and crawfish are celebrated and enjoyed, but it's also where, more than a decade later, there are still visible signs of Hurricane Katrina's force. The city's education system is a mess, there is dismay about environmental racism perpetuated by the petrochemical industry and people in many parts of the city are struggling to survive.
"Everyone felt out of their element and I had no idea what to expect," said Bradshaw, a junior international relations major. "But everything's different" since her return from the trip. "I don't look at things the same way."
Enriquez admitted that as he was heading to New Orleans, his thoughts were still on what tasks he'd need to handle after it. Once he was in New Orleans, though, the junior's focus changed considerably. "It was a change for me to not ask questions. You sit there and take it all in. It reminded me what it's like to just listen and empathize. Coming back, it was a reminder that this is why I'm in this (RA) role."
Escobar, a graduating senior Environmental Studies major who will work in Harlem through the Jesuit Volunteer Corps this fall, was thankful for the chance to experience New Orleans through a community lens. Personal stories were shared. Tears were shed. Understanding was free-flowing, too.
"It was important to go there with an open mind to new experiences, to be open to everyone's life and then ask yourself 'how can I bring this back to USD because it's such a valuable thing,'" said Escobar, who likened it to her USD experiences through community service-learning programs in Linda Vista.
Fisher, a sophomore RA who started his role just this semester, not only learned more about New Orleans' social justice issues and its people, but it served as a way to get to know his fellow RAs better, too. "I'm totally comfortable with meeting new people and this trip really helped me branch out to meet others from USD."
Comfort Zone Stretched
Getting out of one's comfort zone is always important. For these RAs, this trip was a chance to do it more than 1,800 miles from the USD campus.
Lonergan, a USD alumna who went on a USD New Orleans immersion trip as a senior, this time went on the spring trip as a Mulvaney Center staff member and a Residential Life Community Engagement Liaison. While she had been to New Orleans before, Lonergan appreciated the experience from a new view.
"I think this trip was particularly special because of how engaged, reflective and open the students were. RA students have such a deep understanding of community that served them well on this trip. I was impressed by how open, honest and eager to learn they were. I, of course, learned so much as well because being on the flip side of an experience like this is challenging, humbling and rewarding all at once."
Lonergan agreed with the RAs regarding the set approach of being in community with others and to not go into it looking to fix things.
"The ability to sit, listen and empathize with individuals is something we emphasized on our trip," she said. "These skills are so easily transferred to their experiences in the residence halls, where so often they are asked to listen and understand those who have experiences wildly different from their own. I think the trip to New Orleans reflects, also, a larger human need to find connection and show compassion with those who do not share our own lived experience. This is a skill that benefits RAs, of course, but humankind in general. Immersion experiences like this allow us to slow down, take our preconceptions and expectations out of the picture and simply be present and listen."
— Ryan T. Blystone