Social Innovation Challenge Delivers the Good
Social Innovation Challenge Delivers the Good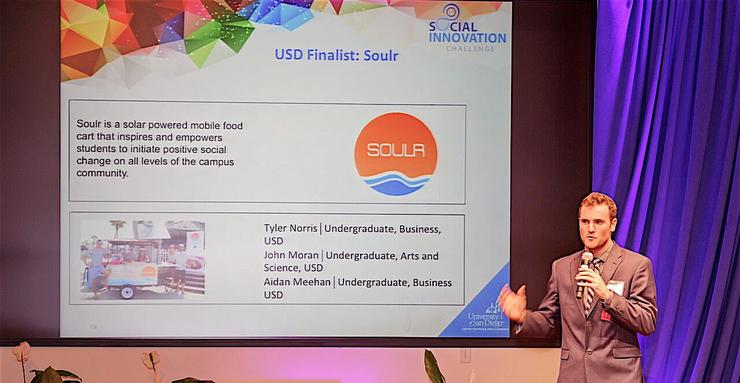 The Social Innovation Challenge (SIC), hosted by the University of San Diego's Center for Peace and Commerce (CPC), is a social entrepreneurial opportunity mainstay.
Celebrating its sixth year, the 2016 SIC awards ceremony on April 29 rewarded multiple projects on the rise, expanded its reach, and shared updates on SIC winners dating back to its 2011 debut.
Joan B. Kroc School of Peace Studies Dean Patricia Marquez, former director of the CPC and who launched the SIC at USD, spoke of its impact: It's an expression of USD's mission; it listens to students and their passions; social innovation is everywhere, in each school and discipline and attracts applicants campuswide; and it is embraced and supported by the local and international community, from San Diego to Tijuana and beyond.
Grace Michel, associate director of the Center for Peace and Commerce, who received 101 project applications this year, said genuinely to the finalists, "You all inspire me to want to come to work each day."
Strong Showing for USD Social Entrepreneurs
There were 15 finalists this year with two Baja, Mexico-based student projects, five from neighboring San Diego County universities and eight USD student-led programs. Vying for more than $50,000 in prize money and receiving a bevy of in-kind service bonuses, the biggest financial winners were USD projects Iron Heart Canines for Heroes, Soulr, and Foothold Foundation, each of whom earned $10,000. Soulr had the most text votes to win the $1,000 live audience choice award.
Soulr, a solar-powered mobile food cart that enables student charity-focused organizations to sell healthy food products and keep a percentage of the profits, has been a visible entity on campus. Soulr founder and USD undergraduate business student Tyler Norris said SIC funds will aid expansion plans for carts at other San Diego college campuses this fall.
"It's fantastic and I'm excited to have been part of it," Norris said. "It's really an honor to be part of this campus community and the San Diego community as it leads the charge for sustainability and social change."
Iron Heart Canines for Heroes was designed by Coletta O'Donnell Boone, a School of Leadership and Education Sciences (SOLES) master's student in the nonprofit management and leadership program, and friend and businesswoman Beth Jones. It seeks to reduce suicide by providing service canines to local military veterans and first responders who suffer from post-traumatic stress disorder (PTSD) and traumatic brain injuries.
Boone credits her USD education, SIC-provided resources such as mentoring, and Jones for making this project a reality.
"I went into the nonprofit program wanting to do something with pet therapy. But the more I learned, the more I realized this was necessary when I understood what the suicide rate is (22 per day) and what happens to someone when you have a traumatic brain injury. You look OK, but really don't feel OK. ... I've had tremendous mentors. Tres (Conrique, MSEL '03) has been such a supporter. He helped me rewrite things that were in my mind that straightened my thinking for why we were here — to save lives. Not to train dogs, but save lives."
Foothold Foundation, a nonprofit that creates strategic collaboration and resource sharing for social change, is led by MBA student Jessica Kort. Her $10,000 capped a busy week.She did the lengthy pitch for SIC judges earlier in the week. A few days later, she did a live presentation to angel investors for a separate business idea, Lacy, a bra washing machine, as a finalist for USD's Venture Vetting (V2) Pitch Competition. There she earned $8,000. She's the first USD female entrepreneur to reach the finals of both SIC and V2 in the same year and even more impressive, with two different ideas.
"It's exhilarating," she exclaimed. "I don't know that I've been in a place where I've been recognized for a lot of work accomplished. It's a huge honor."
Modest about her entrepreneurial status, Kort credited playing to her strengths. "I never would've pegged myself as someone who strives to be an entrepreneur. It's more about realizing that I make connections … between people and concepts and that's problem solving. I've realized it's possible to push yourself to a place where you're able to make solutions a reality and try them until they're right."
Finalists Appreciate Support
UC San Diego's Tuturoomii, a mobile app to help LGBTQ+ people and allies find ideal roommates and reduce the experience of discrimination, earned a combined $10,000 through SIC's mobile tech and San Diego County tracks.
"This is the first competition we've participated in and it's been a blast," said Tuturoomii co-founder Wei Fan. "We're thankful to USD for providing the challenge, allowing us to participate and to be supported by everyone. We're humbled by this very valuable experience."
Others receiving funding were Grace Bagunu (SOLES PhD student), Joseph French and Keryna Johnson for Social Kitchen, a business incubator that inspires and supports youth and adult entrepreneurs to engage in social innovation in urban communities ($5,000); San Diego State's lone SIC finalist, Havel, creator of a portable bed that converts into a functional backpack to improve a person's quality of life ($3,000); and Amigoes, a mobile rideshare app created by USD undergraduate students Charlotte Vitak, Brook Santangelo and Kelly Anderson, ($2,000 mobile tech track). All finalists received in-kind service support, including Pataje Soley LA, Amaniart and Young Dreamers United from the USD track and One Village Philippines, Sendforc and SPEAK (Sparking Patience, Empathy and Kindness) from the San Diego County track.
New International Component
One additional example of SIC's expanding reach was the new $1,000 Baja Track. Seen as an opportunity for student social innovation visibility from Baja California's CETYS University, two finalists — Greenest and Loti — each received $500. Greenest is a mobile app that encourages recycling through a social experience and is the work of Emma Martinez, Francisco Olea, Claudio Gonzalez, Javier Rizzo and Antonio de Luna. Loti, a game promoting cognitive stimulation for children ages 6-12, is the idea of Stephanie Gonzalez and Alexis Madrid.
— Ryan T. Blystone
Photos courtesy of Kristine Renee Photography