Graduating Toreros Selected as Fulbright Scholars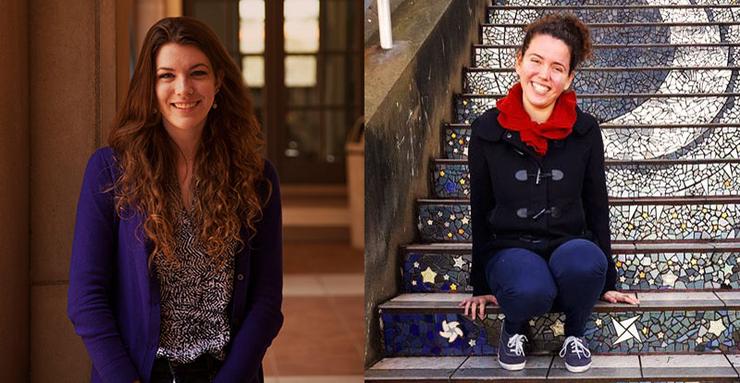 For two University of San Diego Class of 2016 students, next month's graduation signals a transition from undergraduate degree recipient to prestigious Fulbright Scholar.
Madeline Kasik (pictured, right) and Alexandra Hafer (left) have been accepted for teaching roles that will take them to South Korea and Germany, respectively.
"The Fulbright Scholarship Program is the largest U.S. educational exchange program offering over 1,000 opportunities each year for individual study, research or teaching abroad," says James Gump, PhD, the USD Fulbright Student Program advisor.
Madeline Kasik
For Kasik, a San Jose, Calif., native and majoring in international relations, becoming a Fulbright scholar is something she is still processing.
"It is still somewhat unbelievable that I got it," she says. "I took a chance and applied to this program, and I am so happy and grateful that I did."
Learning about the program from Gump, her preceptorial advisor, it wasn't until her third year at USD that Kasik considered applying for a Fulbright position. Now, she is looking forward to teaching English as a second language to students. Kasik say she is excited for the opportunity to immerse herself in South Korean culture.
"Being a part of a cultural exchange was very appealing to me," says Kasik. "I specifically chose South Korea after mentoring an exchange student from South Korea."
Having been involved on campus in PRIDE, Honors Program, Residential Life as an RA, and Pi Beta Phi, Kasik is also a member of the prestigious Phi Beta Kappa society on campus and has received departmental honors from USD's Political Science and International Relations Department.
Alexandra Hafer
Originally from Chesapeake, Va., Hafer will travel to North Rhine-Westphalia, Germany after graduation. The English major will be well prepared, though, given her love of the culture, knowledge of the language, and participation in USD's German Club.
"I woke up to the email at around 8 a.m. on a Tuesday, not at all expecting it, and I didn't know how to react," she says. "Now the excitement has set in and it's all I can think about."
Hafer, who is passionate about learning and teaching other languages, will be an English teaching assistant in Germany. "I'll be spending most of my time giving presentations on American culture and leading discussions in [an] English class," she says. "I will also be volunteering with organizations that help refugees."
Having decided to apply to the Fulbright program because of the opportunity it provides students, Hafer admits that adapting to a foreign country might be difficult, but she's looking forward to the chance to experience it.
"This is my dream job, teaching English in Germany," she says. "I'm very excited to work with the students and learn more about the German education system."
A Look Ahead
With graduation coming up for both Kasik and Hafer, the next step means preparing for a year abroad in their host countries. Their acceptance into the program is also a reminder of all they have accomplished while at USD.
"Students who are selected are academically successful, have demonstrated leadership on campus or in the community," says Gump. "[They] have been involved in community service and are adaptable and well-rounded."
What the next year entails is unknown, but for these Toreros, USD has been the start to careers dedicated to service.
— Allyson Meyer '16