Student Changemakers Meet Water Challenge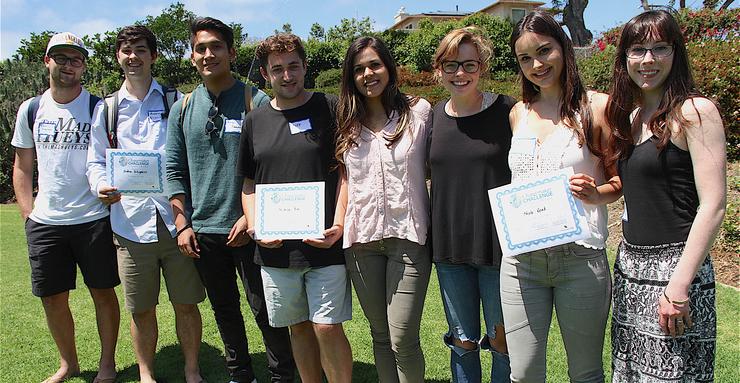 Nikki Read and Leandra Ipina arrived at the University of San Diego soon after its designation as an Ashoka U Changemaker Campus occurred. So it seems fitting that in the waning days of their undergraduate student status, both will graduate in May, that they submitted an idea to create a positive — and sustainable — change on campus.
The political science majors submitted a two-minute video for the fourth annual USD Changemaker Challenge. Their video, which was to produce an idea on the theme of water conservation and/or consumption, received the most online votes among seven finalists on the USD Changemaker Hub Facebook page to earn $1,680 of $6,000 in total prize money available.
Their idea was to recommend that USD incorporate drought-resistant plants in place of current vegetation in certain places on campus. Areas noted were grassy areas just north of the Student Life Pavilion, the SLP stairs and the West Lot islands. This action, they surmised, could reduce water usage by more than 287,000 gallons per year alone.
"When I heard how much water we use at USD for watering plants, it made me think where something could be implemented. We're not taking away all the aesthetics, but how could we eliminate some things we don't need and still make a positive difference," Read said.
They learned about USD's water system to better shape their idea. Now that the video's complete, what's next? Implementation. Read, speaking at the Changemaker Challenge awards luncheon announcement on April 22, said she'd like to see their idea come to fruition.
"Being that we're graduating in May, it would mean a lot knowing that something we did would leave USD a little more sustainable for future generations."
Their video was one of five finalists among student groups in an International Human Rights Political Science and International Relations course taught by Professor Avi Spiegel. Given the class' focus on activism and the Changemaker Challenge's attention on a major social justice issue around the world, it's evident that students were motivated to put their classroom learning into practice.
Other ideas from Spiegel's class to reach the finals: Take 5, a showerhead that changes color to remind students to take short showers (third place, $1,110, Eliana Navarro); Combating Environmental Racism in Barrio Logan raises concerns about water access and health issues affecting this San Diego community and suggests community partnership opportunities for USD students (fourth, $660, Nicholas Bihr); H2O App is a mobile app for USD students to track daily water usage, set water-use goals and reward them for it (sixth, $324, Savanna Griffis); Water Marathon for Change, a fundraiser where sponsors donate to individuals who fulfill a task or a lifestyle change related to conserving water locally. Funds help drill a borehole in an Ethiopia village to provide clean water (seventh, $222, Jessica Noe).
Two finalists, the second- and fifth-place finishers, respectively, were mechanical and industrial and systems engineering students.
A Cherry Tree Cover Umbrella was proposed by mechanical engineering students Andrew Billigmeier, Jorge Pumachagua, Jake Hallgrimson and Connor Schofield. Their idea, based on Central California Valley-area farmers' cherry crops that can be severely damaged by "unlucky rain," would use umbrellas to protect crops and prevent loss. Their idea earned them $1,560.
Irvin Hernandez's group project sought to develop a greywater irrigation system at USD that takes all wastewater, except toilet wastewater, to water trees, bushes and gardens across campus. Greywater sources include on-campus washing machines, showers and sinks. It reduces' USD's water usage and takes this water out of the sewer system, thus reducing local water pollution. This idea earned Hernandez' group $444.
Judges who picked the finalists were the Changemaker Challenge Council, a collection of campus and local community members.
Water will return as the focused topic for next year's Changemaker Challenge video contest in 2017, Changemaker Hub Director and USD Professor Michael Williams, PhD, said. Judging by the strength of this year's finalists, it is a good topic.
"It was cool to take what we learned in class (about activism) and apply it to the real world, and on campus specifically," Read said. "This really inspired me in more ways than I thought were possible."
— Ryan T. Blystone