Alumnus Receives Peace Corps' Volunteer Excellence Award
Alumnus Receives Peace Corps' Volunteer Excellence Award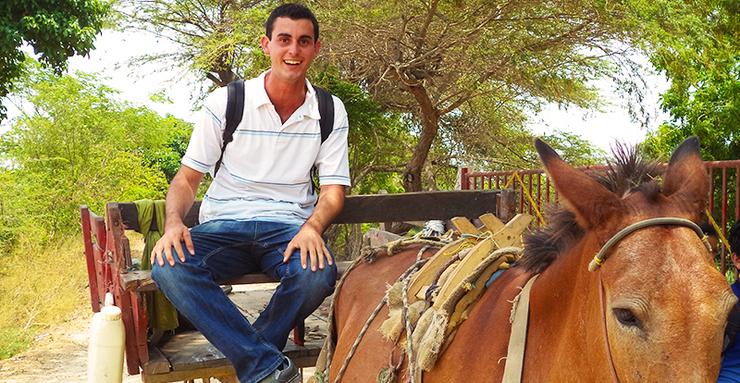 Thomas Nolan's college experience was different than he thought it would be. The La Verne, Calif. native had his sights set on getting a business degree. That all changed when it came time for him to enroll in the three required theology courses at the University of San Diego. This business student quickly realized his love for theology, and his interest in a discipline that, to quote him, "challenged me a lot more and kept my interest on edge."
Graduating in May 2013 with a degree in theology, Nolan's determination to seek out his next "challenge" came in the form of the Peace Corps, with an assignment in Colombia where he would spend over two years in service, ultimately earning the John F. Kennedy Volunteer Excellence Award.
Challenging the Status Quo
"USD pushes [us] to make the world better," says Nolan. "I found this mostly in my theology classes. [They] challenged the status quo and made me question what I was doing with my life. I came to feel that after four years of such privilege at USD, I had to do something to give back."
For Nolan, that was joining the Peace Corps. In August 2013, three months after graduation, he began the next chapter of his life — a 27-month assignment in Barranquilla. "I was located on the Atlantic coast of the country in the beautiful city of Barranquilla," he says. "It is considered the cultural epicenter of the country, and home to the world's second largest Carnaval celebration."
A Service Experience
Beginning his official assignment teaching English through the Livelihoods project, Nolan worked directly with citizens of that region, helping them develop skills that would enable them to earn higher wages with their English-speaking abilities.
"I worked directly with Colombians in a public and post-secondary school developing [an] English curriculum, creating sustainable resources for the classrooms, and providing additional English learning and teaching strategies for the students and teachers."
However, that wasn't all he became involved in. Outside of his Peace Corps service, Nolan discovered another path for community outreach.
"I discovered, on my own, a foundation in my community that was a home for abandoned, abused, orphaned, and addicted boys," he says. "I began to work with this foundation and with these boys on their education and life skills development."
Never one to avoid a challenge, Nolan began conducting needs assessments for the Fundacion Futuros Valores de Barranquilla, ultimately bringing in a USAID-funded grant.
"I was able to receive and monitor a USAID-funded grant to build a sustainable resource center with about 1,000 books and 5 computers for these students. I also helped to create [a] web page so that people around the world could help the effort at the foundation and provide much needed support for the boys."
John F. Kennedy Volunteer Excellence Award
Nolan's dedication to his new home was evident in everything he did, from his work at the school to his wholehearted investment in the boys he met at the Fundacion Futuros Valores de Barranquilla. His commitment to his community did not go unnoticed. In August 2015 Nolan received the Peace Corps' John F. Kennedy Volunteer Excellence Award.
The award, which came as a surprise to Nolan, recognizes Peace Corps members who exhibit strong work performance and community integration skills.
A Lasting Impact
Now back from his service abroad, Nolan is looking forward to the next chapter. Greatly impacted by his work with the Fundacion Futuros Valores de Barranquilla, Nolan plans on pursuing a career in the public or private sector working with at-risk youth.
"I simply stumbled upon the foundation that I donated so much of my time to. It began one day when the boys heard me speaking and noticed that I [had] a gringo accent in Spanish," says Nolan. "They quickly became my best friends and have taught me so much about life. It is because of them that I ultimately want to work with at risk youth here in the U.S."
Where he'll eventually settle down is still unknown, but one thing's for sure, this former Peace Corps volunteer will forever be affected by the experiences he had and the lives he touched while in Colombia.
"I am honored to have been able to share in their culture and be a part of the lives of these great people."
— Allyson Meyer '16