Getting to Know Your Professors: Jillian Tullis, Communication Studies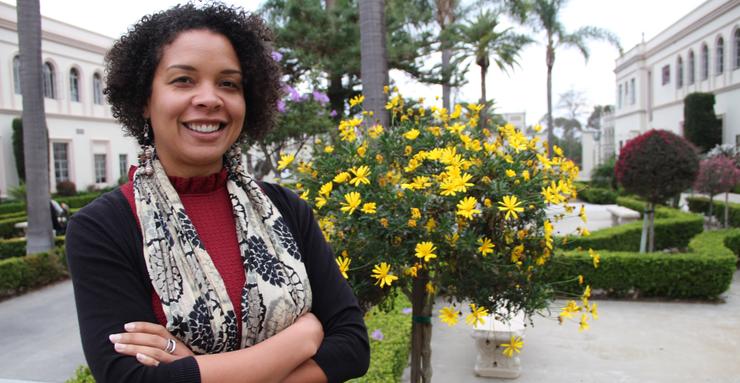 Jillian A. Tullis, PhD, is an assistant professor in the Department of Communication Studies. Her teaching and research interests focus on health communication, specifically communication at the end-of-life. She joined the faculty at the University of San Diego in 2015. USD News Center is spotlighting new faculty members throughout the academic year.
Q: Your area of expertise is health communication, and specifically end-of-life issues. What interested you in this area initially?
I became interested in communication at the end of life when I was in my MA program at California State University, Sacramento. The show "Six Feet Under" on HBO just started and first piqued my interests about how we talk about dying and death. The setting for the show is a family run funeral home in Los Angeles, and each episode of the series started with a person's death. My mom and I were both watching the show and talking about dying and death. This was a big change from when I was a kid. Because I was in grad school and taking a research methods class, I decided to see if any communication scholarship on the topic. There wasn't and I've been studying it ever since. Since dying and death communication is a topic of study, health communication, one of the many sub disciplines within communication studies, was a logical fit for my studies.
Q: What do you think about states that are passing legislation to legalize end-of-life suicide?
Overall, I think the End of Life Option it's a good thing for Californians. Oregon has had Death with Dignity for years and their experience tells us that very few people use the life-ending medication. Most people just want to have the option and to have as much control as possible. I'm a tremendous fan of hospice, I've conducted research with hospices and served as a volunteer for years, those healthcare providers do an amazing job controlling pain and other symptoms. I wish more doctors would refer their patients to hospice since the care is excellent and care help people live fully until they die a natural death. Yet, some diseases are horribly debilitating and painful. In those cases, people should have the option. This is not a decision people come to lightly and I trust people to do what's best for them after careful deliberation with their physician, their family, their god.
Q: What role does/has social media play(ed) in bringing this issue to the forefront?
I think Brittany Maynard's story (a young woman with an incurable, inoperable deadly brain tumor) was a compelling case for the End of Life Option Act to become law. Maynard was young, recently married, and lived in California where physician-assisted suicide wasn't available. Her story was floating around social media and surely contributed to the law gaining so much traction in the state. Like so many other health issues, social media can help expose people to new ideas, and make them more empathetic to others' experiences.
Q: The passage of the Affordable Care Act and its implementation is another controversial issue. What is your take on the messaging surrounding the ACA?
It seems ridiculous that it was ever controversial given how popular and successful the program seems today. While I've not studied this particular topic closely, I do recall thinking that President Obama's initial messaging wasn't very effective among some audiences. The narrative of the ACA wasn't simple enough in the beginning, as a result, I think some citizens couldn't really envision how the program would work or how it could help people. Now that the program is in place and more people have health coverage, I think the messaging around ACA is easier and has improved. While there are still some problems with the program, it's not perfect, there is less ability to misrepresent the program (I'm thinking of the myth of Death Panels) and we can point to real people who have benefited from greater access to coverage.
Q: Did you ever contemplate a career in the medical field?
At one time I was planning to become a physical therapist and athletic trainer. I even did a program in high school to prepare me for this career field. I spent many afternoons and Saturdays taping ankles and wrists for football players and basketball players. I also worked as a Certified Nursing Assistant for a few years after high school, so I've had some experience providing medical care.
Q: What role do you believe spirituality plays in health care?
I believe all people are spiritual, even atheists. For me, spirituality are those things that give our lives meaning and purpose. If your family gives your life meaning or purpose the chances are pretty high that this will have some influence your healthcare decisions. If we are in touch with our spiritual selves, we're able to make decisions about health that represent our needs and values. The challenge, however, is that some healthcare providers aren't equipped to recognize or respond to spiritual needs or even attuned to think about the ways spirituality shapes healthcare. Chaplains are invaluable and can help patients, their families and healthcare providers think about spiritual questions and medical care.