Kimberly Nielsen: USD Alumna, Scientist and Professional Sea Turtle Rescuer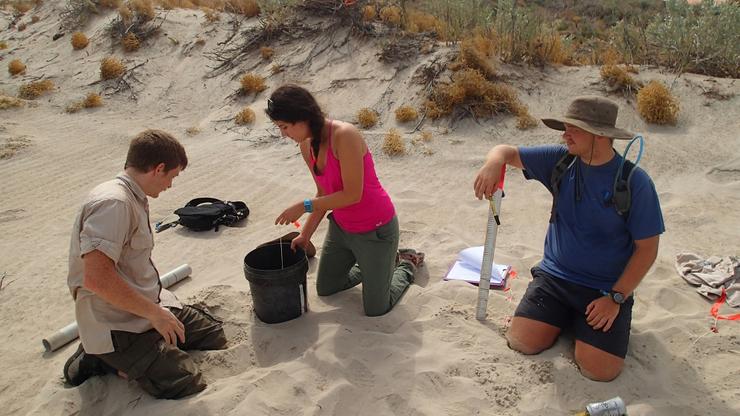 Kimberly Nielsen graduated from USD in 2014 with a Bachelor's degree in Marine Science. Since then, she has traveled the world working as a marine biologist and researcher for different sea turtle conservation projects. Nielsen's most recent placement is with the Gnaraloo Turtle Conservation Program (GTCP) in remote Western Australia. Nielsen recounts her journey to science and why it matters.
As an undergraduate student, I could not have imagined where I would find myself in the months following graduation. I chose to attend USD because I knew I wanted to be a marine scientist so for the next four years, including a semester abroad at James Cook University in Australia, I juggled life at the beach, internships, and studying on the first floor of Shiley.
The marine biology job search in San Diego, and really all of California, was grim, if not completely absent. By the time spring of senior year came around, we were buried in exams, papers, and personal research seminars. In the middle of that chaos, I considered the following: If I could do absolutely anything, what would I choose?
Costa Rica Adventures

On a whim, I applied for a research position with a sea turtle conservation project in Central America, and by September I was living in the middle of rural Costa Rica. Playa San Miguel is a rustic village where nobody speaks English, and the poaching and black market sales of sea turtle eggs are still prevalent.
Nights were spent tagging nesting olive ridley (Lepidochelys olivacea), green (Chelonia mydas), and leatherback (Dermochelys coriacea) sea turtles, protecting nests, and releasing the hatchlings under moonlight; days were spent volunteering in the community. I had found myself in an environment completely opposite that of San Diego, but in connecting with the locals, we began to understand each other. I grew to love the culture of Pura Vida, and in turn, they developed a deeper connection with the environment, including their "tortugas amigas."
Chasing the Scientific Dream
That first time in the field solidified my passion for marine conservation. Following my experience in Costa Rica, I worked at a sea turtle hospital on South Padre Island, Texas, helping with rescue and rehabilitation in addition to Kemp's ridley sea turtle (Lepidochelys kempii) nesting season. Recently, I left California yet again as I was selected to join a small field team with the Gnaraloo Turtle Conservation Program (GTCP).
Gnaraloo is located in Western Australia at the southern end of the Ningaloo Reef. This remote stretch of coastline is home to the largest confirmed mainland loggerhead sea turtle (Caretta caretta) rookery in WA, contributing to the world's third largest loggerhead population. Together, Gnaraloo's rookeries average more than 400 nests annually, designating them as significant nesting sites for this region.
The goal of the GTCP is to protect sea turtle rookeries by conducting baseline environmental and biological research. As a field team, we monitor the nesting females, analyze data, and engage the community in sea turtle biology and conservation through educational presentations and media.
Saving the World...One Turtle at a Time
This season is particularly exciting because we are helping initiate two new projects: 1) monitoring sand temperatures along the beach, and 2) satellite tagging some of the loggerheads nesting in Gnaraloo Bay. The data we record with temperature loggers will be used to assess the vulnerability of this rookery to future climate change. Sand temperature plays a pivotal role in sea turtle development and overall nest success with cooler temperatures producing more male hatchlings, and warmer temperatures producing more females.
Furthermore, tracking these loggerheads via satellite will provide us with more specific information on nesting behavior and migration patterns. Because so little is known about this population, all the information we get can be used to make informed management decisions and work towards conservation – a massive step in understanding and protecting endangered species.
"If You Like It, Do It!"
These experiences in the field have been incredibly diverse, ranging from the tourist atmosphere of South Padre Island, to the jungle beaches of Costa Rica, to the remote outback of Western Australia. As amazing as this journey has been, it certainly has not been easy. Marine science is a compact field that can be difficult to break into as an entry-level college graduate, the work is far from glamorous, and the pay is low.
I had preconceived ideas about research, but in reality, I had no idea what I was getting myself into. The truth is that fieldwork is arduous, often frustrating, and full of mosquitos. What continues to pull me into the field is the reality that one project or even one person can inspire change and make a positive contribution to the world, no matter how simple or insignificant it seems.
My advice to interested students would be to volunteer, take the opportunity to get research experience with faculty, and never stop asking questions. Find something you are passionate about and pursue it – nothing beats the feeling of being a part of work you believe in. If you like it, do it!
— Kimberly Nielsen '14
To learn more about sea turtle conservation, like the Gnaraloo Turtle Conservation Program Facebook page and download the Turtle Tracker app to follow the migration of our tagged loggerheads in real time!