SOLES' Alumna Shirley Parrish Miranda Named County Teacher of the Year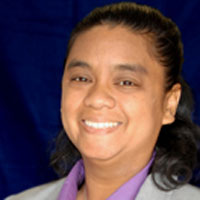 The San Diego County Office of Education (SDCOE) named Shirley Parrish Miranda '07 (MEd) one of its five teachers of the year at its 25th annual A Salute to Teachers event. SDCOE honored 44 teachers for their commitment to teaching and learning, representing their exceptional efforts and celebrating the 26,000 public teachers in the region.
An engineer who created business and web applications, Miranda had a thriving career prior to entering the classroom. As an extracurricular, she volunteered as director of the Greater San Diego Science and Engineering Fair and found a growing passion for mentoring students. Eventually, she decided to pursue a second career as a teacher, and she hasn't looked back.
Returning to the same high school she attended, Miranda teaches statistics and computer science at Morse High School. As a Morse alumna and a first-generation college graduate, she understands some of the challenges her students face. She encourages them to seize opportunities and not be limited by their zip code. Particularly at the beginning of the year, Miranda spends time building community in her classroom, imparting her wisdom from industry and sharing life lessons.
All of Miranda's students also participate in the Greater San Diego Science Fair. She encourages them to pursue inquiry based projects on any subject matter. Projects have ranged from examining bacteria at the department store makeup counters to creating particle board from reusable materials.
She also serves as Junior Class Advisor and AP Stats Club Advisor. She is a teacher fellow and advisory board member for the University of California, San Diego's California State Summer School for Mathematics and Science (COSMOS). and the Intel International Science and Engineering Fair Advisory Council. She also served a term on the Computer Science Teacher Association Board.
Miranda is also a novelist, who is working on her fifth book in a young adult series called "Bits and Pieces" about the power of friendship overcoming obstacles.
Dena Glynn '96 (BA) '00 (MEd)
Poway Unified School District
Dena Glynn teaches fourth and fifth grade at Tierra Bonita Elementary School in Poway Unified School District. She teaches her students to live by the rule "Experience. Fail. Learn. Repeat."
Glynn incorporates technology into her classroom and brings real world lessons to the books they read as a class. Last year, they read the book A Long Walk to Water about a Sudanese Lost Boy and connected with the Sudanese community here in San Diego, and then the students decided to create a fundraiser and earned $500 to support the community.
Ron Lancia, '04 (MEd) '13 (PhD)
San Diego Unified School District
Ronald Lancia '05 (MEd) '13 (PhD) teaches language arts, film, yearbook and AVID at Mission Bay High School and has been selected to represent San Diego Unified School District.
In addition to his classes, Lancia developed a program called After-school Center for Excellence and Support (ACES), which offers students consistent academic support and provides a place for students to gather after classes in an emotionally supportive environment. Three years ago, it began as a voluntary writing program that met during lunch. It was so popular among his students that it has now grown to a two-hour after school program Mondays through Thursdays.
Now its grown to provide assistance in English, history, math, science, technology resources and many other subjects. Students come after school, eat healthy snacks and can interact with tutors and ask questions that they don't feel comfortable asking in the classroom. They form relationships with teachers, advocate for themselves, and form positive relationships. Over the past two years, the program has had 14,275 student interactions.
Matt Norris '03 (MEd)
Grossmont Union School District
Matt Norris teaches social science and AP World History at West Hills High School and has been selected to represent the Grossmont Union School District. In addition to teaching, Norris serves as the infinite campus trainer/teacher coach.
Norris incorporates podcasts and videos into his courses and works on a model of subject mastery, and students move at their own pace during his class. With this model, his tests have gotten harder, yet the grades have improved. Students are empowered to excel at their studies.
More information: http://www.sdcoe.net/about-sdcoe/Pages/salute.aspx