Knowledgeable Night of Entrepreneurship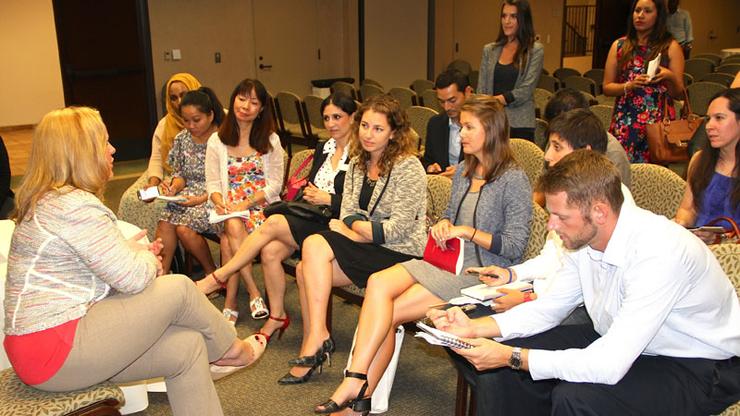 Entrepreneurship is a mindset. It's about the big idea. It's about the networking, the investment funding, the late nights of frustration and concentration. It's about building a strategy for everything. It's about tinkering and more tinkering with that strategy. And this all happens before your idea is launched, which is another series of challenges.
While everyone seeks success — and it happens a lot in the entrepreneurial world — what was more readily available at the Oct. 8 University of San Diego Legacy Entrepreneurship Conference was a host of successful USD alumni and area business entrepreneurs sharing their experiences, answering questions and providing good, applicable advice to an audience of current students, young alumni and community entrepreneurs seeking their path with their big idea.
The event, hosted by USD's School of Business Administration, was driven by a campus community that supports USD-led entrepreneurial pursuits such as the Social Innovation Challenge, Venture Vetting (V2) Pitch Competition and Changemaker Challenge, provided numerous food-for-thought opportunities.
Following welcoming introductory words from new SBA Dean Jaime Alonso Gomez, Center for Peace and Commerce Assistant Director Grace Michel and USD's Lead Professor in Entrepreneurship and V2 Founder Mike Lawless, the program began.
This year's schedule included a "fireside chat" with Silvia Mah, founder and CEO for Hera-Labs, and Dlush founder Jeffery Adler. Both offered insights on their passion for entrepreneurship and how they handle their respective challenges. Mah, in particular, spoke from the perspective of being both an entrepreneur and as an angel investor.
A pair of panel discussions split the audience up, providing effective opportunities to listen, learn and take notes of inspiration and insight.
The topic of "If I Started My Venture Today ..." featured Mah, Coachlogix co-founder and CEO Alex Pascal '07 (BA) and Skyriver IT President Siyamak Khorrami '06 (BS) and two current college students, USD senior Nathan Resnick, who founded Yes Man Watches and Corked, and UC San Diego senior Sneha Jayaprakash, who is founder and CEO of Giventure.
The other panel focused on the question of "what would I tell my 21-year-old self?" Panelists were Adler, Dreams for Change founder Teresa Smith ' 13 (MA, SOLES Nonprofit Leadership and Management), Primo Wind Inc. founder and CEO Ned McMahon, Manpower President and CEO Phil Blair and iBiz247 founder and CEO Lynn Hijar ' 98 (BBA), '06 (MS Global Leadership).
The evening closed with a popular speed networking opportunity with each of the panelists. Students were able to rotate around the large room in the Joan B. Kroc Institute for Peace and Justice to ask specific questions and get immediate feedback on their ideas, approach or share ways to deal with a particular challenge.
One of the best moments of the entire night came during the panel discussion when McMahon said that his involvement with USD entrepreneurial events, particularly the Social Innovation Challenge, means a lot to him because he comes away inspired by the social venture ideas of young entrepreneurs.
He also delighted in answering 2015 USD alumnus Qassim Ghaffaar's question about the accumulation of knowledge and if there's ever a time when it reaches the ceiling point.
"Knowledge is an ever-growing process," he stated. "There's no one right path. You never stop learning."
— Ryan T. Blystone
More photos from the USD Legacy Entrepreneurship Conference