Tolan Shaw '11: Creating His Song in the Music Business
"You're not the only one with the microphone
Millions of people have been here before,
Looking for something more, for something more;
Got to stand out from the crowd
Do what you do, got to sing it loud
And do whatever makes you feel proud"
— Excerpt from Tolan Shaw's song "Chin Up"
The music business is hard. It's a 24-hour, seven days a week entity that consistently delivers ambitiously talented artists who must always adapt in an industry that has the mindset of a fly that won't be still.
"It's hard because if you are always following it ... when you complete something that goes along with what's happening, by the time you've completed it, it's moved on to something else, which is frustrating," says Tolan Shaw, a 26-year-old singer-songwriter-guitarist and a 2011 University of San Diego alumnus (BA International Relations/Spanish) from Encinitas, Calif.
Shaw has two albums — 2013's 12-song debut, Tolan Shaw, which is filled with beautifully rich tunes that pay homage to 1960s soul, and this year's six-song, pop-heavy EP, Chin Up. He's written for music libraries that place his original music content on Jimmy Kimmel Live and ABC Family shows. He's had numerous experiences demonstrating his willingness to pay dues, do new things and grow, all while keeping things in perspective.
"You can get so wrapped up in the business side of things and I find myself like this all the time, but it just needs to come back to the heart of it, the music, and if the emotion, the feel, the 'it factor' is there, that is what will translate — always — regardless of what the business is doing. You just have to follow the passion, the heart and the songs that speak to you and hope something happens."
Playing San Diego's Kaaboo Festival
Happening for Shaw and his band immediately on Sunday, Sept. 20 is a spot on the final day's lineup of the Kaaboo Festival at San Diego's Del Mar Fairgrounds. Shaw and his band will play from 2:30-3:15 p.m. on the Tourmaline Stage, a slot earned by winning a GigTown Music band competition in July. Headliners this weekend include No Doubt, The Killers, Zac Brown Band and Snoop Dogg, just a few of the artists Shaw can possibly network with there.
Shaw has been busy with band rehearsals and other details to make sure everything and everyone is ready to deliver.
"At Kaaboo I want to put my best foot forward, I want the setlist to be perfect, bandmates to be on point. We've got the horns coming so we want to make sure those parts are good and that the harmony parts are down. There's a lot that goes into it."
Putting in the time and energy to play in front of a crowd that could contain the person who would see something special in Shaw, is always a possibility. It would be welcomed, naturally, but staying levelheaded is a must.
"It's always a steady growth thing, but I'm happy where I'm at," he states. "I'm the kind of person who sets monthly, yearly goals and long-term kind of dream goals. I'm always looking at those and trying to reach them. What's hardest, though, is looking into the future, but trying to keep in the moment. I try not to look at the stuff I've done, but it's always really nice to hear people be like 'you've been doing so many great things.' When I'm in it, I don't really think about the stuff that's happened. I find myself wanting more, but then I'll be, 'I've got to take it one step at a time.' Then some bigger opportunities come and I'll think maybe this is where it starts really picking up. ... Most people say it just kind of happens and slowly you find yourself playing in front of a lot more people, and opportunities come. I see that on a local, Southern California scale right now, but I'm working toward becoming more national, getting out more and doing the touring artist kind of thing."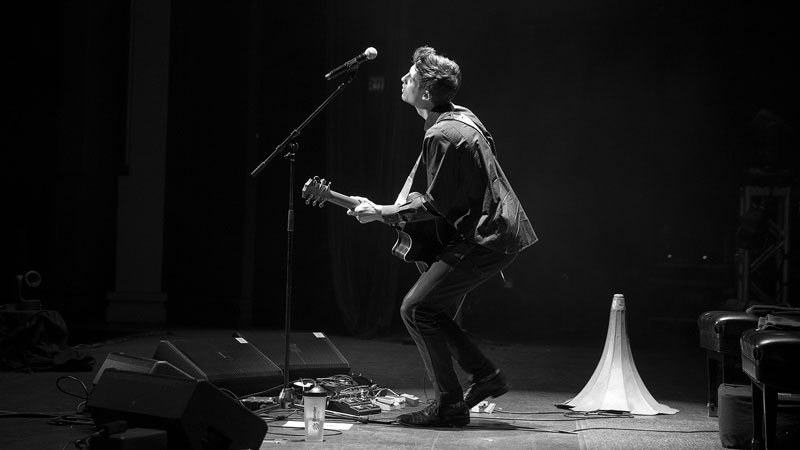 2015: A Big Year
This calendar year has been a major indicator of Shaw's maturing talent. His versatility and the ability to go beyond his boundaries have been noticeable. In addition to the EP, in which he wrote 20-30 songs but picked only the best six, he's done gigs large and small in Southern California, toured Mexico, Canada and the Pacific Northwest and states in the Rocky Mountains. He has both opened for and played guitar with Sister Speak. One of his songs, "Eyes" received major airplay on San Diego radio and earned him an honorable mention in an international songwriting contest.
He's maintained his love for bridging music with his philanthropic side. He chose to do his Chin Up CD release show at his high school alma mater in which he raised $1,200 for its music program. He also likes performing at benefits that support Feeding the Soul Foundation and Banding Together.
Strength in Songwriting
But what fuels everything he's done in music comes from one of his biggest strengths — songwriting. It is, perhaps, the hardest aspect of any artist's talents because of the constant creative energy required to produce content.
Shaw knows this well. Check out his website and his social media platforms, namely Facebook, YouTube and Instagram, and you'll see the evolution of his songwriting talent, everything from songs he played on Semester at Sea study abroad as a USD student to a post-college trip through South America that was as much a songwriting-inspired trip as it was a graduation celebration journey with his then-girlfriend and now wife, Sarah, a 2011 USD alumna.
Songwriting, in many ways, is a vehicle that realistically can get Shaw to his destination as a musician. Shaw is part of a San Diego songwriting community and is connected to Nashville Songwriters Association International. He's been writing and collaborating with people who can help him pitch music for inclusion in films and television.
"The songwriting thing is a great career because it's about the financial side of things," he says. "I'm trying to be smart about it. If I can get more into that, especially if something is placed with a big artist, that's where I'd be able to fund the artist side of things a lot better."
Shaw estimates he's written between 150-200 songs since he started doing it years ago. Songwriting fuels his creative and adventurous side, which always leads back to the travel bug that he and Sarah share.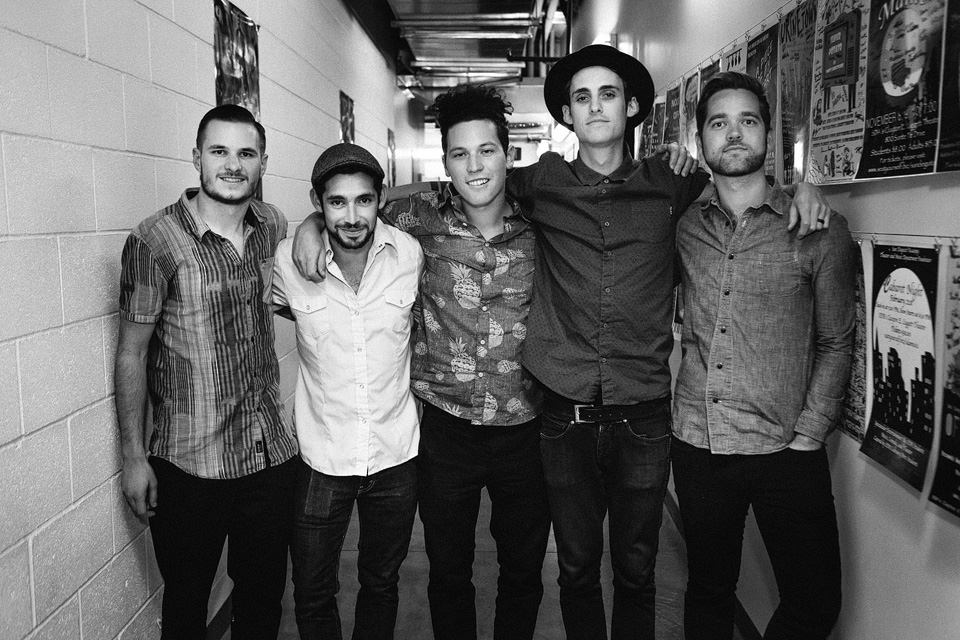 Travel and Wandersong
In November, the Shaws are planning to spend four months traveling through Southeast Asia on what is expected to be a balance of songwriting inspiration for new material, experiencing culture and to debut a new video project. Called Wandersong, Shaw hopes to produce a short video every one to two weeks that delves into travel, culture and the experiences of meeting people, learning things in different countries, and will tie into the music and his inspiration as a songwriter.
"I'm trying to be the Anthony Bourdain of music," he says with a smile and soft laugh. "Instead of food, it's music and travel. I'll have a recording device to lay down demos. I think it would be cool if I saw a street musician or met people in these different countries who are playing instruments. It would be awesome to record them playing a little lick or something."
The chance to travel for four months seems like a perfect getaway, even if he'll be in full musician mode.
"I'm always looking for that inspiration, to connect with those bigger life themes you start thinking about while you travel," Shaw says. "It's been four years since I did a big trip like this and I think some of my best material comes from thinking about that stuff and that time and space you have. I'm really excited."
Music Entrepreneurship
The music business is a hard path. Tolan Shaw, like all musicians, is an entrepreneur. He has the passion to find opportunities that require his undivided attention. Through travel and other means, though, he finds avenues that make it worthwhile.
"I think it's just honing in on what makes you truly happy, what you're passionate about, to focus on the dream and work one hundred percent toward whatever that looks like. … If you're an entrepreneur and you have great ideas, I'd say take risks and do everything you possibly can to work toward something you know is going to make you happy in the long run. There are going to be some really down moments, tough times, the fluctuation of emotions is roller coaster-like, but I think there's nothing more fulfilling than working toward something, and having those ups and downs when you reach a point where you're really happy with it. I've been happy with it, even in all of those times. Maybe there's no point in the arrival, but the working towards it really is the joy in it."
— Ryan T. Blystone
All individual photos of Tolan Shaw taken by The Joelsons; band photo courtesy of Masen Larsen