USD Law Alumnus Judge Christopher Harmon '00 (JD) Featured in Los Angeles Daily Journal Article
Judge Christopher Harmon '00 (JD) Featured in Los Angeles Daily Journal Article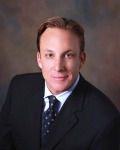 Riverside, Calif. (August 31, 2015) – University of San Diego (USD) School of Law alumnus Judge Christopher Harmon '00 (JD), was the featured subject of a judicial profile in the Los Angeles Daily Journal. The article highlights Harmon's new career as a family law judge in the Riverside County Superior Court, a position he's held since August 2014.
Harmon, who is 40-years-old, energetically describes his family law assignment. He expounded upon juggling egos of veteran lawyers and pro per litigants alike, and professed to read the paperwork in the "probably 100 cases a week" he might address.
Lawyers who regularly appear in front of Harmon call him hard-working, intelligent, patient and, most importantly, happy to be there. "We know a lot of judges who come in and don't know family law, and feel like the assignment might be a punishment," said William P. Bratton, a Riverside family law attorney the past 21 years. But Harmon "is really excited about being a judge. He jumped in with both feet, and has clearly been studying the law."
"As a criminal defense lawyer I was in court almost every day," Harmon said. "I really liked the challenge of being in court, the competitive nature of that."
Harmon experienced the adrenaline of arguing a case contrasted with the grim task of representing accused criminals. During his 14 years as a defense lawyer, Harmon dealt with increasingly larger crimes, including representing defendants in two death penalty cases. He grew interested in being a judge because "being in court every day you get an opportunity to sit and watch judges—to see what they do well and do not do well."
Believing he could make his greatest impact as a judge, Harmon sent in his application and was named one year later. Asked why Gov. Jerry Brown appointed him at 39 years-old, Harmon noted he is well-regarded in the Riverside County Bar Association, and "That kind of support with any governor's office is very important."
Harmon's father largely shaped his legal career and, technically, his assignment as family law judge. While Harmon was applying to become a judge, his father was named head of Riverside County's public defender's office. In order to avoid a conflict of interest, Harmon was assigned a 100-percent family law docket, despite no prior experience in the field.
The job has made him more appreciative of his own family, Harmon said. The judge has a wife and children, ages 7 and 10, and enjoys boating trips with his children and "running around to their activities." Having children has made Harmon ease back for now on favored pursuits including flying planes, scuba diving, and driving sports cars.
About the University of San Diego School of Law
Celebrating 60 years of alumni and student success, the University of San Diego (USD) School of Law is recognized for the excellence of its faculty, depth of its curriculum, and strength of its clinical programs. Each year, USD educates approximately 900 Juris Doctor and graduate law students from throughout the United States and around the world. The law school is best known for its offerings in the areas of business and corporate law, constitutional law, intellectual property, international and comparative law, public interest and taxation.
USD School of Law is one of the 84 law schools elected to the Order of the Coif, a national honor society for law school graduates. The law school's faculty is a strong group of outstanding scholars and teachers with national and international reputations and currently ranks 23rd worldwide in all-time faculty downloads on the Social Sciences Research Network (SSRN). The school is accredited by the American Bar Association and is a member of the Association of American Law Schools. Founded in 1954, the law school is part of the University of San Diego, a private, nonprofit, independent, Roman Catholic university chartered in 1949.