Checking in with USD Men's Basketball Coach Sam Scholl
Checking in with USD Men's Basketball Coach Sam Scholl
Wednesday, August 12, 2020
After a busy offseason amidst an unprecedented summer, San Diego men's basketball is gearing up for the 2020-21 season as the start of the fall semester is less than a week away. To help provide an update on what happened and what's to come, here is head coach Sam Scholl with a check-in on the Toreros.
Your daughters, Riley and Reese, recently made their debut as interviewers in a video on the USD MBB Twitter account. Does the San Diego media need to watch out for this new competition? Will we see more of the new stars this season?
Riley, Reese and Regan love our guys. They thoroughly enjoyed developing the questions and having the chance to interview our scholar-athletes. Plus, when they knew it would be released on social media that brought extra motivation. Our family is very fortunate to have amazing examples of success that our players provide and our girls get the opportunity to interact with them on a consistent basis.
Riley and Reese are very hopeful to have the chance to show their new skills as interviewers in the near future, and Regan is very jealous. She is hopeful to be involved next time around!
Plenty of uncertainty is happening in the world of college sports right now. How have you and the coaching staff kept the team together this summer and focused on being together and the season ahead?
A combination of many things: team meetings via Zoom; roundtable meetings with all the people here at USD that will be a part of their process of being the best versions of themselves; sharing thoughts or videos on our team text; and individual meetings in person (at a proper social distance and outdoors) with the guys that are in town. It's definitely a challenge, but we are working each day to step up to that challenge and build a connection through it.
A big message we have had for them as of late is that one of the main identities each of them is that they are Torero basketball players and aspiring pros. We are confident we are going to have season. We don't know when it's going to happen or what the season is going to look like, but we feel confident we will play again in 2020-21. With that confidence, we have to work to be the best versions of ourselves as Torero basketball players each day and be ready for when that first game of the season arrives.
Several messages were shared by the team on the USD MBB Instagram about social injustices. What types of conversations have been had with the team in regards to the movement taking place?
We've had team conversations led by amazing people that shared powerful wisdom with us. They made us uncomfortable so we could really listen, learn, understand and bring change in our own lives. They educated us and brought facts to light that for many of us had little to no idea existed in regards to the level of racism and systematic racism that has been and is continuing to happen.
We had the privilege to hear from Dave Jones, a lifelong friend of mind since seventh grade who was just the second Black boys high school basketball coach for Tacoma Comprehensive Schools. He and his wife are also the only Black owners of an office in the Windermere real estate company. Dave has been a great mentor to me who brought to light for us many social injustices and systematic racism that is going on all around us.
David Fizdale, one of the greatest Toreros in the history of USD, shared with us his experiences being a Black man at USD and challenged us to bring about change starting with our own lives, then our families, our team, and our neighborhood — which for us is our campus.
We are also fortunate to be led by two great men in our athletic department, Greg Camarillo and Eli Bisnett-Cobb, who led conversations with us and asked us to think how we see race. This time together provided great thought and reflection for each of us as men and will provide a strong foundation for conversations to come.
The team added eight newcomers this offseason. What was the goal of the coaching staff going into the offseason on finding new members of the Toreros? What excites you most about the class of newcomers?
Character, skill, versatility on both ends of the floor, and experience.
Those were the goals, and those are the qualities in this incoming class that we are very excited about.
Our two grad transfers Frankie Hughes and Josh Parrish have both accomplished many things in their careers, have proven to impact winning, and have been coached at a very high level.
Ben Pyle is an elite shooter - 40% for his career from three-point range on a 111 makes to this point - who has also proven to rebound the ball at a solid level (averaged 5.5 rebounds per game this past season).
Yavuez Gultkein has had a great international career in his home country of Turkey and was able to impact his team at Texas A&M in his freshman year in one of the best conferences in the country.
Chris Herren, Jr. has made baskets in the biggest arenas in college basketball during his time at Boston College.
We were also very fortunate to find three freshmen that come from great winning traditions in great high school basketball programs in Jason Gallant, Scotty Prunty and Jack Vaske.
This class across the board brings great character, skill, versatility, drive and passion to be the best versions of themselves as Toreros. I am very appreciative of the efforts of Martin Bahar and Jerry Brown in their recruiting efforts to bring in a special class of Toreros.
The 2020-21 season is scheduled to start in less than three months. Describe this team, as best as you can without practicing yet, and what fans will expect to see from them.
An urgent, selfless and mentally-disciplined team that is connected and wants to play for the success and joy of others. A team that plays with pace, spaces the floor, and is aggressive to create offense in all ways. A team that controls the defensive end and is committed to having a relentless pursuit and security of every loose ball. This group understands that the greatest statistic of all is wins, and they are urgent to pursue their own role to impact winning here at USD.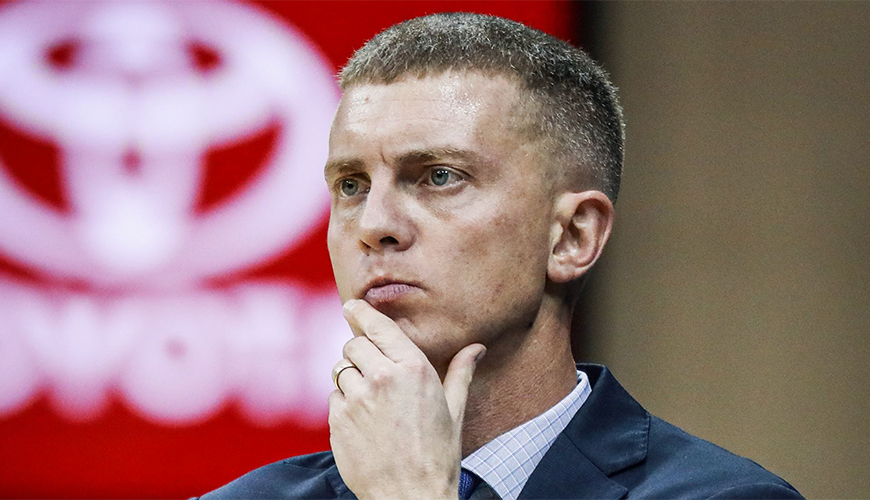 Post Contact
Chris Kutz, Associate Athletics Director, Strategic Communications
ckutz@sandiego.edu
(619) 260-7930