USD Community to Walk in Dr. Martin Luther King Jr. Day Parade Jan. 15
Tuesday, January 10, 2017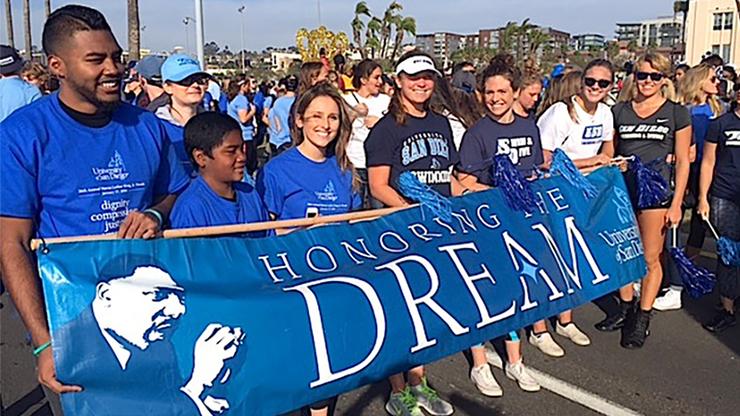 The University of San Diego will join with the San Diego County community at-large on Sunday, Jan. 15, to walk and participate in the city's 37th annual Martin Luther King Jr. Day Parade on Harbor Drive at the Embarcadero.
The parade, which runs from 2 to 5 p.m., is one of the largest celebrations in the United States to honor the late Dr. King, whose birthday is Jan. 15. King, a leader of the U.S. civil rights movement, would be 88 this year. His birthday is a national holiday on the third Monday of January throughout the U.S. The parade is coordinated by the Zeta Sigma Lambda Chapter of Alpha Phi Alpha, the oldest Black fraternity in America, founded in 1906. Dr. King was also an Alpha.
As it has done for several years, a USD contingent comprised of faculty, staff, students, alumni, administrators and friends of the university march on the parade route in community with an array of dazzling floats, high school bands, drill teams, colleges, fraternities, sororities, churches, peace and youth organizations and more.
If interested in being among USD's parade participants, please RSVP here. All USD participants are asked to meet in the staging area at Harbor Drive and Grape Street at 1:15 p.m.
Free street parking near the parade route may be available — city parking meters are not enforced on Sundays — but is in short supply. Paid parking may be available at the County Administration Center underground garage by entering from West Ash Street between Pacific Highway and Harbor Drive. There's also a public parking structure at the corner of Cedar Street and Kettner Boulevard. The MTS trolley will be on a Sunday schedule. The closest stop near the staging area is County Center/Little Italy from the Green Line, but it still requires a short walk.
Come and join thousands of others and help continue the legacy of Dr. Martin Luther King Jr.