School of Business Entrepreneurship Manager to Speak at TEDxSanDiego
Tuesday, October 18, 2016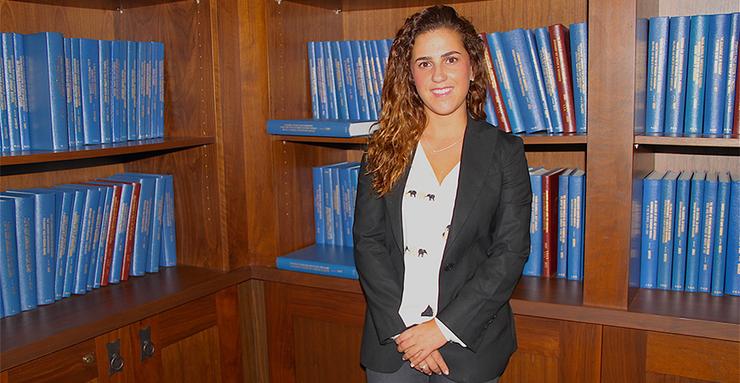 Regina Bernal, entrepreneurship manager in the University of San Diego School of Business, has in many ways 'come of age' at USD — first as a student and, after working elsewhere for four years post-graduation, as a staff member critical to growing the school's entrepreneurial activities.
Her involvement at USD through 'homegrown' events like the Venture Vetting (V2) Pitch Competition and Legacy Entrepreneurship Conference exemplify her dedication to creating a positive difference in her surrounding community.
"I have such a big passion for mentoring the next generation," says Bernal, who graduated in 2013 from the University of San Diego with a degree in strategic communication studies. "I've always loved the idea of being able to make an impact in someone's life."
Bernal is now taking her passion and story on the road as a featured guest in the upcoming TedxSanDiego on October 22. Her 12-minute filmed TedxSanDiego talk will focus on "Innovation Beyond Borders" and will take place inside San Diego's Copley Symphony Hall to an audience of more than 2,000. Bernal's main theme is surrounding the concept that beyond borders and walls, meaningful relationships can be built.
"This is such an important theme at such a prominent time in the world," says Bernal. "My talk will be focused on diversity and how there is strength in collaboration between different cultures."
A lot of time and energy goes into preparing a 12-minute TedxSanDiego talk. Months, actually. Each presenter is paired with a coach and together they work on deciding on a theme, how to build confidence and how to deliver an authentic message to the audience.
"Twelve minutes is not so much time when you really think about it," says Bernal. "Every single word you say has to be impactful." Just like her work at the university, Bernal hopes her TedxSanDiego appearance will inspire and create necessary dialogue surrounding international relationships and innovation.
— Haleigh Stewart