Honoring the Millions Lost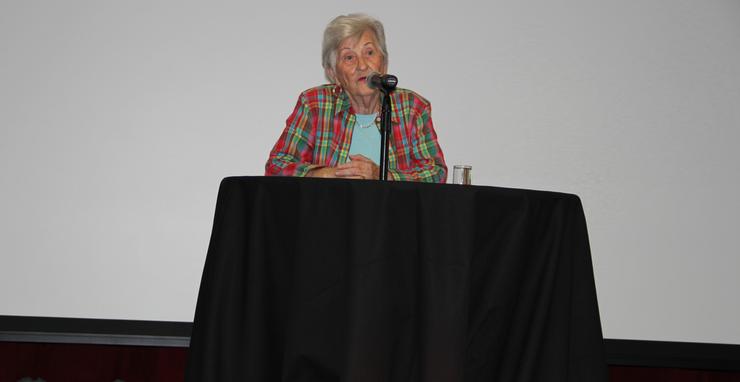 May 4 is Holocaust Remembrance Day but each year the number of survivors declines.
Inspiring future generations to keep their memories alive and prevent future atrocities was the goal of a special Holocaust Seder held May 3 in USD's Salomon Hall.
Believed to be one of the first events of its kind, the traditional Passover dinner was used as a framework to create an interfaith ceremony featuring readings, photographs, poetry and music. About 100 students and other members of the USD community attended the event organized by Rabbi Shai Cherry and Sister Tobie Tondi, both adjunct professors in the Department of Theology and Religious Studies.
"As we immerse ourselves in the catastrophe of 11 million innocent deaths, six million of them Jews, we pledge ourselves against the ultimate heresy of indifference," Rabbi Cherry said.
Rose and Max Schindler, both 86-year-old survivors of the Holocaust, shared their memories with a new generation. Rose Schindler recalled how life changed overnight in her once peaceful village in Czechoslovakia during World War II. "We were like prisoners in our own town," she said.
As events worsened, she and others were taken to the Auschwitz death camp. She recalled some of the last words of her father who urged her to "make sure to stay alive so you can tell the world what they're doing to us."
After enduring the nightmare of the concentration camps, she met and her husband and they eventually came to San Diego. Max Schindler worked at General Dynamics for many years and the couple went on to have four children and nine grandchildren.
Their message of courage and hope clearly resonated with students who continued their conversation with the couple afterwards. As the ceremony ended, Rabbi Cherry also sounded an uplifting note. "Never despair," he told students that you won't have the courage and strength "to stand up" to injustice or unrighteousness when it occurs.
— Liz Harman