USD Hosts Expanding Your Horizons Conference for Girls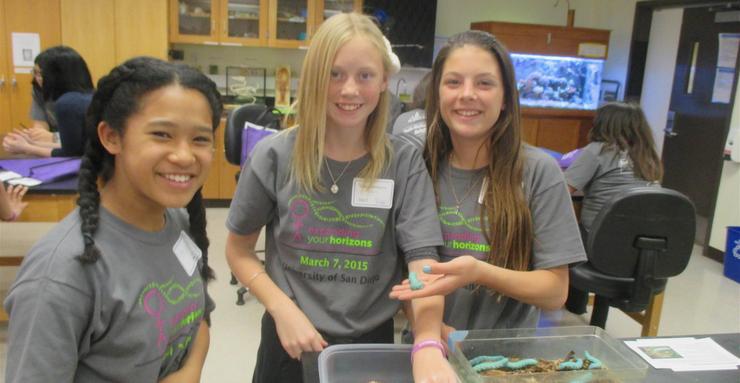 Having an interest in science, technology, engineering and mathematics, collectively known as STEM, can be an important catalyst for career development for current and future generations.
The University of San Diego fully embraces this thinking. One way USD applies its own interest is by hosting the Expanding Your Horizons, a one-day conference designed to interest girls, ages 11-16, in STEM subjects, on Saturday, March 5.
"The EYH San Diego conference provides interactive STEM workshops for hundreds of girls from all over San Diego County, engaging their minds and intellectual curiosity, while having lots of fun," said Sue Lowery, a veteran iology professor at the University of San Diego and a EYH San Diego Board of Directors member. USD has hosted the event on campus multiple years.
Approximately 400 girls in grades six to 10 have registered for a day at USD that offers talks, hands-on STEM-oriented workshops and the opportunity to meet women scientists and engineers. There are additional workshops for parents. USD students, faculty and staff will be on hand during the day, too.
"Our multi-level mentoring connects students in sixth to tenth grades, college women majoring in STEM, and professionals working in science and engineering," Lowery said. "We hope to surprise these young women with the breadth of opportunities available in technical careers and enhance their participation in these rewarding fields."
There are also group activities planned, including one in which participants will prepare backpacks with school and basic science supplies for an orphanage in Mexico. Groups will also write letters to share their favorite experiences gained from attending the conference.
View a video from a previous EYH event held at USD.
— Ryan T. Blystone
EYH video production by Mary Lynn Price
EYH photo courtesy of www.facebook.com/EYHSanDiego/