Networking and Connections Leverage Lauren (Lantgen) Suazo's '04 Real Estate Career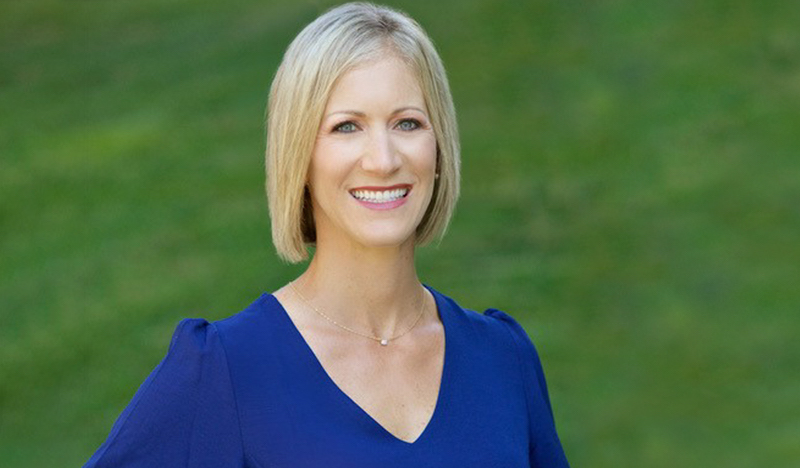 In Fall 2003, Lauren (Lantgen) Suazo '04 began to execute her business plan. She held an internship at a multifamily development company and was about to graduate from the University of San Diego School of Business cum laude. Suazo was excited about graduating, but was anxious about obtaining a full-time job.
"Not long after I graduated from USD, I found myself in a sink-or-swim situation at work when someone in my department resigned," recalls Suazo. "At that time, it was just me and the principal of the company and I had no real-world experience."
Suazo's work ethic and real estate education at USD provided her with the necessary tools and skills she needed to succeed. She felt lucky that her internship evolved into a full-time position following graduation.
"I'm thankful for that experience because it forced me to learn a lot, even more than I realized at that time," says Suazo.
She recalls working long days and nights as a young female, wanting to make her mark in the traditionally male-dominated world of commercial real estate. Suazo's mother was also a commercial real estate professional and had given her great advice early on. "My mom encouraged me to work really hard and get involved with the community and professional organizations early on," says Suazo.
While working hard at the development company to support the owner, Suazo simultaneously devoted time to grow her professional real estate network through her involvement with professional organizations in San Diego. "It didn't take long to figure out that I loved this industry—I loved being around my colleagues and learning all about the different asset classes in real estate."
Suazo found a sense of community and inclusion within the local San Diego chapters of NAIOP and ULI, two organizations that she remains actively involved with. "It was exactly the type of support system I was looking for," says Suazo.
Suazo found success early. Through connections and relationships she had made, she joined Burnham Real Estate Services in 2006, as a marketing associate. She enjoyed the boutique office culture at Burnham Real Estate, but that was about to change. "Just as I was getting comfortable at Burnham, I learned that we were going to be acquired by Cushman & Wakefield, a much larger company, and at first, that made me nervous," recalls Suazo.
At that point in her real estate career, Suazo shared that she was confident in her abilities. She was proactive and arranged a meeting with Stath Karras, who, at that time, was the executive managing director of Cushman & Wakefield's San Diego office. At that meeting, Karras and Suazo discussed her career goals and plans for the future. Suazo recalls that the meeting was a pivotal moment in her career.
"Rather than convincing me to remain at Cushman & Wakefield, Stath actually encouraged me to reflect on my career and determine what I was passionate about," says Suazo.
Suazo's strong connections at NAIOP provided a critical link that launched the next phase of her real estate career—a job at Westcore. "I was familiar with the company because one of my close friends at Cushman & Wakefield, Jackie Greulich [now at the Burnham-Moores Center for Real Estate], who had just left Cushman & Wakefield to join the Westcore team," says Suazo.
The commercial real estate industry in San Diego is a tight-knit community. Suazo knew she could have taken the easy route and reached out to Greulich to, perhaps, gain an advantage over other candidates, but Suazo didn't want anyone to think that Greulich was poaching her from her prior employer. Instead, Suazo, submitted her resume through the proper channels and waited. She received an exciting call from Greulich.
"I was thrilled that Lauren was interested in coming to Westcore," recalls Greulich. "At that point in her career, Lauren could have gone to any company and we were excited that she chose Westcore to be her new home."
Suazo joined Westcore in 2009. Twelve years later, she still enjoys boasting about the company. "There are so many things that I love about working at Westcore, but most of all it's the people that I get to work with each day," says Suazo. "From day one, it has always been a perfect fit for me. Company culture, dynamic work environment, and community involvement are some of the most important aspects of my professional life. I'm surrounded by intelligent, driven, hard-working people, all of whom are modest and compassionate. We put a lot of trust in our teammates, which ultimately helps drive our success."
Suazo is currently vice president of leasing at Westcore, where she oversees the company's leasing efforts, specifically within its 7.5 million square foot portfolio in the greater Southern California area, Phoenix, Colorado, Salt Lake City and the Midwest markets. She is also involved in the disposition process and has successfully coordinated sale transactions to institutional owners as well as owner-users.
Suazo's involvement in San Diego real estate organizations led to her being a natural role model and mentor for other young women in the industry with whom she could share her experiences and help them along their real estate career path. She has had a profound impact on young women.
"I still remember the first time I met Lauren," recalls Karen Burges '86, executive director of NAIOP San Diego. "I knew instantly that she would be a future leader because of her intelligence, poise and grace. She has been a mentor to countless young professionals in the commercial real estate industry."
As a highly regarded member of the commercial real estate community in San Diego, Suazo volunteers as a mentor to undergraduate real estate students at her alma mater, the University of San Diego School of Business. "USD real estate students are always eager to learn, work hard, are open minded and my experience is that they're always respectful and engaging," says Suazo, who has hired several USD real estate students as interns and for full-time positions at Westcore.
Suazo keeps herself equally busy at home as well with twin girls, so maintaining a good work-life balance is important. "I'm very fortunate to have a husband who supports me 100 percent in my career and at home," says Suazo. "We both have full time careers, so communication is very important. I love my family and I love my career. Additionally, by surrounding myself with other full-time working women with families, I'm constantly inspired and reminded that we're all juggling similar challenges, and it's achievable." It's no surprise that most of those inspiring women happen to be colleagues of hers from Burnham and her original NAIOP family in the early days of her career.
Map
5998 Alcalá Park
San Diego, CA 92110