Students Tackle Social Responsibility, Waste and Water Conservation in Sustainable Supply Chain Class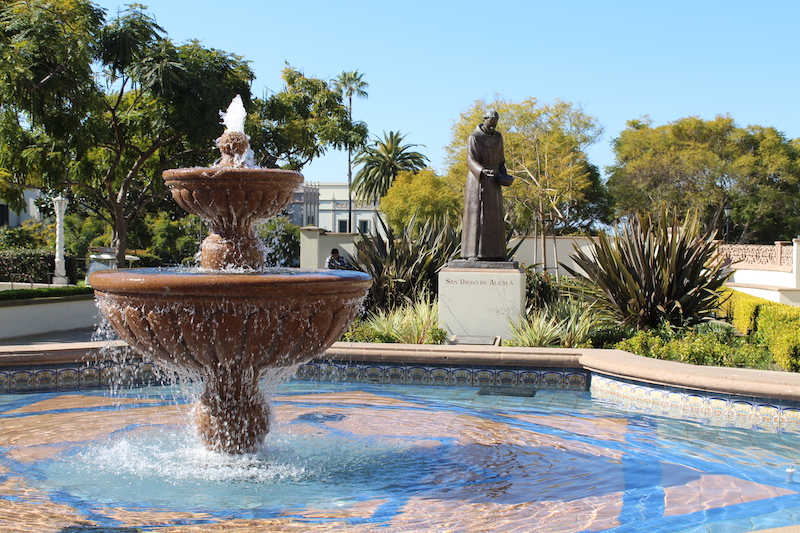 begin quote

I think that the most heartwarming part of these projects for students as well as for me and USD's administrators is that these projects really matter. We listen to our students and to their research.
When one of the most cited experts in supply chain is a professor on campus, you make sure that students have the opportunity to learn from the best. In the Sustainable Global Supply Chain Management class at the University of San Diego, undergraduate business students learn about sustainable supply chain business practices straight from one of the leading experts in the field, Professor of Supply Chain Management Simon Croom.
A core element of the class is a semester-long applied project where students take a critical look at how USD operates or an issue related to sustainability in San Diego.
Supply chain in sustainable business operations
"Supply chain has a central role in creating sustainable business practices," says Professor Croom. When you're looking cradle to cradle, companies are recognizing that they need to look upstream to know the entire environmental impact of their business."
Validating Professor Croom's point, Unilever recently acknowledged that 95 percent of the environmental impact of its products is determined outside of their manufacturing facilities. For example, if Unilever manufactures dish soap, the environmental impact of that product isn't limited to the manufacturing process used to create it. Its full impact includes the carbon footprint of transporting the soap to a retailer, any potential effects it has on the water system once the soap goes down the drain, the waste created by its packaging, etc. Many of these impacts can be mitigated with sustainable supply chain practices.
Students research how to improve sustainability at USD
Student projects from the Sustainable Global Supply Management class often support USD Auxiliary Services, which runs catering and hospitality services at the University. One project looked at the water footprint of USD's catering services and found that the University heavily uses strawberries, which has a large water footprint. Students recommended planting fruit on campus with a low water footprint and that grows easily in San Diego's climate, such as dragonfruit.
This project then led to a sourcing analysis project of fruit on campus led by MBA students. Several of the projects initiated by undergraduate business students get picked up at the graduate level in a sustainable supply chain class that Professor Croom teaches to MBA and master's in supply chain management graduate students at the USD School of Business.
Another recent project addressed the environmental impact of the new Knauss Center for Business Education, which is currently under construction. Specifically, students researched various methods to conserve water and ultimately recommended implementing smart water systems in the new building, which could save 450,000 gallons of water per year. Smart water systems include low-flow restrooms and faucets, rainwater collection, gray water recycling, and technology to monitor water usage such as automated water faucets.
Students presented their recommendations for the Knauss Center for Business Education to the USD School of Business dean, USD's director of sustainability, and others.
Leadership lends an ear to student voices
During the final week of classes, Professor Croom always invites USD administrators to class to listen to student presentations and findings. The students' projects don't always have implementable solutions. However, they often create opportunities for USD leadership to have conversations around sustainable practices on campus, help validate decisions adopted by the University or help guide future decisions.
"I think that the most heartwarming part of these projects for students as well as for me and USD's administrators is that these projects really matter. We listen to our students and to their research," said Professor Croom.
Some student recommendations from the Sustainable Global Supply Chain class do in fact lead to actions that USD has implemented, including those from a project that looked at the waste created by coffee pods.
Implementing sustainable solutions at USD
"One solution that USD has implemented in large part due to a student project from my class is ending the usage of coffee pods and K-cups for coffee on campus. They are not approved for use and USD no longer buys any pods," said Professor Croom.
This project is yet another example of one that was started by undergraduate business students and continued by MBA students. Undergraduate business students researched the usage of K-cups at USD and learned that the University was purchasing approximately 90,000 K-cups each year. MBA students then conducted a more in-depth analysis on the overall environmental impact of K-cups including the pros and cons of using them.
USD hasn't purchased K-cups for the past 16 months, eliminating the waste that would have resulted from using over 120,000 K-cups.
Care for our common home
When the University of San Diego adopted Pope Francis' Care for Our Common Home philosophy, its call to action resonated across the entire University. This philosophy acknowledges that society has an obligation to care for the planet — our common home — because it is the home of all people and all creation. Therefore, we must take care of our planet to take care of humanity.
The USD School of Business teaches its students to embrace a stewardship approach to business. Across all disciplines, students are taught that business is not simply a means to make a profit, but that it can be used, and should be used, as a force for good.
In the Sustainable Global Supply Chain class taught by resident expert, Simon Croom, not only do business students learn about sustainable business practices but they also create opportunities for USD to operate in a more eco-friendly and socially responsible manner — creating a home that all Toreros can be proud of.
— Gabrielle Horta
Map
5998 Alcalá Park
San Diego, CA 92110