USD Undergraduate Team Competes in 11th Annual NAIOP University Challenge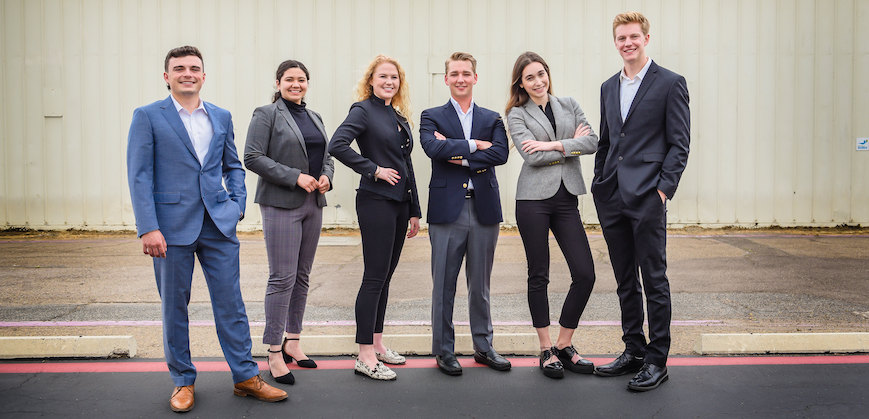 A team of University of San Diego School of Business undergraduate real estate students participated in the 11th Annual NAIOP University Challenge on Thursday, April 22, 2021 via Zoom, which includes student teams from SDSU's Corky McMillin Center for Real Estate, UCSD Department of Urban Studies and Planning and the University of San Diego School of Business/Burnham-Moores Center for Real Estate. The competition is a real estate case study which examines the highest and best use for a real, proposed site in San Diego County.
The USD team was comprised of Sinead Myers '21, Wyatt Darien '21, Ross Smith '21, Nicole Orlow '21, Maria Marmolejo Rubio '21, Jacob Berry '21. Prior to the competition, the team takes part in a NAIOP Challenge class which is co-taught by Stath Karras, executive director of the Burnham-Moores Center for Real Estate, Jake Schwartz '02, lecturer and president of Urban Coastal Development and vice present of Urban Housing Partners and Casey Ingelman '18, development and acquisitions at Urban Housing Partners.
"Participating in this year's NAIOP University Challenge has been one of the highlights of my college experience," says Nicole Orlow '21. "I could not be prouder of our USD team for proposing an achievable housing solution for middle income individuals in San Diego. We are so appreciative of all of the advisors at the Burnham-Moores Center for Real Estate. Their dedication to the students shines through in all they do to support us."
For the competition, potential issues which could be addressed included: financing, transit-oriented issues, sustainable development, traffic patterns, community impact and feasibility. The 2021 case study location was a Kearny Mesa mixed use (EMX-2 zoned for 50 percent maximum residential as a secondary area) located at the southwest corner of Clairemont Mesa and Ruffner. The site currently has three lots, including Independence Square, the Ford Dealership and a lot behind the dealership. The case study assumed that all land parcels, totaling 17.79 acres, were vacant and rough graded.
The USD team had an aggressive, but realistic development plan to develop much-needed workforce housing in the second largest employment center in San Diego. Major employers in Kearny Mesa supported the efforts of the NAIOP team, as the employers are very desirous of housing that is affordable for their employees and which is near their place of employment. The team also received a letter from the California State Teachers Retirement System (CalSTRS), indicating they would provide equity capital for this development, as it meets their financial requirements and, as importantly, provide the much-needed workforce housing.
Students submitted their respective cases to the challenge judges in mid-April and the teams defended their project privately in front of the judging committee at a pre‐competition session the day before the big event. On April 22, the student teams presented via Zoom to a live audience of real estate professionals, industry leaders and fellow students.
"We are incredibly proud to have our outstanding real estate students recognized for their hard work dedication and commitment involved in this competition, especially during this challenging year during the pandemic," says Stath Karras, executive director for the Burnham-Moores Center for Real Estate.
Map
5998 Alcalá Park
San Diego, CA 92110