Tightroping and One USD School of Business Professor's Goal to End It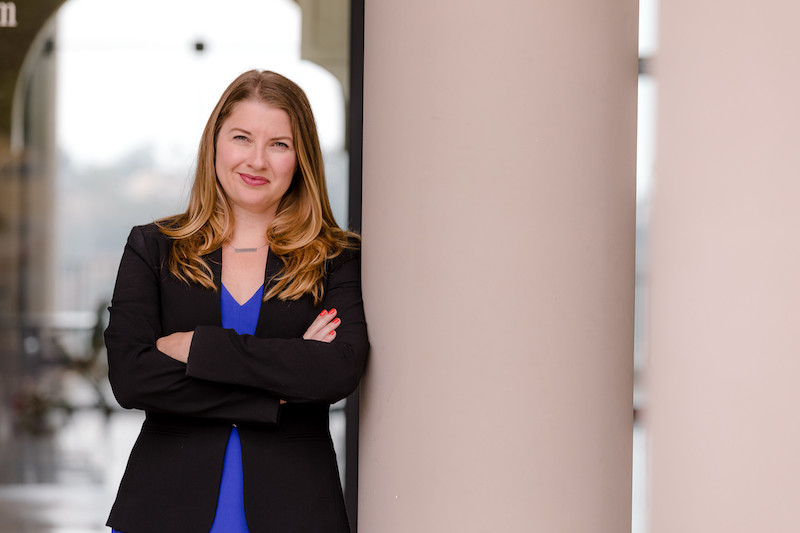 Tightroping (v.) the act of continuously modulating behavior in order to change, hide, or tamper down parts of yourself to fit in at work and beyond.
"Tightroping is a waste of time and energy," said Dr. Tara Ceranic Salinas, USD School of Business professor of business ethics and department chair of management, law and ethics. "It distracts us from simply doing our work and impacts the bottom line." This begs the question: If women don't tamper down who they 'should' be to fit in the workplace, how could they further their skills and time to benefit themselves and the organization?
Professor Ceranic Salinas began using the word 'tightroping' to explain how women change their behavior at work to fit in — something she noticed in her own life, and that of her friends and colleagues. "I realized just how much time and energy we were spending to ensure that our behaviors were 'acceptable' to those around us at work," said Professor Ceranic Salinas "and I am advocating for a culture shift that allows us to focus instead on our unique skills."
"I have had a few interactions where my abilities were questioned for the mere fact I am woman — and knew I wasn't the only one to have this experience," said Professor Ceranic Salinas.
To see if this was a more widely spread phenomenon, she conducted a research survey and asked more than 200 women what they could gain if they no longer engaged in tightroping and the responses were impactful:
No more shame.
Empowerment.
Freedom from the mental load.
Authenticity.
Skill development.
Time.
Better mental health.
Creativity.
Self-respect.
Everything.
I WOULD BE WHOLE.
These responses pointed to the need for change on the part of organizational structures: not women. "This is not about self-help or "fixing" women. This work provides academic research to set the stage for how we are still asked (implicitly or explicitly) to spend time and resources in the pursuit of 'fitting in' and offers suggestions for individuals and organizations to combat tightroping," said Professor Ceranic Salinas.
This research project aligns with her passion for teaching undergraduate and graduate courses on business ethics, women in management and corporate culture. She also gives talks on these topics at a variety of businesses and female-driven organizations and is currently working on a book proposal to address tightroping. Professor Ceranic Salinas is optimistically looking to end tightroping to create an environment where women and organizations can flourish together.
Map
5998 Alcalá Park
San Diego, CA 92110