USD Professor's Paid Data Apprenticeship Program Helps MSBA Students Secure Jobs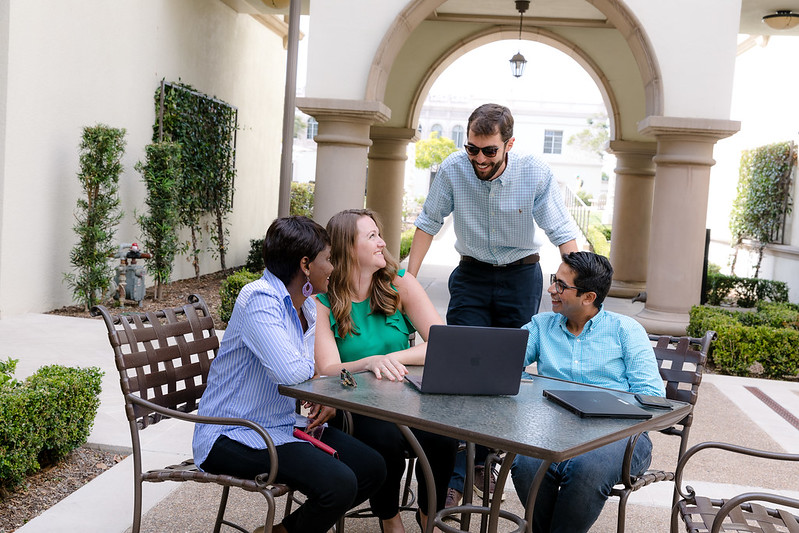 begin quote

Given that I teach the MSBA Capstone, the students' last class before graduation, I felt a strong sense of responsibility to do as much as I could to encourage their future employment.
Last summer, the University of San Diego School of Business graduated its first cohort of the Master of Science in Business Analytics (MSBA). As momentous as the occasion was, students felt some anxiety about entering one of the most uncertain job markets in history due to the COVID-19 pandemic.
As businesses were feeling out the impact of the pandemic on their core operations, companies held back from hiring new employees and many even implemented hiring freezes. Some students who had jobs and internships lined up following graduation saw those opportunities get delayed, or at worst, rescinded.
Professors dedicated to student success
If there's one thing that professors at the USD School of Business are known for, it's the lengths to which they will go to see their students succeed. When Lecturer in Management Andrea Yoder Clark realized the obstacles that her students would be facing as they enter the job market, she got resourceful and created a new opportunity for them.
Before graduating, students in the MSBA program complete a capstone course where they take on a business analytics consulting project for a local company. The companies that participate are often ones that have expressed a strong desire to hire students following the capstone project.
"Because of the impact of the pandemic, the companies became unsure of whether they could offer long-term employment even though the need for business analytics professionals was still there," said Professor Clark. "Given that I teach the MSBA Capstone, the students' last class before graduation, I felt a strong sense of responsibility to do as much as I could to encourage their future employment."
As the semester came to a close, Professor Clark reached out to some of the local companies that had participated in the capstone project to see if they might be interested in hiring students as short-term apprentices.
Predictive Portfolios Data Apprenticeship Program
And just like that, the Predictive Portfolios Data Apprenticeship Program was born. Recent graduates were given the opportunity to apply to the program. Those who were selected were hired as paid apprentices by Predictive Portfolios, Professor Clark's business analytics consulting firm. They were then assigned to work with a company that contracted an analytics project with Predictive Portfolios.
Of the 14 students who made up the first MSBA cohort, nearly half applied to the six-month-long Data Apprenticeship Program and four were selected to participate. The initial group of apprentices just completed their program and are already fielding job offers from competitive companies.
One of the selected apprentices included Jessica (Shiyang) Northwood. She was assigned to work on a project for ResMed, which was a continuation of a project that initially began during the MSBA capstone course.
"The Data Apprenticeship Program helped me further develop my skills on both the technical and communication sides," said Jessica. "I used Tableau quite often, which I didn't utilize a lot in my capstone project. And the weekly meetings with ResMed helped me practice giving presentations and insights to the managerial team."
Getting the job
Yanghui Zong apprenticed for Becton Dickinson (BD) where she was tasked with designing and developing Tableau Dashboards to monitor trends in the company's demand, inventory and backorder data.
"We had already learned a lot about how to use analytical tools in the classroom, yet what we need is to apply what we've learned to the field," said Yanghui. "The Data Apprenticeship Program taught me how to translate a business question into a technical language and find the answer from a business standpoint."
Impressed by Yanghui's performance, BD offered her a permanent position immediately following the apprenticeship program.
"Dr. Clark worked so hard to help me get this job. She was always there when I needed help and showed me steps to take as I transitioned to my role at BD," said Yanghui.
The Data Apprenticeship Program has quickly proven to be a valuable opportunity for students. For that reason, Professor Clark is already exploring opportunities to continue the program as 25 more students anticipate graduating from the MSBA program this year.
Women in Data Science
Yanghui will also be speaking at the upcoming Women in Data Science (WiDS) conference. WiDS is a worldwide event organized by Stanford University and hosted at over 150 locations. The USD School of Business is proud to host WiDS San Diego @ USD, which will take place on March 8, 2021.
The event is free and open to everyone. WiDS San Diego @ USD will feature presentations and panel discussions with a focus on navigating your data science career from early-career jobs to advanced leadership roles.
"Women continue to be underrepresented in the field of business and data analytics, especially at the management level," says Professor Clark. "Events like WiDS are important to help build a community of women who can help each other thrive in this field, whether they're just starting out their career or are breaking into C-level management roles."
Map
5998 Alcalá Park
San Diego, CA 92110