Alumni-Owned Startup Offsets Carbon Footprint of Online Purchases, Featured in Forbes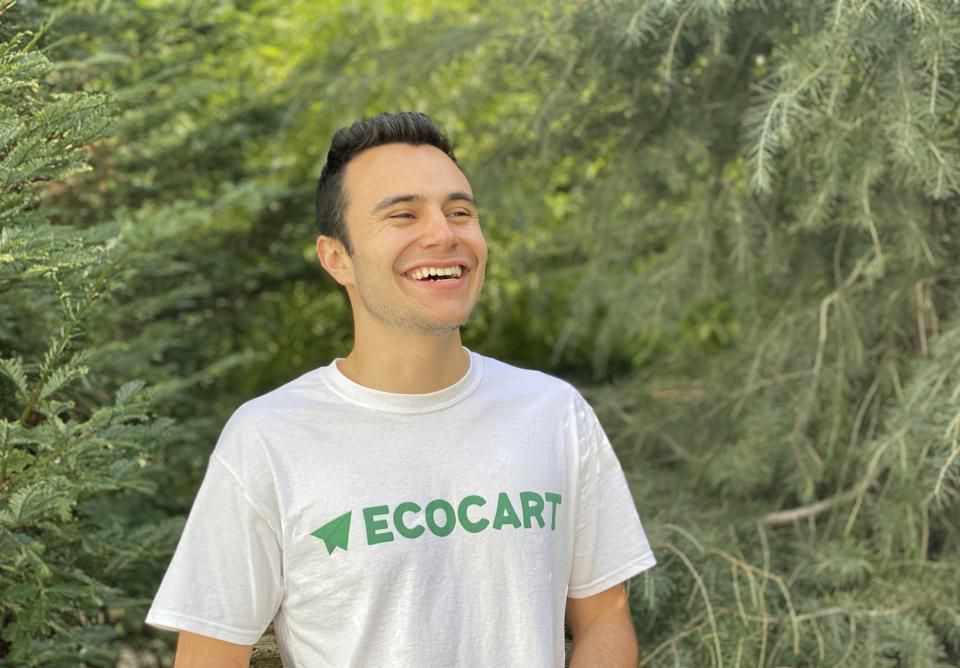 begin quote

With a combination of their previous entrepreneurial experience, Baker and Twomey are helping consumers remove carbon from our atmosphere, one item checkout at a time.
Dane Baker '19 (BBA) and Peter Twomey '18 (BBA) are two Torero alumni who started their entrepreneurial journey with big ideas at the University of San Diego School of Business. As a student, not only was Baker president of the Entrepreneurship Club, but he was also a finalist in USD's V2 Pitch Competition, one of a few stops along the Toreroprenuer Journey.
Since graduating, Baker and Twomey came together to launch EcoCart, giving online shoppers a simple way to offset the carbon footprint of their purchase. Since beginning its venture into sustainable shopping, EcoCart has offset over 5 millions lbs. of carbon dioxide.
Forbes recently spotlighted EcoCart and said it "is in a prime position to take advantage of future growth in the voluntary [carbon] offset markets." Read more below.
Excerpt as it appears in: Forbes.com
EcoCart Helps Digital Consumers Offset Their Carbon Footprint At Checkout
Climate change mitigation is now a key focus across the globe. Consumers in developing countries have a growing concern about their environmental impact. Yet, the average customer lacks access to information that could help them estimate their carbon footprint of the items they purchase. Dane Baker and Peter Twomey recognized this missing information and created EcoCart as a solution. EcoCart is a Google Chrome extension add on that allows users to offset the carbon footprint of their purchase. The San Francisco-based startup is backed by 500 Startups.
Increasing global temperature due to greenhouse gas emissions will come to affect humanity at all scales. Despite the various international initiatives, national policies, and shifting consumer behavior, scientists still estimate we have missed the window to mitigate the worst of climate change. While scientists and other policy wonks have the latest up-to-date information on America's growing greenhouse gas emissions, consumers don't. The absence of this data deprives consumers of information they need to reduce their impact on the environment. The growth of e-commerce magnifies the problem as a double-edged sword. While e-commerce facilitates our consumption with a minimal number of clicks, our purchase consequences are abstracted away through code. Our frictionless acquisition of products and services keeps us from considering their actual environmental cost.
Shopify estimates that worldwide e-commerce sales were $3.5 trillion in 2019 and will grow to $6.5 trillion by 2023. Given that much of today's consumption is facilitated online, the opportunity to offset one's carbon impact at checkout is even more enormous. The carbon offset market is snowballing, and the coronavirus pandemic adds fuel to the fire. The overall market has two major segments: compliance and voluntary offsets. S&P Global details the compliance segment of carbon offsets to be around $44 billion in 2018. However, the voluntary offset market was reported by Vox to be approximately $300 million in 2018. It's important to consider that the compliance market has been around since the 1970s, starting with the Kyoto Protocol.
The voluntary offset market has immense potential to exceed its compliance counterpart. Companies and non-profits such as Terrapass, Project Wren, Climate Neutral and others are competitors in this market. However, there are significant hurdles to the mass adoption of voluntary offsets among consumers. Allied Crowds CEO Lars Krojier, whose firm provides detailed reports of emerging markets to investors, says, "The pricing is horribly convoluted and inefficient. We're looking at huge price differences for what should be the same thing." His solution is the creation of a futures market for voluntary offsets. He elaborates, "...you need price transparency and consistency and clarity, like stocks and bonds…[for] massive growth in the carbon space." A startup like EcoCart is in a prime position to...
Map
5998 Alcalá Park
San Diego, CA 92110