USD Master's in Supply Chain Management Ranks #3 in California and 40th in the Nation for Best Online Graduate Business Programs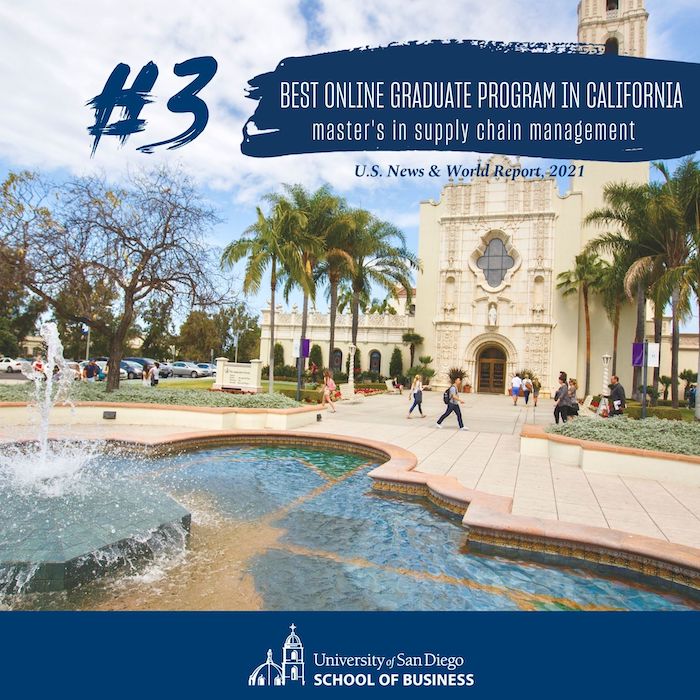 The University of San Diego School of Business' master's in supply chain management (MSSCM) ranks 3rd in California and 40th in the nation for Best Online Master's Business Programs (non-MBA) according to the 2021 U.S. News & World Report ranking. The program also ranks among the top 10 online master's in supply chain programs in the nation. This is the 9th consecutive year that USD's MSSCM program has appeared in this ranking.
U.S. News & World Report ranks online graduate programs on student engagement, expert opinion, the opportunity to interact with instructors and fellow classmates, faculty credentials and training, services and technology, and student excellence.
In USD's supply chain degree program, world-class faculty use an applied approach to teach aspiring supply chain professionals the complex nature of logistics and sourcing to deliver goods and services around the world, efficiently and sustainably.
"We believe in the effectiveness of experiential learning and have built a curriculum around opportunities that include simulations and real-world negotiation tactics," said Daniel Lin, department chair of operations, supply chain management and information technology management at the USD School of Business. "We are also committed to international education and sustainability, offering a truly unique Sustainable Global Supply Chain Management class in Japan."
Further supporting the master's in supply chain management program and its students is USD's Supply Chain Management Institute (SCMI), whose 25 industry partners provide valuable insights and learning opportunities that foster talent aligned with the supply chain industry's evolving needs.
"SCMI's industry partners provide a unique and valuable opportunity to network with and learn from senior industry practitioners from virtually all market verticals," said Joel Sutherland, SCMI managing director at the USD School of Business. "Tours of supply chain operations are a regular offering that provide a unique perspective of supply chain end-to-end activities beyond the student's own business experience."
The MSSCM program also teaches students how to adapt to quickly changing business environments, a skill that has become invaluable as companies pivot their models and strategies to withstand the COVID-19 pandemic.
"Recently, the program's curriculum has been modified to meet market demands. We reduced the length and cost of the program while enhancing the use of analytics and increasing the number of hands-on projects and company visits," said Kacy Hayes, assistant dean of graduate programs at the USD School of Business.
"Our 20-year-old program has established a robust alumni base and tight connection with industry partners," said Professor Lin. "We took into account their input to identify emerging trends and skills needed in practice and infused that into our existing courses."
As the onset of the COVID-19 pandemic exposed vulnerabilities in supply chains, companies are now seeking employees with specialized supply chain knowledge and experience more than ever before.
"The pandemic has wrought immense pressures on global supply chains including the continued shortage of shipping containers, the spring 2020 panic buying of paper and canned products, and the current roll-out of mass vaccination programs around the world," said Simon Croom, professor of supply chain management at the USD School of Business.
"Many of our alumni are actively working on increasing availability and delivering support to medical and social programs. Local authorities and governments are turning to supply chain experts for assistance — the skills and knowledge acquired in our MSSCM program are having a profound impact on humankind's response to this existential challenge," he continued.
Through a flexible, online format, professionals looking to advance their supply chain careers can enroll in USD's MSSCM degree program at their own pace and continue to work regular business hours. The program can now be completed in just 17 months and requires only three visits to the USD campus. The new curriculum will be effective for the incoming Fall 2021 cohort.
For admission and additional program, information go to www.sandiego.edu/msscm.
Map
5998 Alcalá Park
San Diego, CA 92110