Noah Henderson '21 Debuts His First Single "I'm Coming Home" Christmas Song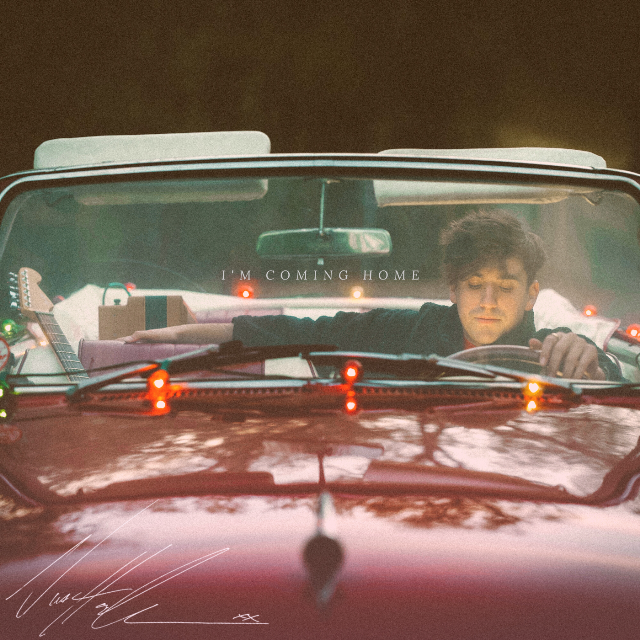 University of San Diego School of Business senior and Real Estate Society committee member Noah Henderson made his debut in the music industry on Dec. 10, 2020 with the release of his new Christmas song "I'm Coming Home."
He is a seasoned musician and independent artist, who taught himself how to play more than 10 instruments over the years, including the guitar, piano, cello, drums, bass, ukulele, banjo, among others.
Noah was inspired to write and produce his first single "I'm Coming Home" because of his love for Christmas. "The spirit of Christmas is something I try to embody 365 days of the year," says Noah.
The song was written, recorded and produced in a shipping crate-turned studio in Santa Barbara. Noah says that it is a song about hope, excitement and the spirit of sharing Christmas with someone special around the holidays—something we all cherish, especially now, with the current pandemic.
"The shipping crate used to create this single was full of Christmas cheer during the recording," says Noah. "The lack of A/C in there while recording the song, made it even more memorable."
You can listen to Noah's new single "I'm Coming Home" on various music platforms. He is also
working on another Christmas song, titled "I Wish You Were With Me," which is due to be released on Dec. 18, 2020.
Matching his love for music with a desire to give back to the music community, Noah partnered with Gibson Guitars at the age of 14 to raise funds for the company's charity initiative,
Music Rising,
which replaces instruments of students and music schools who had theirs damaged in natural disasters, such as Hurricane Sandy.
Originally from Sacramento, CA, Noah moved to Santa Barbara, CA for the first two years of college and then transferred to the University of San Diego in Fall 2019 to major in real estate. He decided to declare real estate as his major after taking Professor Demas' REAL 320 Principles of Real Estate class.
"I enjoy the people part of the business and am very interested in the legal and underwriting side of real estate," says Noah. He is interested in showcasing his financial and analytical skills in combination with his affable personality in negotiating deals within the sports industry.
"
I am a huge sports fan, so I intend to use the real estate major to focus on working with major sports teams within their real estate departments, in both valuation and development," says Noah. "I intend to pursue a real estate career and continue with my music endeavors full-time after I graduate from USD."
-By Kimberly Malasky
Map
5998 Alcalá Park
San Diego, CA 92110