USD School of Business Chosen as Preferred Provider of Talent by San Diego Regional EDC, Offers Paid Internships to Students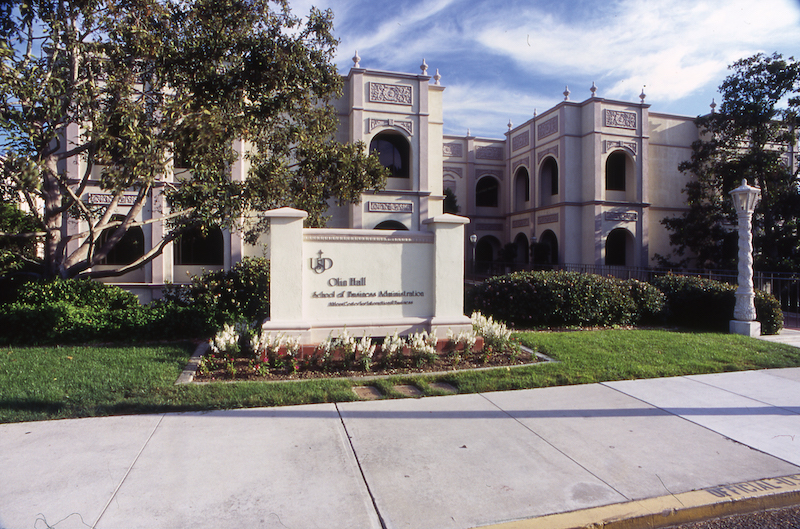 Undergraduate business students at the University of San Diego will have the opportunity to apply for 24 paid remote internships at small San Diego businesses, thanks to a new designation by the San Diego Regional Economic Development Corporation's (EDC) Advancing San Diego program. The program qualified the USD School of Business as a preferred provider of talent.
"I've seen first-hand the excitement that a hands-on, paid internship provides to students," said Robin Darmon, senior director of USD's Career Development Center.
"The Advancing San Diego program is a win-win for students and for local small businesses, who are getting access to talented, qualified business students." Associate Dean of Undergraduate Business Programs, Stephen Conroy added, "This is a win-win for the City of San Diego and USD students, who will be placed in high-quality internships throughout the city and in so-doing create new avenues for collaboration and experiential learning."
The paid internships will be offered at San Diego companies with fewer than 100 employees. Students can also receive up to $500 in flexible funds to use toward equipment or services that support the success of their internship.
There are a total of 24 internships available for all of the Preferred Providers

Internship applications open January 25 and close February 12

Interviews begin after February 12 and placements begin March 2021.
USD is one of eight preferred providers of business talent in San Diego, recognized as providing the skills and training necessary for a diverse student body to pursue jobs or internships in business.
"The goal of Advancing San Diego is to create alignment between the needs of small San Diego businesses and the talent pipeline from our outstanding educational institutions," said Kate Gallagher, Senior Manager, Economic Development, San Diego Regional EDC. "This designation recognizes that the USD School of Business excels in preparing students with the skills and mindset needed to succeed in business today."
The University of San Diego School of Business emphasizes rigorous academics and experiential learning that prepares graduates to tackle real-world problems and establish relationships with industry leaders in San Diego and beyond. USD School of Business graduates are empowered to practice wealth creation through a path with purpose — defined by people, planet, profit, peace and prosperity.
The school's leadership among business schools is internationally recognized — Poets&Quants currently ranks our undergraduate program #42 and among the top 50 in the nation for three years in a row. USD's undergraduate real estate program is also ranked by College Factual as #1 in the nation for three years in a row.
In 2019, San Diego was selected as one of five cities to receive a $3 million investment as part of JPMorgan Chase's Advancing Cities Challenge, an initiative to drive inclusive growth and create greater economic opportunity across the U.S.
Map
5998 Alcalá Park
San Diego, CA 92110