USD MBA Ranks #5 Best Entrepreneurship Program in California and Top 50 in the World by Princeton Review & Entrepreneur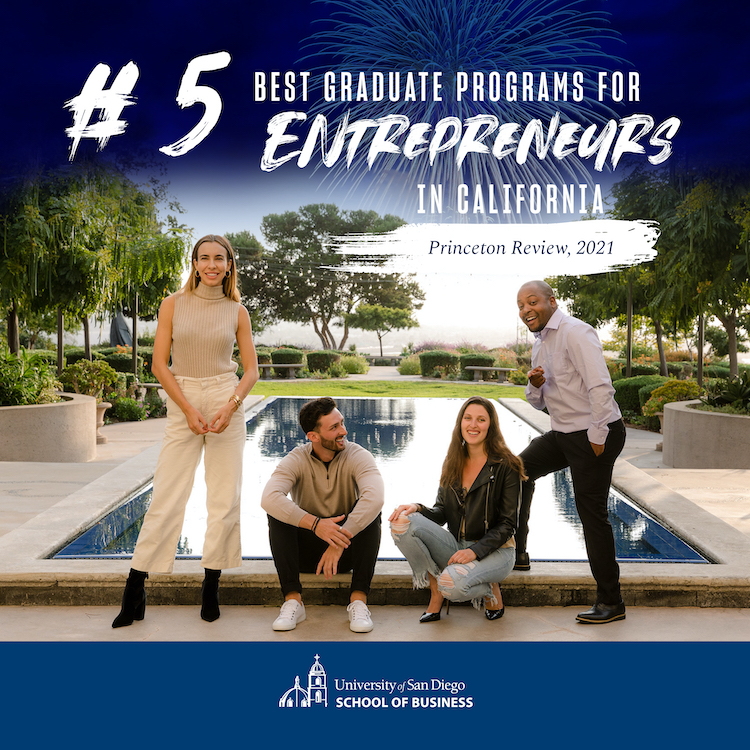 The Princeton Review and Entrepreneur Magazine selected the University of San Diego School of Business for its list, Top 50 Graduate Schools for Entrepreneurship Studies for 2021. The ranking, released yesterday, ranks USD's MBA #5 in California and #45 in the world.
Students at USD have the opportunity to participate in a myriad of skill-building entrepreneurship competitions and receive free startup consulting and mentorship support through San Diego's #1 accelerator, The Brink Small Business Development Center at USD. In the classroom, they receive real-world insights from local entrepreneurs, mentors and expert faculty — and, MBA students can choose entrepreneurship as a concentration. Through all of these opportunities, the USD MBA offers a truly immersive experience for aspiring intra- and entrepreneurs. The MBA program also ranks 16th in the nation for entrepreneurship by Bloomberg Businessweek.
"The entrepreneurial journey can be arduous, complex and filled with career detours," said Tim Keane, dean of the USD School of Business. "Recognizing that entrepreneurial skills are honed through hands-on experience and persistence, the USD School of Business has created a clear pathway to enable our MBA students to learn the innovation, design, and systems thinking necessary to speed their journey toward success."
The Princeton Review ranking is based on data compiled from more than 300 universities around the world and looking at various data points including the percentage of faculty, students, and alumni actively and successfully involved in entrepreneurial endeavors; the number and reach of mentorship programs, scholarships, and grants for entrepreneurial studies; and the level of support for school-sponsored business plan competitions.
The USD full-time MBA program can be completed in 17 or 22 months. The program is also offered in two flexible formats for working professions: a hybrid part-time option and an evening part-time option.
For more information go to www.sandiego.edu/mba.
Map
5998 Alcalá Park
San Diego, CA 92110