Students Vie for $45K in Scholarships at Fowler Business Concept Challenge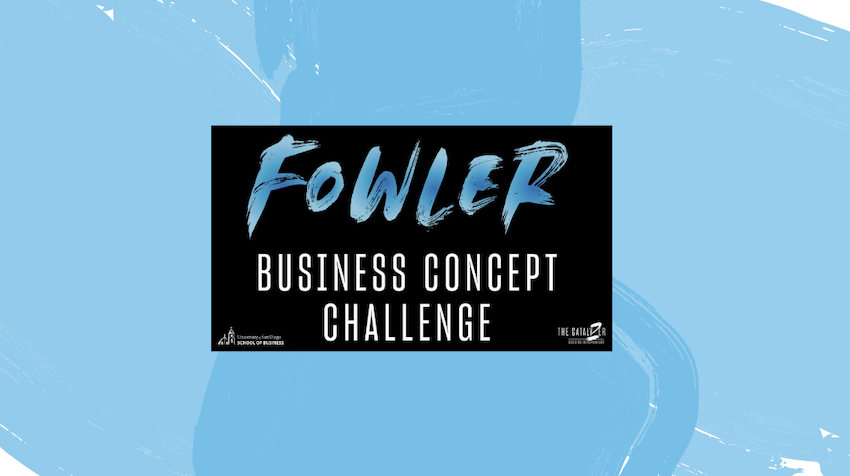 The sky is the limit at the Fowler Business Concept Challenge. Now in its second year, the competition encourages student Toreros to think outside the box and pitch a brand new business idea to a panel of judges and their student peers. Students who present the most innovative ideas can win up to $45,000 in scholarships.
C-Level executives join judges panel
This year, student pitches will be judged by an impressive panel of local business leaders including Caroline Winn, CEO of San Diego Gas & Electric; Chris Sichel, President and CEO of Make-a-Wish San Diego; Mike Fasulo, President and COO of Sony Electronics; Ron Coughlin, CEO of Petco; and Ronda Sedillo, CFO of the San Diego Padres, among others.
Attendees vote for favorite student pitches
Judges won't have the only say on who wins this year's scholarship prizes. Students, family and friends who attend the Fowler Business Concept Challenge will also get to vote on their favorite business ideas. At this year's competition, they'll be voting for their favorite among 16 student finalists which include Taylor Brown (Industrial and Systems Engineering), Amanda Larson (Master's in Social Innovation) and Jack Bonnes (Finance and International Business), and more.
Meet this year's student competitors:
Taylor Brown is an industrial and systems engineering junior who will be pitching her idea alongside Raquel Kennedy (MBA). Together, they will make the case for why their subscription box-based hair care service, You Go Curl, should be the big winner.
Jack Bonnes is a finance and international business junior who encountered a novel idea while on hold with AAA for over two hours. He will pitch his business idea, Redi Go, as the Uber for auto mechanics. Redi Go intends to connect nearby mechanics with drivers who need immediate assistance on the road.
Amanda Larson is a graduate student in the master's in social innovation program at the Kroc School of Peace Studies. Inspired by the fact that 20,000,000 women in the U.S. have an eating disorder and by her own overcoming facing one, she will be pitching LYFlaunch, a virtual, self-innovation and wellness center for women who suffer from eating disorders.
The Fowler Business Concept Challenge will take place Friday, Oct. 30 at 3:30 p.m. Registration to attend is still open! This is one of the Entrepreneurship and Innovation Catalyzer's flagship events and is made possible by the generous support of Ron and Alexis Fowler, philanthropists and owners of the San Diego Padres.
— Gabrielle Horta
Map
5998 Alcalá Park
San Diego, CA 92110