Lifelong Learning Series: In Pursuit of Knowledge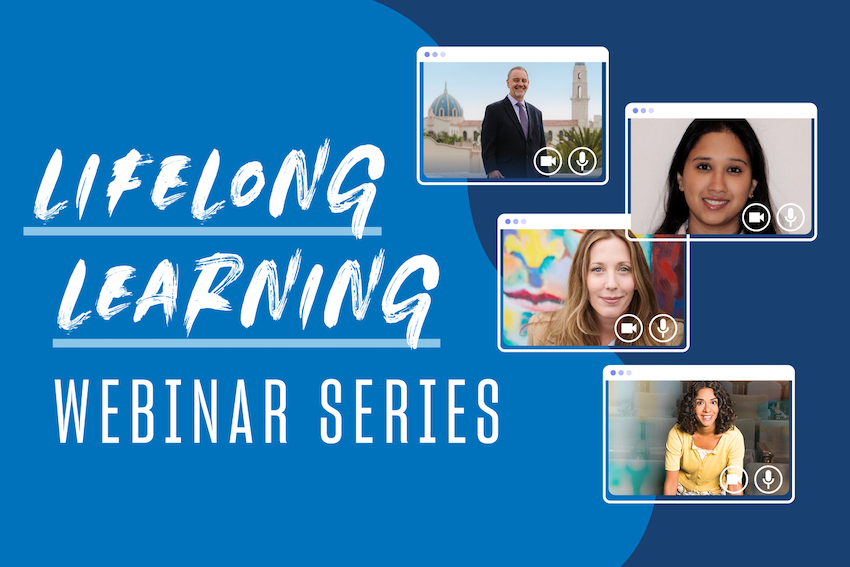 Among the University of San Diego School of Business' repertoire of virtual events is the outstandingly popular Lifelong Learning Webinar Series created exclusively for alumni. Encouraging the lifelong pursuit of knowledge, this series was designed with the intention of helping our alumni stay up-to-date with the latest business trends and network with their peers.
This fall, the Lifelong Learning Webinar Series features four expert professors from the USD School of Business representing a range of fields from finance to marketing, supply chain and more.
Superb supply chain
Over 70 alumni attended the first session taught by Professor of Supply Chain Management Simon Croom: Three Steps to World-Class Performance. The always jovial Professor Croom gave insights on how to design a world-class supply chain, win orders, and align capabilities with your market.
The financial angle
On October 28, Assistant Professor of Finance Priya Garg will make a first impression on alumni as this is her first semester teaching at the USD School of Business. Professor Garg will lead a talk on "Finance for Non-Financial Managers" teaching attendees how businesses are viewed from a financial lens and the role of an individual in a firm in its overall financial assessment.
Creativity isn't just for geniuses
The following week, the series invites alumni to get creative as a way to better thrive at home and at work. In the session "Creativity as Part of Everyday Life," Associate Professor of Management Jennifer Mueller will teach attendees how to open their minds and adopt creative habits. Professor Mueller is a recognized expert in creativity in business and was granted a $450,000 grant in 2019 by the U.S. Army to research how military leaders can overcome a bias against novelty to better prepare them to lead in an increasingly volatile world.
Impacts of marketing on society
The series will wrap up with a timely talk on the inadvertent social impacts of targeted marketing and advertising. Associate Professor of Marketing Aarti Ivanic will lead a dynamic conversation in the presentation "Un(intended) Consequences of Racism in Marketing." As a dedicated researcher on the effects of status hierarchies, race and ethnicity on purchasing behavior, Professor Ivanic will share how some marketing practices have societal consequences that exacerbate health inequities, food insecurity, and wealth and education gaps.
With the Lifelong Learning Webinar Series, the USD School of Business encourages alumni to revisit their alma mater and urges them to become lifelong learners, enhancing both their personal and professional development. And in case that isn't reason enough to become a lifelong learner, here are a few more reasons: improve your self-confidence, fight boredom, keep your mind sharp, learn practical life skills, expand your critical thinking skills, improve your mental health, and even live a longer life!
Lifelong Learning Webinar Series Schedule (free to attend):
Thursday, Oct. 8, 3 Steps to World-Class Performance
Featuring Professor of Supply Chain Management Simon Croom
Wednesday, Oct. 28, Finance for Non-Financial Managers
Featuring Assistant Professor of Finance Priya Garg
Thursday, Nov. 5, Ordinary Genius: How to Make Creativity Part of Your Everyday Life
Featuring Associate Professor of Management Jennifer Mueller
Thursday, Nov. 12, The Un(intended) Consequences of Racism in Marketing
Featuring Associate Professor of Marketing Aarti Ivanic
Map
5998 Alcalá Park
San Diego, CA 92110