Business Analytics Students Harness Unruly Data to Solve Big Problems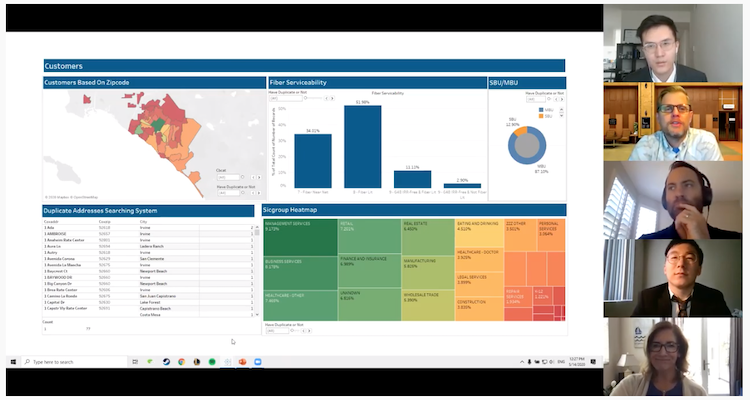 begin quote

This learning by doing approach is essential to deeply learn the key requirements for any business analyst/data scientist.
From improving services for homeless populations to fixing inventory bottlenecks during a pandemic, the impact of business analytics is wide-ranging.
Before becoming the USD School of Business' newest alumni cohort, our master's in business analytics (MSBA) graduate students presented their capstone projects to local companies including Becton, Dickinson and Company (BD), Cox Communications, 2-1-1 San Diego and ResMed.
The MSBA capstone experience provides students an opportunity to apply all of their newly acquired skills to an authentic, data-driven business problem presented by a local company. During their final semester, students act as a consultant and produce a Tableau dashboard along with data analysis.
Making an impact with data
Business analytics graduate students, Ashkan Wadpey, Eric Lal and Alec Lohr, were tasked with creating a model that could assess pathways to homelessness. With this information, the local organization, 2-1-1, can explore the propensity of a person accessing their services to become homeless and take steps to prevent this from happening.
A second group also worked on a consultation project for 2-1-1. Calvin Drummond, Frederick Graves and Ashkan Wadpey created a dashboard that highlights where services for homeless populations are offered in relation to where those people are calling from.
"This class prepared me for the real world of business analytics and I liked working on a project that makes a positive impact on peoples' lives," says Alec Lohr '20. "We performed half of this project in "normal" conditions but the second half was done remotely. COVID-19 changed life as we know it and being able to adapt was huge."
Investigating demand during COVID-19
Since the COVID-19 pandemic hit in the middle of the semester, BD tasked their student consultants with investigating its backorders and sales forecasting models which had been directly affected by the crisis.
After sorting through the data and conducting a thorough analysis, Jessica Northwood, Sebastian Wallat and Yanghui Zong found that BD's product backlogs got worse during the pandemic. This led to customers substituting products with others and created a sales demand that deviated from historical buying patterns.
To help BD better anticipate purchasing behavior, the group created a dashboard to show which products are being replaced by substitute options. The group also created a new demand forecasting model and an additional dashboard to monitor backorders and demand fluctuations.
BD representatives attended the student presentation and were left "virtually" impressed. Their forecast model "proved that there are methods and ways to take the data that BD has and do a better job of trying to predict where demand will be. That was great. Kudos to the whole team," said Crystal Nowakowski, director of sales analytics at BD.
The MSBA capstone experience
"This capstone gave us a real-life example of how a consulting project works from the ground up. We started with unclean and confusing data but our ability to harness Python to clean and analyze the data resulted in crucial Tableau visualizations and dashboards," said Travis Zuroske '20 who worked on a project for ResMed.
By the time they graduate, students in the MSBA program will have completed three experiential projects including the capstone experience. These real-world opportunities allow students to apply their learning and reflect on what will be required of them in their industry roles after graduation.
"This learning by doing approach is essential to deeply learn the key requirements for any business analyst/data scientist. Coding, statistical analysis and critical thinking skills are required to reach appropriate conclusions that will help drive data-driven decision making in business," says Lecturer Andrea Yoder Clark, who taught the MSBA capstone class last semester.
The business analytics students in this cohort are now part of the Class of 2020, a group that will forever be defined as the graduates who faced one of the worst economic disasters in American history. Yet, these students are already fielding a variety of coveted job offers. Alec Lohr, for one, is currently reviewing an offer from Axos Bank to work as a governance, risk and compliance analyst. And Travis Zuroske has accepted an offer from management consulting company, Qral Group.
Map
5998 Alcalá Park
San Diego, CA 92110