In Memoriam, Daniel (Dan) F. Mulvihill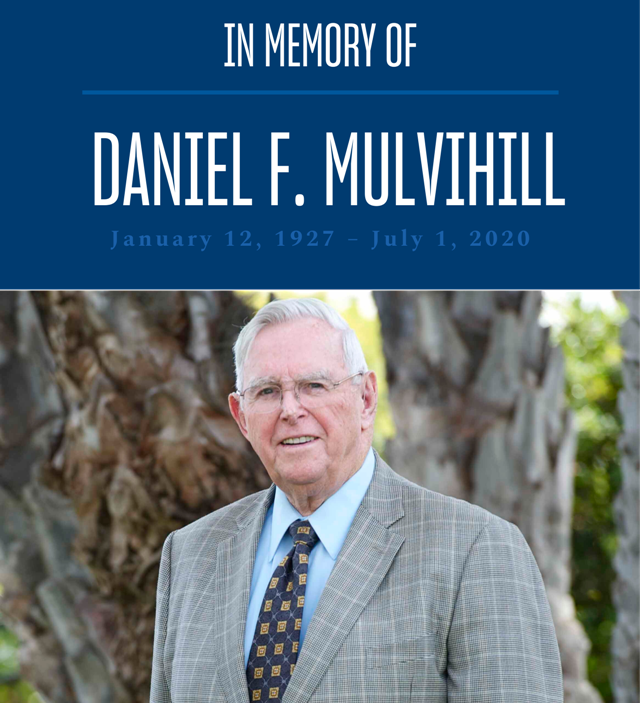 begin quote

The USD School of Business' real estate program owes its very existence to Daniel (Dan) F. Mulvihill's vision, drive and his belief in its existence.
The USD School of Business' real estate program owes its very existence to Daniel (Dan) F. Mulvihill's vision, drive and his belief in its existence. As one of the leaders of America's commercial mortgage banking industry, Dan served a term as honorary treasurer of the industry's national trade group, the Mortgage Bankers Association of America (MBA), in Washington, D.C. His term as treasurer provided an opportunity for Dan to work closely with Mark J. Riedy, former executive director of the MBA from 1978 through 1985. In the spring of 1992, Dan recruited Mark to build a real estate program at USD.
At Dan's invitation, Mark visited San Diego and accompanied him to meetings with Dr. James Burns, former dean of the USD School of Business, and Dr. Author "Art" Hughes, former president of USD. Together, Dan and Mark shared their vision for a comprehensive real estate program, starting at the undergraduate level, with a graduate program to follow. There were no planning documents, no budgets, no strategies, no goals or objectives, just a vision backed by two individuals committed to making USD proud of its yet unborn real estate program.
Based on their respect for Dan Mulvihill and Dan's endorsement of Mark as the person capable of building an outstanding real estate program, Dr. Burns and Dr. Hughes approved the concept to bring the program to life. Fundraising began immediately, as the first classes were in fall 1993. Within five minutes of gaining Dr. Hughes' approval, Dan quietly provided the first of his many significant gifts to support the program. He also chaired a fundraising committee composed of national, regional and local industry and civic leaders, which quickly raised $1.5 million to create the Ernest W. Hahn Endowed Chair in Real Estate Finance within the USD School of Business. Riedy held the Hahn Chair throughout his more than 20 years leading the real estate program at USD, a title which Dr. Norm Miller presently holds.
To honor Dan Mulvihill for his extraordinary faith in, and support for, values-based real estate education, firmly grounded in practical applications and close relationships with industry professionals, more than a decade ago, USD took the uncommon step of honoring Dan with a fully endowed professorship in his honor. Dr. Charles Tu is the first holder of the Daniel F. Mulvihill Professor of Commercial Real Estate.
"It was a tremendous honor to be named the Daniel F. Mulvihill Professor because it was Dan's vision and support that established the real estate program at USD," says Tu. "His legacy truly lives on in USD's internationally recognized real estate graduate program and top ranked undergraduate program."
Since the real estate program was launched in 1993, USD's real estate program has grown rapidly, supported strongly by the real estate industry and the Burnham-Moores Center for Real Estate. The program now includes a Master of Science in Real Estate program, launched in 2004, which offers dual degree programs, including MBA/MSRE or JD/MSRE degrees.
Dan was proud to see the program become the number one ranked undergraduate real estate program in the nation. As the father of the real estate program concept, Dan spent nearly 30 years devoting himself to helping his dream come true. Year after year, the Burnham-Moores Center for Real Estate and the academic program in real estate deliver tremendous benefits for USD, its students, faculty, employers and the communities they serve.
"Most successful endeavors can be traced back to an individual whose passion, tenacity and vision bring life to an idea," says Stath Karras, executive director of the Burnham-Moores Center for Real Estate. "Dan Mulvihill was that person for the real estate program at USD. Through his initial efforts and ongoing involvement in the Burnham-Moores Center's policy advisory board, USD now has one of the premier real estate programs in the country. We thank and honor Dan for his creation and stewardship of our real estate program."
ABOUT DANIEL F. MULVIHILL
Daniel F. Mulvihill was from an Irish settlement in Cumming, Iowa. He was born on January 12, 1927, at Mercy Hospital in Des Moines, Iowa to proud parents, James and Katherine Mulvihill. He was the fourth of eight children. Dan grew up on the Mulvihill Family Farm, where they grew corn, soybeans and raised Herford cattle and hogs. As a boy, Dan was educated at Lee #7, a one room schoolhouse, along with his seven siblings and neighbors. He attended Dowling High School, Des Moines. Dan graduated from Iowa State University, with a degree in Animal Husbandry in 1949.
After graduation, Dan served in the U.S. Army, as a PFC, attending boot camp at Ft. Carson, Colorado. Because of his farm background, he was given the charge of inspector of all foods of animal origin for all branches of the service, mainly inspecting and purchasing meat, pork, eggs, in the Midwest region. After completing his time in the Army, Dan returned to assist on the family farm. He re-enrolled at Iowa State University in 1953 to take a course on animal nutrition. That was a life-changing decision, as he met Mary Collins, a senior at Iowa State University. In July of 1953, Mary and her family relocated to La Jolla, CA. Dan kept in touch and soon followed Mary to La Jolla in February of 1954, and they were married in August of 1955. They continued their love affair and marriage for 64 years.
Dan later became the chairman of Pacific Southwest Realty Company. He was a former member of the University of San Diego (USD) School of Business advisory board, a past recipient of the Ernest W. Hahn Chair of Real Estate Finance at USD and a previous chairman of the President's Club at USD. For more than 10 years, Dan served as the organizing chairman of the Scripps Mercy Hospital Foundation and remained active through 2020, raising money for the foundation. In 1996, he was appointed as a member of the board of trustees at Scripps Health and he also served as a trustee of Scripps Health Foundation of Medicine and Science. In 2009, Dan was awarded an honorary doctorate in philosophy at Saint Patrick's College. Dan became involved with St. Patrick's in 1985 and raised $6 million to build a new library. He sat on the international board of the American Ireland Fund which raised money to promote peace, culture and education in Ireland.
Dan passed away on July 1, in peace and surrounded by his family. Dan is survived by his loving wife Mary and his six children and twelve grandchildren.
— Kimberly Malasky, Director of Communications and Marketing
Map
5998 Alcalá Park
San Diego, CA 92110