Biznis Casual: Grad Student Takes Business Education to Haiti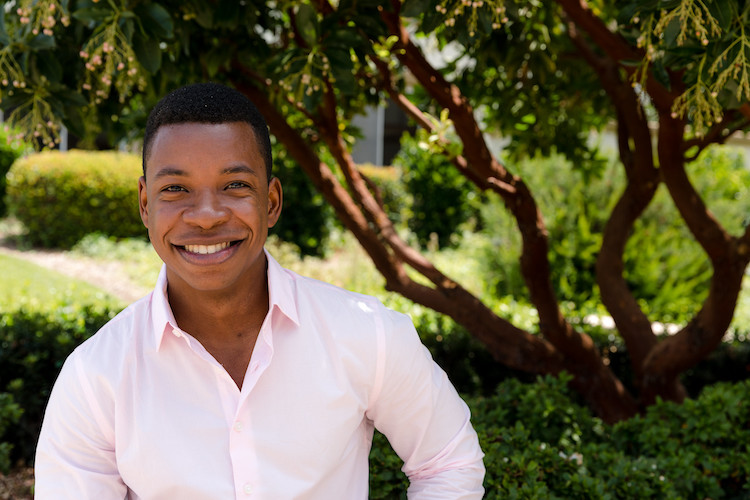 begin quote

Haiti is already a disadvantaged community, how will we ever be able to grow and compete if we don't have access to basic business information?
Biznis Casual is MBA student Carl Dumesle's latest entrepreneurial endeavor to bridge the knowledge gap between the Haitian community and the rest of the world. As a native of Haiti, Dumesle has witnessed firsthand the country's limited access to information and was compelled to offer free business lessons in Haitian Creole to empower his community.
"My professional experience and MBA classes at the USD School of Business have taught me well and I hope to transfer that knowledge onto others. With 60 percent of Haiti's population living under the poverty line, only a few of us get the opportunity to pursue an MBA," says Dumesle. "But the next revolutionary idea might come from the mind of someone who cannot afford it."
Teaching business in Haitian Creole
On June 14, Dumesle hosted Biznis Casual's first virtual lesson taught completely in Haitian Creole, one of Haiti's two national languages. The class tackled the topics of wealth creation and price versus value to an audience of over 150 people. Dumesle will continue teaching the class weekly throughout the end of summer and address business topics voted on by students.
"Wow! This is exactly what I needed, now I just need to practice!" messaged a student, Dora, after class.
The decision to teach the class in Haitian Creole was a critical one for Dumesle.
"Since our native language, Creole, is not widespread, the majority of us can't just "Google" information unless we're proficient in another language such as French or English," says Dumesle. "We are already a disadvantaged community, how will we ever be able to grow and compete if we don't have access to basic business information?"
Dumesle's entrepreneurial streak
Dumesle is no stranger to brilliant ideas. During his time at the USD School of Business, Dumesle introduced his social business venture, HUGS (Housing Undergraduate and Graduate Students), at the Fowler Business Concept Challenge. His team's idea to make it easier for international college students to find housing won first place and $15,000. Dumesle and his business partner also competed in the Fowler Global Social Innovation Challenge and made it all the way to the USD Finals, winning a prize of $2,000. They have since secured HUGS' first housing partner that will list 20 housing units as a beta test for their platform.
While Dumesle continues to grow the HUGS business, he remains committed to Biznis Casual and hopes to see it evolve into a nonprofit. As of now, Dumesle plans to bring on collaborators after the summer, and together, they will continue the effort to close Haiti's knowledge gap and empower the community with essential business education.
"The messages of appreciation and gratitude I've received warm my heart and solidify my belief that we [the Haitian community] are hungry for knowledge and growth opportunities," says Dumesle.
Map
5998 Alcalá Park
San Diego, CA 92110