América Economia and CEOWorld Magazine Rank USD's MBA Among Top 100 Globally and #1 in San Diego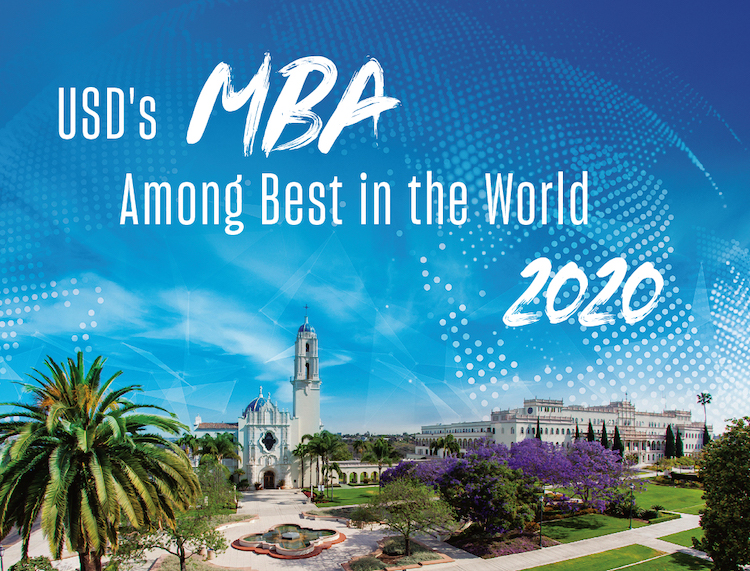 The University of San Diego School of Business MBA ranks among the top 50 MBAs in the world by América Economia, 2020 and among the top 100 MBAs in the world by CEOWorld Magazine, 2020 — this places USD's MBA in the top five percent of approximately 2,000 programs worldwide. Both publications also rank USD's MBA #1 in San Diego.
"We are pleased to see the success of our students and alumni, as well as the dedication of our faculty and staff, recognized once again by both of these leading business publications," said USD School of Business Associate Dean of Graduate Programs Barbara Lougee. "The USD MBA program provides students with relevant curriculum, hands-on learning, entrepreneurial strategies, career counseling and vast networking opportunities to ensure our graduates are prepared to make an impact in the business world."
Among the 182 ranked schools by CEOWorld Magazine, only 53 schools are in the United States and 10 are in California. Data for this ranking measures the quality of education, job placements of students, and recruiters' feedback about the specific school.
Of the schools ranked by América Economia, only 27 are in the United States and three are in California. In its ranking methodology, América Economía takes into account five factors: level of internationalization, multicultural outlook, selectivity, level of innovation and Latin American network. The USD School of Business performed especially well in innovation and selectivity.
The USD Full-time MBA program can be completed in 17 or 22 months.
For more information visit www.sandiego.edu/mba.
Map
5998 Alcalá Park
San Diego, CA 92110