Your Summer Guide to Workshops Offered by the IN App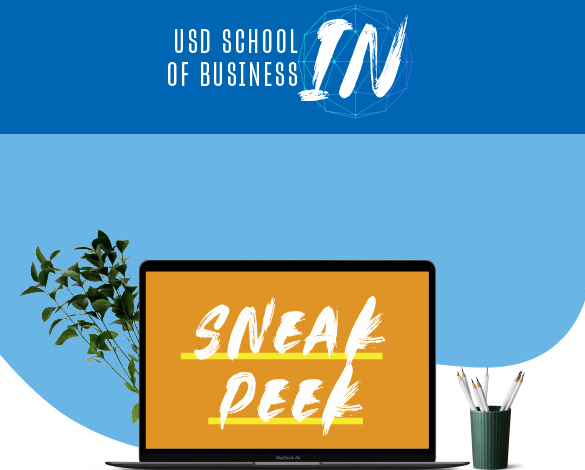 The IN app is the first-ever app created by the USD School of Business exclusively for business students at USD. We've tapped into our extensive network of industry experts and thought leaders to develop workshops that will help you skill up and succeed through any economic challenge — even a pandemic.
This summer, IN workshops will be led by USD School of Business executive board members, successful alumni, your favorite professors and others who are eager to share their wisdom and teach you how to thrive in business.
Students can choose from over 30 workshops in various tracks including business-specific topics, career development and health and wellness. Below is your comprehensive guide to all workshops offered this summer.
Don't forget to download the app for Android or iPhone to sign up for the workshops below.
ACCOUNTING
Tax vs. Audit vs. Advisory Services
Ronson Shamoun '98, '02, '04, CEO and Principal Attorney of RJS Law, School of Business board member
July 29, 12 - 1 p.m.
Is your accounting knowledge basic? Find out what Certified Public Accountants (CPAs) do. Plus, learn about audit and assurance services and how they help clients minimize their tax obligations.
Taking the Blue & Yellow Brand with the Red Top to the World: How it Works for a U.S. Public Company (WD-40)
Garry Ridge '01, CEO of WD-40, School of Business board member
Aug. 3, 1 - 2:30 p.m.
Take a look "under the hood" of one of the world's most recognized brands, WD-40, where employee engagement is above 93 percent, 98 percent say they "love to work at WD-40" and 99 percent say that their "opinions and values are a good fit." This high engagement has resulted in a company that has doubled in revenue in the last decade and is on a trajectory to double again in the next.
BUSINESS ANALYTICS
Intro to Tableau: Turning Cold Numbers Into Live Stories with Data Visualization
Prof. of Operations Management Daniel Lin
June 29, 12 - 1 p.m.
Data visualization is about making cold numbers alive via vivid graphs and charts to tell a story. It is also a fundamental skill in business analytics. Tableau is one of the most popular software for data visualization. In this introductory workshop, we will demonstrate the power of Tableau and why it is an essential tool for analytics.
Emerging Applications of AI
Navid Alipour '04, president and CEO of Analytic Ventures
July 23, 12 - 1 p.m.
Why businesses dealing with artificial intelligence (AI) are the ONLY good investments: data literacy in 21st-century business.
ECONOMICS
Economic Snapshot: Road to Recovery
Prof. of Economics Ryan Ratcliff
July 28, 12 - 1 p.m.
Gain a better understanding of San Diego's current economic landscape and long-term post-COVID recovery efforts. Dr. Ryan Ratcliff is working directly with the San Diego Regional Chamber of Commerce on our local economy's recovery efforts and will share his insight on the best path forward.
ENTREPRENEURSHIP
Your First Lesson on Creating Success: Go Fail.
Brant Cooper, CEO and founder of Moves the Needle
June 23, 5 p.m. - 5:45 p.m.
Brant travels the globe speaking with entrepreneurs and intrapreneurs about how to discover and create new value. A

New York Times

bestselling author, Brant will help empower you to make the change you want to see in the world.
Leading Teams Virtually and Creating a Successful Remote Work Dynamic
Daniel Altenburg, Co-founder of ZipDev
July 8, 9 - 9:45 a.m.
With the growing threat of the coronavirus hitting the U.S. in full force, the prospect of having to work from home is becoming increasingly likely for many people. Normal work patterns, modes of communication, and team dynamics have been disrupted. Learn essential tips and tricks for managing remote teams as we enter a new work environment.
An Entrepreneurial Partnership with Engineering
Speaker: TBD
July 21, 5 p.m. - 5:45 p.m.
Workshop Description: TBD
FINANCE
Breaking into Finance
Traci Diciaula, assistant director at School of Business Career Development Center Jerica Kingsbury '17, finance data science analyst at Thermo Fisher Scientific
Brandon Holm '16, relationship manager at Wells Fargo Commercial Banking
Alex Hernandez '14, senior investment banking analyst at Deutsche Bank
June 22, 12 - 1 p.m.
Are you trying to break into a career in finance? Get career and job search advice from a talented panel of recent USD alumni working in various areas of finance including investment banking, commercial banking, corporate finance, etc.
Living Through Market History
Prof. of Finance Daniel Roccato
Jim Accurso '83, director of fixed income research at Mutual of America Capital Management
Julio Bonilla, portfolio manager at Hartford Schroders Tax-Aware Bond Fund
Rob Magnuson '98, managing director & portfolio manager at Goldman Sachs
Rob Mackay '84, former senior vice president, controller & chief accounting officer at S & P Global
August 3, 11 a.m. - 12 p.m.
Coronavirus caused the fastest and steepest decline in the history of the stock market — followed by the fastest return to Bull market territory. Get a quick history of "Black Swan" events like this one and subsequent market reactions. Learn about the 'it's 5 p.m. somewhere' theory of investing. Where are the 'green shoots' in global capital markets and where is capital flowing now?
Can You Tell Me How to Get to Wall Street?
Prof. of Finance Daniel Roccato
Thomas Shelford '95, president and co-founder of Corsis
Alex Hernandez '14, senior investment banking analyst at Deutsche Bank
Andy Christensen '19, associate at Silicon Valley Bank
August 6, 9 - 10 a.m.
Ever dream about trading the palm trees and sunny skies of San Diego for the hustle and bustle of New York City? Learn from a distinguished panel of recent alumni about how they went from Olin Hall to the trading floor. How did they get started on Wall Street? What personal characteristics are helpful to a Wall Street career? What do investment bankers, traders and portfolio managers actually do all day?
INTERNATIONAL BUSINESS
From B-School to Global Digital Marketing for Autodesk: Learning the Trade
Kevin Mendenhall, senior manager of global SEO at Autodesk
July 15, 4:30 - 5:30 p.m.
How does an international team function? What does global marketing look like? Kevin will discuss the logistics of international business — from calls at odd hours of the day to international travel and working with colleagues of diverse backgrounds from all over the world. He will also give an inside look at marketing from a global perspective including the impact of advertising campaigns on business performance to optimize global advertising spend.
Managing Multicultural Virtual Teams
Prof. of International Business Eileen Daspro
July 27, 12 - 1:20 p.m.
As companies expand geographically and remote work becomes more common, work groups become geographically dispersed and socially distant. Managers increasingly face the challenge of leading virtual teams to work effectively across functions, continents, cultures and time zones. In this workshop, you will develop a concrete set of tools to confidently navigate your multicultural virtual team.
MARKETING
Challenges of Graduating in a Recession: How to Market the Marketer
Patrick Rust '09, head of communications at Vitro Creative Advertising Agency
July 22, 11 a.m. - 12 p.m.
Get advice on making the jump from college to your career and how to accelerate your growth in your 20's. Patrick will also give you a peek behind the curtain of the advertising industry, where things have changed significantly since the last episode of Mad Men.
REAL ESTATE
Starting a Personal Real Estate Investment Portfolio
Steve Rosetta, CEO of IQHQ
June 25, 3:45 - 5:15 p.m
Learn from one of San Diego's most successful real estate entrepreneurs on how he started building his real estate portfolio.
San Diego Real Estate Overview
Natalie Dahl '01, managing director at CBRE San Diego
July 9, 3:45 - 5:15 p.m.
Get all the details on the local San Diego real estate market from a senior executive at CBRE.
Real Estate Financial Modeling: An Introduction to Excel and ARGUS*
Daniel F. Mulvihill Professor of Commercial Real Estate Charles Tu
July 14 and July 21, 3:45 - 5:15 p.m.
How is financial modeling applied in real estate decision making? Do you wonder how you can improve your modeling skills? Do you know the similarities and differences between Excel and ARGUS? This series provides an overview of real estate financial modeling using Excel and ARGUS Enterprise. Prior knowledge of financial analysis is not required.

*This is a two-day workshop
Understanding Different Career Paths in Real Estate
Travis Adams, development manager at Guardian Capital
Tommy Edmunds '16, development director at Silvergate Development, LLC
Trevor Hubbard '05, senior staff appraiser at Department of Defense-NAVFAC-SW
Lesley Hudson '20, associate director of Property Management Division at CBRE San Diego
Bess Wakeman, executive vice president at JLL
July 16, 3:45 - 5:15 p.m.
Learn about various career paths in real estate, including development, financial analysis, valuation, property and asset management and brokerage.
Long-Term Impacts on Product Types Due to Changing Economic Dynamics
Ann Bruce '02, partner of Finance and Operations at Cruzan
Sajan (Saj) Hansji, president of J Street Hospitality, Inc
Sarah Jager, partner at Monarch Group
Terry Tallen, founder and CEO of Tallen Capital Partners, LLC
July 23, 3:45 - 5:15 p.m.
This workshop will provide an in-depth overview and future outlook of office, retail, apartment and hotel real estate markets.
Impact of Artificial Intelligence on Real Estate
Michael Zeller, CEO of Dynan.AI
July 30, 3:45 - 5:15 p.m.
Join one of San Diego's leaders in artificial intelligence (AI) for a brilliant discussion on the nexus of AI and real estate.
Expected Trends in the Capital Markets
Eric Aarnaes '05, senior vice president at U.S. Bank
Aaron Beck, vice president at Debt & Equity, NorthMarq Capital
Kelly Souza '03, managing director at Wells Fargo Multifamily Capital
Aug. 6, 3:45 - 5:15 p.m.
What is the future of the capital markets in real estate? Hear from three industry experts and learn about their projections for the next several years.
SUPPLY CHAIN
Reshoring: The Hottest Trend in Business
Rosemary Coates '89, executive director of Reshoring Institute, Supply Chain Management Institute board member
June 23, 12:30 p.m. - 1:30 p.m.
Reshoring is the hottest trend in business. Due to the coronavirus, trade wars, and tax cuts, businesses are rethinking their global manufacturing and sourcing strategies. But it's not as easy as it seems. Reshoring is complicated and can be costly. Learn the costs and benefits for companies jumping on the reshoring bandwagon.
Cybersecurity: Why is IoT Unsecure and What Can Be Done About It?
Professor of Practice Mark Heckman
July 16, 12:15 p.m. - 1:45 p.m.
Discover the many reasons why the Internet of Things (IoT) — "smart," computer-based, network devices — have so many security problems. Plus, learn about the latest proposals for IoT security standards from NIST in the U.S. and ETSI in Europe.
Funding Your Organization: A New Purpose for Supply Chain Managers
Arizona State University ON Semiconductor Professor of Business Dale Rogers
Aug. 4, 12:15 - 1:45 p.m.
Supply chain financing is using the supply chain to fund the organization while also using the organization to fund the supply chain. In this session, Professor Rogers will explain the symbiotic relationship between supply chain management and finance.
CAREER DEVELOPMENT
Lessons from the 2008-09 Crisis
Dee Kayalar, assistant director of alumni career engagement at USD
July 6, 12 - 1 p.m.
USD alumni share their experiences and how they navigated through the 2008-09 financial crisis. Their stories will impart lessons on how best to weather the economic downturn caused by the coronavirus pandemic.
Techtronic Industries (TTi) Info Session: Consumer Buying Habits during a Pandemic
Abigail Sag, Territory Manager at Techtronic Industries
July 10, 12 - 1 p.m.
Learn about consumer buying habits and what it's like to work in stores during a pandemic. An overview of Techtronic Industries will be shared as well as details about their Leadership Development Program and internships. TTi is currently hiring for its Leadership Development Program and is interested in all majors.
Kashi Research & Development Simulation*
Skylar Binney, experience planner for Natural and Organic Kellogg team at Kashi
Abby Borck, demand planner at Kashi
Ashley Dunn, senior financial analyst at Kashi
Kate Preston, commercial strategy analyst at Kellogg Company
Matt Stinson, lead food designer at Kashi
July 14, 12 - 1 p.m.
Ever wondered how Kashi creates new flavors for their brand? Come participate in this interactive simulation where you go from product development all the way to business plan. Get feedback from Kashi "judges" or employees on your work! Open to single participants or groups of three people or less.

*Must register by July 9. On July 10, Kashi will send you information to start brainstorming.
Marketing Your Summer Experiences
Emily Baxt, assistant director at USD Career Development Center
Sue Kelly, assistant director at USD Career Development Center
July 16, 12 - 12:45 p.m.
What did you do during the summer of COVID-19? In this interactive workshop, you will practice describing your virtual internships, externships, projects, and certification courses for your resume, LinkedIn profile, and an interview.
E&J Gallo Info Session: Best Practices During a Hiring Freeze + Career Opportunities
Allison Smyk, recruiting manager at Gallo Wine Company
July 17, 12 - 1 p.m.
Learn about best practices during a hiring freeze. E&J Gallo Winery will also offer up an overview of their company plus information about their sales leadership development programs.
HEALTH AND WELLNESS
The VOLV Habit Playbook: A Modern System For Forming Habits In A Digital World
Brent Totty, CEO of VOLV
July 15, 3 - 4:30 p.m.
Workshop Description: TBD
Stressproof: A Roundtable of Wellness Experts and Their Actionable Strategies to Handle Stress
Brent Totty, CEO of VOLV
Mary Shenouda, the Paleo Chef, CEO of Phat Fudge
Logan Gelbrich '08, Co-founder of ORIGINAL Nutritionals
July 23, 2 - 3:30 p.m.
Today's environment has caused stress and anxiety at all levels. Join us for a session with health and nutrition specialists to learn how to modify your behavior in order to help decrease your level of stress and anxiety.
Map
5998 Alcalá Park
San Diego, CA 92110