Real Estate Honors Program Alumnus Examines the Land of O.Z.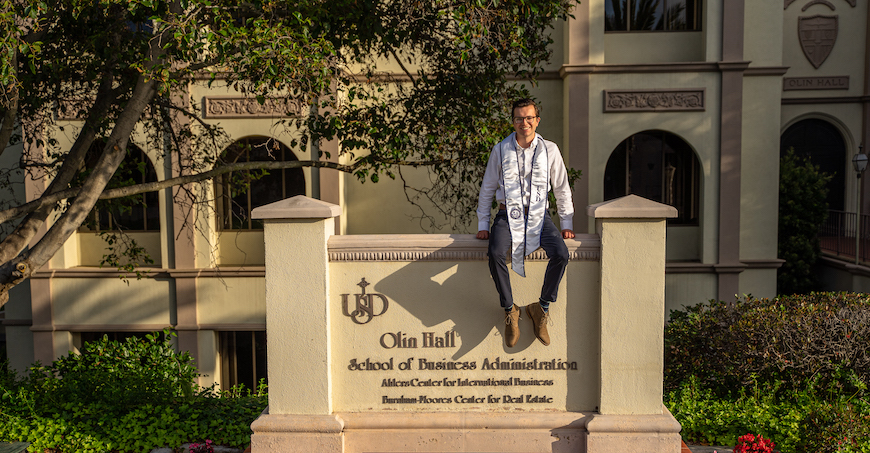 begin quote

"I never would have guessed that over the last year and a half I would actually find a field I was passionate about."
Lukas John "Jack" Foy '20 is a recent graduate of the USD School of Business. He completed his undergraduate senior thesis, titled Investing in the Land of O.Z.: The Promise of Qualified Opportunity Zone Investing in Ameliorating Urban Blight, in May 2020 as part of the prestigious USD Honors Program. Jack earned his bachelor's in business administration, focusing on real estate and international business (major) and political science (minor). This year, 45 seniors graduated from the USD Honors Program. Jack was the only real estate major with this distinction.
Introduced in the College of Arts and Sciences in 1979, the Honors Program at the University of San Diego was established to promote interdisciplinary learning and undergraduate research, to strengthen the intellectual climate of the campus and to maintain the vision of the liberal arts as central to the college experience. Only the top 10 percent of the incoming first-year class is able to apply to USD's Honors Program. These students have achieved the highest high school grade point averages and scholastic aptitude test scores upon entering USD. The program emphasizes teaching excellence, small seminar-style classes and a curriculum of innovative courses. Beyond the classroom, Honors students benefit from meaningful interactions with faculty, extracurricular programming, research opportunities and focused academic advising.
Prior to USD, Jack attended Marquette University High School in Milwaukee, WI where his cumulative GPA was 3.96. His high school extracurricular activities and GPA made him a perfect candidate for the USD Honors Program.
"I applied to and was accepted for the USD Honors Program as an incoming freshman," says Jack. "I lived in Honors housing and took Honors classes right away. The main motivation for wanting to be in this program was to challenge myself as much as possible while at USD and meet like-minded, motivated peers."
While at USD, Jack graduated received countless honors, including: magna cum laude; 5X First Honors; 3X Second Honors; president of the International Business Club and received an award for Outstanding Service to that club; was a finalist at the CUIBE International Business Competition; member of and the Beta Delta class president of the Delta Lambda Phi social fraternity; four-year recipient of the Alcala Scholarship and a recipient of the Fieldstone Foundation Scholarship; was a Lavender Graduate; and graduated with departmental honors in real estate and international business.
The Land of O.Z.
Jack selected his thesis as part of his requirements in the USD Honors Program. In preparation for this project, he reached out to Professor John Demas, Esq., clinical professor of real estate, during his junior year, to serve as his advisor for the senior thesis project.
The topic of his thesis derived from his 2019 summer internship with Milwaukee-based developer J. Jeffers & Co., a firm specializing in historical value-add projects. The nature of this specialty area (particularly in a rust belt city like Milwaukee) exposed him to the concept of opportunity zones (O.Z.), as many of the properties he researched were old factories, warehouses and similar buildings in blighted areas. Opportunity zones are typically found in economically distressed communities, where new investments, under certain conditions, may be eligible for preferential tax treatment.
"Opportunity zones are a fairly new concept in real estate and this topic presented a unique opportunity for me to create a specialized niche and expertise to set me apart in interviews during the hiring process," says Jack. "It is impossible to summarize all that I learned through this process, as I went from having a vague understanding of opportunity zones to having 43 pages worth of proprietary research on the topic."
Through his research, Jack mastered the use of CoStar, a comprehensive database of commercial real estate property information, frequently used to conduct prepare valuations, aid in market analysis and purchasing decisions. The use of this research tool enabled Jack to aggregate raw data on the changes in construction starts and sales volumes within opportunity zone areas. He was able to run statistical tests on the data.
"My paper would have been much less quantitative, and in my opinion, much less impactful without the use of the CoStar tool," says Jack. "By having access to this data, I was able to show empirical evidence for the claim that opportunity zones have catalyzed investment in blighted areas over the last three years above the national level of investment increase."
Jack's thesis advisor and mentor, Professor Demas, sings high praises of Jack and the impression he made while at USD. "Following the yellow brick road in O.Z. at the confluence of real estate development, financing and tax incentives is especially challenging, given that opportunity zones are an emerging area of public policy," says Professor Demas. "Few students challenge themselves with the rigorous Honors Program requirements at USD. Jack's excellence in his independent research, combined with his superior performance in my classes and the respect he has earned from colleagues, faculty and staff are all major milestones for Jack and reflect well on our real estate program. The fact that USD chose to publish his paper, which includes content that has befuddled some of our industry stakeholders, shows the caliber of Jack's work."
Continuing Down the "Yellow Brick Road" to a Bright Future in Real Estate
Jack's says that his experience in the real estate program, and specifically with the support of the Burnham-Moores Center for Real Estate (BMC), altered his career trajectory. He had considered several different majors within the USD School of Business during his first five semesters at USD without finding one that resonated with him. As a second semester junior, Jack gambled on real estate without knowing much about the industry and signed up for Professor Demas' REAL 320 class. Jack, like many USD School of Business real estate students, took advantage of the tremendous resources offered through the BMC. He made a number of invaluable connections through Professor Demas and Stath Karras, executive director of the BMC, who mentored Jack as he explored his career goals.
Jack quickly got involved in the real estate program and was well on his way, carving out a path to his future career ambitions. Jack was member of the team in the 2020 NAIOP University Challenge—an annual undergraduate real estate competition amongst three local universities—University of San Diego, University of California, San Diego and San Diego State University. The competition offered Jack, along with his fellow teammates, hands-on experience assessing the highest and best use of a piece of real estate in San Diego for redevelopment. "Being on the NAIOP team under Stath's tutelage taught me more about the development process than any class ever could," says Jack. "Stath always had a new industry leader to connect us with to further the vision of the project."
Jack also took advantage of the mentorship program offered through the BMC. Zack Holderman of JLL, served as Jack's mentor and helped ensure that he was well prepared for job interviews. Jackie Greulich, associate director of real estate student and career services at the BMC, also played an instrumental role supporting Jack throughout his junior and senior years. Jackie's strong connections with real estate industry employers led Jack to his new position.
"Jackie organized U.S. Bank coming to campus back in October 2019, which is how I learned about a career opportunity with the bank," says Jack, who started his new career as a commercial real estate credit analyst for U.S. Bank in Los Angeles, CA in June 2020. In this new role, Jack is responsible for underwriting new business opportunities and loan portfolio monitoring. He assists relationship managers and portfolio managers in two primary areas: origination and monitoring of commercial real estate loans.
"I never would have guessed that over the last year and a half I would actually find a field I was passionate about," says Jack. "Every real estate class I took at USD enhanced my understanding of the principles of real estate and better prepared me for a future in commercial real estate. Professors Demas, Karras and Gabe all taught me so much and connected me in ways for which I am forever thankful."
— Kimberly Malasky, Director of Communications and Marketing
Map
5998 Alcalá Park
San Diego, CA 92110