FREE Grubhub Lunch on Us! Introducing IN: The New App for USD School of Business Virtual Workshops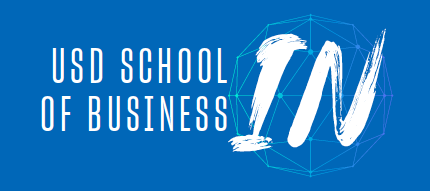 The USD School of Business has developed a new event app called "IN" which stands for "in"sight, "in"spiration, "in"terconnect and "in"vigorate. It will provide an avenue to keep students connected and "in"-the-know as they gain "in"sights this summer from a variety of free workshops, which will highlight the latest in business practices as well as career-focused and health & wellness sessions to further prepare them to succeed in these challenging times. The app was developed by USD School of Business alumnus David Jimenez Burgos '18 MBA, who was able to launch this product idea with funds received from the 2017 V2 Pitch Competition.
The app will serve as a central hub where USD School of Business students will be able to sign up for and keep track of all of the virtual summer programming available exclusively for them under eight major specific tracks (such as real estate, finance, marketing…) and three interest related tracks (entrepreneurship, career development and health and wellness). The goal of the app is also to help students stay engaged this summer and develop a deeper sense of community with their fellow USD classmates, faculty and staff members during these unprecedented times.
The Burnham-Moores Center for Real Estate's "BMC Beachside Chat" series will specifically focus on topics related to the impacts of COVID-19 on both the industry and the job market and other relevant real estate-related topics. The only way to participate in these topical workshops over the summer is to download "IN" and register by using your USD email address.
*BONUS...FREE GRUBHUB LUNCH ON US! Students who participate in a workshop can receive a $17 Grubhub meal credit to use the day of the workshop! Registration 48 business hours in advance of the workshop is required to receive the meal credit.
Download the IN app for Android
Map
5998 Alcalá Park
San Diego, CA 92110