Senior Capstone Consulting Projects Prepare Students to Succeed in Today's Job Market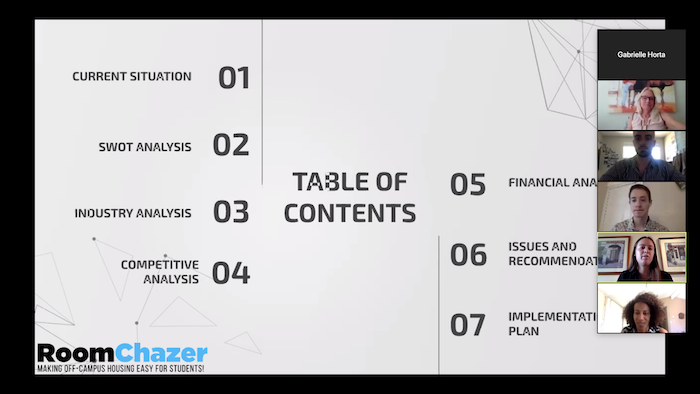 begin quote

The thrill of working on a consulting project for a real company with real people cannot be compared to a written case. And having the CMO of the company come to our presentation was awesome.
"The consulting project experience in Professor McCoy's MGMT 490 class was the pinnacle of my learning at USD."
Megan Manke is a marketing and real estate senior preparing to graduate this semester. Although she may be entering the job market amidst a global pandemic, she secured employment last August with commercial real estate firm, Kidder Matthews, and will start her position following graduation. And when she does, she'll be able to add business consulting to her arsenal of skills.
In MGMT 490, also known as Strategic Management, students work in teams on a consulting project for local businesses around San Diego. This semester, the majority of the businesses were also clients of The Brink Small Business Development Center at the University of San Diego. Each presented a unique challenge to the students, who in turn researched and developed projects that addressed each company's objective.
New strategies for a new business
Manke and her team were assigned to RoomChazer, a company seeking to make off-campus housing easier for college students. One question they posed to students was how to use a referral program to scale its services on a national level.
"Our team was able to successfully analyze and design an action plan for our client by using our specialized backgrounds in various business areas," said accounting student, Spencer Pitts. "We learned how to execute a holistic, end-to-end consulting presentation that generated value for both the client and ourselves as future entrants into the marketplace."
Among the recommendations that Manke and Pitts made to RoomChazer was the idea of assigning a resident advisor to each of Roomchazer's off-campus housing complex partners in an effort to add a community aspect to their services. However, resident advisors outside of a dorm setting don't sound particularly appealing, so they suggested rebranding the role to BFF — or a Building Friend Facilitator.
"I enjoyed working with a real company and giving them solutions to their problems, rather than just analyzing another large company," said Manke. "It was challenging to come up with ideas that were not only creative and outside of the box, but also practical for a small-business to enact."
The team may have felt challenged, but they successfully thought way outside of the box.
Defining the coffee consumer
Another local business that sought support from our soon-to-be business graduates is local coffee roaster, Seven Seas Roasting Company. They asked students to help them better understand their demographic as well as identify new opportunities to reach their customers.
And they delivered. The student team shared insights into the coffee consumer market and suggested that Seven Seas connect with local social media influencers to help increase their brand awareness among San Diego's dense coffee market.
One of the team members included Angela Gomez Fernandez, a business exchange student from Spain who has been diligently managing her schedule to attend virtual classes all the way from Europe.
"What I loved most about this experience was the opportunity to apply everything we had learned in the classroom to a real-life case," said Gomez. "From analyzing the current situation the company is into doing a customer satisfaction analysis and coming up with recommendations. The thrill of working on a consulting project for a real company with real people cannot be compared to a written case. And having the CMO of the company come to our presentation was awesome."
At the end of the presentation, Carlos Grijalva, chief marketing officer at Seven Seas Roasting, expressed how it was really interesting that the group confirmed one of the coffee shop's observations — females are more likely to be more frequent and loyal customers of coffee shops. He added that the student presentation helped him understand that phenomenon a bit more.
Real projects build real skills
To echo Gomez's sentiment, what can be learned working with a real business surpasses what can be learned from a textbook. At the USD School of Business, faculty not only impart the essential theories and principles that form the foundation of a student's business education but also integrate creative ways to give students real-world learning opportunities — and allow students to build skills that make them especially competitive in the job market upon graduation.
"These consulting projects covered a wide range of industries, from artificial intelligence to cyber-security to start-up coffee shops," said Management Professor Robin McCoy. "While the projects were challenging, my students learned the many different aspects of what it takes to operate a business. They gained knowledge and experience that will enhance their business skills and widen their perspectives on starting, running and growing a business. I am very proud of what they accomplished."
The Brink Small Business Development Center at the University of San Diego is a startup incubator that offers free and confidential advising as well as training to local innovation companies.
Map
5998 Alcalá Park
San Diego, CA 92110