Lesley Hudson '20 MSRE and Shane Isdaner '20 MSRE Awarded the Daniel B. Woodruff Memorial Scholarship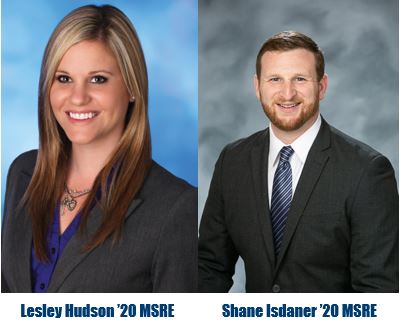 In May, the Burnham-Moores Center for Real Estate announced that Lesley Hudson '20 MSRE and Shane Isdaner '20 MSRE were awarded the Daniel B. Woodruff Memorial Scholarship. This award honors exceptional real estate students who exhibit academic excellence and intellectual curiosity. The scholarship is given to students who best epitomize Daniel (Dan) Woodruff's '98 positive qualities of academic excellence, warmth, determination, intellectual curiosity and unabashed love for humankind. Lesley and Shane will both graduate from the University of San Diego School of Business Master of Science in Real Estate (MSRE) program this month.
"The Woodruff Scholarship is a highly prestigious scholarship and the scholars were selected by a committee of real estate faculty members and professionals at the Burnham-Moores Center (BMC)," says Stath Karras, executive director of the BMC. "It is unusual for us to have two Woodruff Scholars in the same year, however, the committee felt very strongly about the attributes of both Lesley and Shane that they choose to award two scholarships to two very deserving students. The unanimous feedback I received about both Lesley and Shane was that they are caring and thoughtful individuals, excellent communicators, incredibly bright and articulate, and entrepreneurial-minded—the same traits exhibited by Dan Woodruff. "
Dan Woodruff served in the U.S. Navy from 1992-96. He earned his undergraduate degree with emphases in economics and finance from the University of San Diego School of Business. His passion was real estate finance, an outgrowth of his self-directed studies of derivative securities, including mortgage-backed securities. Dan was awarded numerous scholarships and was recognized repeatedly for his academic excellence and leadership at USD. On campus, among other activities, he served as president of the Intercollegiate Business Policy Competition Team, one of the toughest challenges in the School of Business, and as president of the USD Chapter of Toastmasters.
What set Dan apart from his peers, however, was his extraordinary intellectual curiosity and sophistication, his maturity and warm personal style, and his tremendous capacity for friendships, for reaching out to others and for love. Dan was an inspiration to his family and to all who knew him. After graduating from USD, he accepted a position in secondary marketing at one of the nation's largest independent mortgage banking firms. However, within months he was diagnosed with cancer, a battle he fought with incredible determination and spirit for almost two years. While Dan never had a chance to become part of the older generation, he was wise beyond his years.
From a diary Dan maintained throughout his life's journey, he shared the following: "Looking at where I am now, solidifies that we need to live for the 'now,' to take advantage of what we have, not take it for granted. Nothing is granted. It is all a blessing, all we have, all we feel, all we see." Dan was told of the Center's decision to create this scholarship as a permanent memorial to his life about four weeks before he died. He was overwhelmed with emotion and gratitude.
"I am deeply grateful to have been selected as a recipient of the Daniel B. Woodruff Memorial Scholarship and am honored to commemorate Dan's impressive legacy," says Lesley. "USD's MSRE program has allowed me to intensely specialize in a field that I am passionate about, while interacting and engaging with professionals who are equally as enthusiastic about real estate as I am. The quality of the education I received and the networking opportunities offered by the BMC have been instrumental to my success. I have made connections among fellow students, professors and faculty that have changed the way I operate, both personally and professionally."
Shane, the recipient of a number of real estate scholarships offered through the Burnham-Moores Center for Real Estate, over his two years in the MSRE program as a part-time student, says his MSRE experience has had a huge impact in his life.
"The MSRE program really has been a life and career-changing experience," says Shane. "As my time in the program draws to an end, I can't help but be grateful for how invested the BMC team and the professors are in our success as students. I am honored to have been selected for the Woodruff Scholarship with my good friend Lesley. As a recipient, I will strive to uphold Dan's legacy of academic excellence, warmth, determination, intellectual curiosity, and unabashed love for humankind. I look forward to representing both Dan and the program for years to come."
About Lesley Hudson '20 MSRE
Lesley was recently promoted to associate director of CBRE San Diego's Property Management Division, where she is responsible for the operations, financials and overall performance of a mixed portfolio of investor and occupier assets. Lesley joined CBRE in 2009. Prior to this promotion, Lesley served as a senior real estate manager. Lesley received a bachelor's degree from the University of Nevada, Reno. While at USD obtaining her MSRE, Lesley took advantage of USD's study abroad program and studied Real Estate Capital Markets in Taiwan and Hong Kong. She was awarded the Burnham Foundation Scholarship and NAIOP/Mickey Carhart Memorial Scholarship in 2020, as well as the Marasco Family Scholarship in 2019.
About Shane Isdaner '20 MSRE
Shane is currently an associate at IDS Real Estate Group, where he is responsible for the management of a portfolio of office and industrial assets throughout San Diego. In May 2019, Shane was awarded the California Homebuilding Foundation (CHF) Hall of Fame Scholarship. He received the James Previti Family Foundation Scholarship in February 2019 and in November 2019, was the recipient of the Mark J. Riedy Endowed Legacy Scholarship. Shane was also on the winning 2019 ARGUS University Challenge team and was a finalist for the University of San Diego School of Business Graduate Student of the Year and Graduate Student Ambassador of the Year in May 2020. Shane received a bachelor's in business administration from Georgetown University, where he also played football.
— Kimberly Malasky, Director of Communications and Marketing
Map
5998 Alcalá Park
San Diego, CA 92110